Even just a few years ago, nobody would have imagined it, but the digital nomad visa is now a reality! Many countries have taken the step to offer a type of visa that allows remote workers to move and settle in a new country and work remotely.
To the excitement of many, there is now a Costa Rica digital nomad visa! This stunning Central American country now has its sights set on attracting foreign talent to contribute to its economy.
Before we get into the details, here's a brief summary of the Costa Rica digital nomad visa:
The duration is 12 months, with the possibility of extension for a further 12 months.
Response provided within 15 days at the latest.
Possibility to apply online.
The visa is not limited by nationality or activity, provided that the activity consists of the provision of paid services using computer, analogue, or telecommunication means to perform them.
You must present bank statements and an affidavit showing evidence of income of at least $3,000 USD per month from outside Costa Rica.
How to apply for the Costa Rica digital nomad visa
To apply for the Costa Rica digital nomad visa, you have to follow a series of steps, but don't worry, they are easy to navigate.
The first important thing to remember when applying for the Costa Rica digital nomad visa is that, by Costa Rican law, all documents issued in a foreign language must be accompanied by an official translation in Spanish.
Here are the steps you must take to obtain a Costa Rica digital nomad visa:
Ensure that you are eligible to apply for the Costa Rica digital nomad visa (see below)
Complete the registration process on the platform by clicking here, and pay the USD

$

100 application fee, or the equivalent in Costa Rican colones.
Give your informed consent.
Submit your documentation by making an appointment on the official web portal of the Directorate General for Migration (DGME). You must check the Digital Nomadic Stay option. The web portal is currently only available in Spanish.
If you intend to present the documents physically, go to the migration offices of La Uruca or to the regional offices that carry out this type of procedure.
Once all the documents have been submitted, and you've paid the USD $90 registration fee, wait for the written resolution of the application (the Aliens Department has 15 calendar days).
If there is a problem with the application, such as missing information, the visa processing office will issue a warning. In this case, the next step is to clarify or complete the application within 8 days of receiving the file. Please note! If you do not submit the missing documents within this period, the visa will be automatically refused.
But wait! You can also apply for your Costa Rica digital nomad visa directly through iVisa, whose platform provides a streamlined application process.
If you need a visa urgently, iVisa provides travellers with a streamlined way to apply for visas around the world. It's a traveller-friendly online service that simplifies the visa application process, and provides useful information on the visa requirements for over 200 different countries and territories around the world.
Get your visa quick with a 7% discount to your order's service fee at:
https://www.ivisa.com/
Visa delivery time
The Costa Rica digital nomad visa is issued within a maximum of 15 days (whether your application is approved or rejected).
However, this period will be extended until the missing requirements or corrections to the application are submitted, so make sure you're submitting the correct documents!
How does the Costa Rica digital nomad visa work?
The Costa Rica digital nomad visa is a residence permit that allows online workers and entrepreneurs to stay in a country for a longer period. However, it is important to know that it is not a residence visa.
The launch date of this visa has been approved for August 2021 and its goal is to attract these digital workers to the country.
Duration of the Costa Rica digital nomad visa
The duration of the visa is 12 months, with the possibility of an extension of another 12 months. Although there are several conditions for extending this period, as we will see later. Remember, for stays this long, taking out travel insurance is vital.
When dealing with these legal processes, it's important to do your due diligence and understand the terms and conditions of the visa you're applying for.
The process for the Costa Rica digital nomad visa is fairly quick compared to other visas. Once the application is submitted, the authorities have a maximum of 15 days to accept or reject it.
Advantages of the Costa Rica digital nomad visa
The main benefits of the Costa Rica digital nomad visa include:
Possibility to open one or more bank accounts in the country.
To be able to drive any type of vehicle in Costa Rica with the original licence, foreign or not.
To freely import any equipment necessary for the exercise of your professional activity.
To be completely exempt from the country's taxes.
Disadvantages of the Costa Rica digital nomad visa
There are also a few less convenient aspects to this visa, as is the case with most visas. They are as follows:
A minimum income is required to obtain a Costa Rica digital nomad visa. Specifically, if you are planning to travel to the country alone, the minimum income is USD

$

3,000 per month.
If some required documents are not in Spanish, they will have to be translated by a licensed Costa Rican notary or a licensed translator.
To extend the Costa Rica digital nomad visa for another year, you must stay in the country for at least 180 days.
Does the Costa Rica digital nomad visa allow me to bring my partner and children?
Yes, you can bring your family to Costa Rica! There's just one catch. Instead of having to prove that you earn at least USD $3,000 a month, to move your family to Costa Rica, that number increases to USD $4,000 a month.
Is it compulsory to have travel insurance for Costa Rica?
One of the basic requirements for obtaining a digital nomad visa to Costa Rica is to have travel insurance while in Costa Rica.
There is a wide variety of international travel insurance available on the market, and again, you want to do your research to ensure you get the right policy for your trip. Take a look at our guide to travel insurance for digital nomads.
What's the best travel insurance to Costa Rica?
To really benefit from your Costa Rica digital nomad visa, taking out long stay insurance is essential. Luckily, there is a great deal on offer for a limited time only, providing all the coverage you need as a digital nomad.
In March 2023, get a 5% discount on HeyMondo Long Stay:
Fill in your trip info (country of residence, regions covered, dates, and number of travellers).

Click on "Calculate Price".

All done! The discount will be applied automatically.
Some of the most useful benefits of HeyMondo for digital nomads include:
24/7 assistance platform.

Electronic equipment coverage.

Repatriation and early return.

Adventure sports coverage.

Travel expenses for a family member if you are hospitalised for over a week.
Comparative table of travel insurance to Costa Rica
Here's a comparative table of the best travel insurance policies to Costa Rica in March 2023.
The benefits and coverage in this table have been chosen specifically to meet the needs of digital nomads and businesspeople travelling.
Requirements for obtaining a Costa Rica digital nomad visa
There are certain requirements for obtaining a Costa Rica digital nomad visa, and they can sometimes feel overly bureaucratic. The best advice to educate yourself on the subject and do your research. Here's what you need to know:
What activities are permitted and prohibited?
The Costa Rica digital nomad visa authorises any activity which provides paid services online. This service may or may not be subcontracted, but must be done by a computer, or some means of telecommunication.
Furthermore, it is a requirement that you not work for Costa Rican clients, or engage in any type of paid activity while in the country.
What nationalities are eligible for the Costa Rica digital nomad visa?
This type of visa only concerns natural or legal persons who receive remuneration from abroad, so all nationalities can apply. However, as I mentioned, there is a minimum income requirement.
If a worker is settling alone in Costa Rica, the minimum income should be USD 3,000. And, if you are applying for a visa for yourself and a partner or family, the income must be at least USD 4,000.
Can you apply for the Costa Rica digital nomad visa if you're already in the country?
Yes, you can still apply for the Costa Rica digital nomad if you are already in the country, but you'll need to show proof of an entry stamp into Costa Rica, along with your valid passport, of course.
Despite the country's 90-day visa exemption for tourists, if you plan to move to Costa Rica to work remotely, it is advisable to go through the visa application process and receive your visa before you arrive.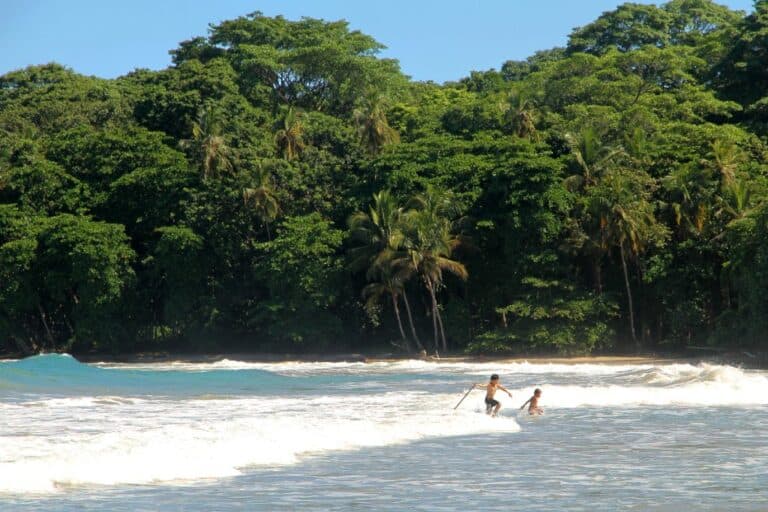 How to travel to Costa Rica at the best price in 2023
As I have mentioned, Costa Rica's tourism industry has grown exponentially in recent decades, and so prices have risen in the country, but don't worry! Here are my most effective money-saving travel hacks!
Choosing insurance that is tailored to your needs is vital, but remember that the following factors play a crucial role as well:
Flights
Accommodation
The card you use
How you book your activities
Here are a few tricks I've learned over the years, they'll help you save money on your travels, so you can focus on the things you enjoy about travelling.
If you follow these tips, you'll have more money left over to enjoy your time in Costa Rica and do the things that make you happy!
Fly to Costa Rica at reduced prices!
You know, flights don't cost the same from all countries! To pay for my cheapest flights, I use NordVPN.
Basically, it's a private network that allows you to access Internet sites from locations other than your own, and this can have some serious benefits:
In March 2023, enjoy a 59% discount on NordVPN.
Click here to activate your discount
Flights from Barcelona to Buenos Aires don't cost the same if you buy them from Spain as from India, for example. So, once you've installed NordVPN, simply access websites like Skyscanner and compare prices by entering as if you were browsing from different countries.
The 8 countries from which it is cheapest to buy flights are: Malaysia, Bulgaria, India, Turkey, Romania, Indonesia, Portugal, and Thailand. Once you have NordVPN, head over to Skyscanner and start paying reduced prices for flights all over the world!
Stay at a discount in Costa Rica all year round
Access Booking.com now and get discounts of up to 15% in March 2023 by becoming a Genius user.
There are also ways to save money when booking your accommodation with Booking. The first of which is becoming a Genius user, something you get from making 2 bookings (Genius level 1), and 5 bookings (Genius level 2).
As a Genius user in Booking.com, you can enjoy:
Discounts on room rates.
Free breakfast.
Upgrades to superior room categories.
Free parking.
Late check-out.
Welcome gifts.
In addition, there are hotels in Booking.com that directly offer you a 10 to 15% discount on your rate for being a Genius user.
Access to get discounts of up to 15% by becoming a Genius user.
Finally, Booking.com has a Minimum Price Guarantee program, so if you find a cheaper price for your hotel on any other website, they'll match it!
Reserve your entertainment and sightseeing in advance
GetYourGuide is an indispensable tool for organising any trip to any destination. It's a platform that helps you book tourism and leisure activities for your trip.
With GetYourGuide, you can book your activities online to avoid queues, and take advantage of a discount for online bookings. This way, you save time and money, so you can enjoy more activities during your trip!
Get the best travel card for Costa Rica
If you travel frequently, the Revolut Metal Card is another great way to save money. For starters, they offer you unlimited currency exchanges without paying any fees!
The Revolut Metal Card allows you to make unlimited domestic transfers free of charge, and withdraw up to £800 a month from international ATMs.
If you spent £650 abroad in a month using a standard card, and withdrew £350 at ATMs, you would have paid around £44 in fees.
With the Revolut Metal card, you would have paid £0 in fees.
Keep up to date with future digital nomads visas in 2023!
Leave your email and receive the latest updates:
Countries offering digital nomad visas
The number of countries now offering digital nomad visas is rapidly growing!
In fact, more and more countries are offering digital nomad visas designed to support entrepreneurial mobility for those working remotely, all to facilitate the digital nomad lifestyle.
Here's a list of the countries currently offering digital nomad visas in March 2023:
| | | | | | |
| --- | --- | --- | --- | --- | --- |
| | | | | | |
| | | | | | |
| | | | | | |
| | | | | | |
| | | | | | |
| | | | | | |
| | | | | | |
| | | | | | |
| | | | | | |
| | | | | | |
| | | | | | |
| | | | | | |
| | | | | | |
| | | | | | |
| | | | | | |
| | | | | | |
| | | | | | |
| | | | | | |
| | | | | | |
| | | | | | |
| | | | | | |
| | | | | | |
| | | | | | |
| | | | | | |
| | | | | | |
| | | | | | |
| | | | | | |
| | | | | | |
| | | | | | |
| | | | | | |
| | | | | | |
| | | | | | |
| | | | | | |
| | | | | | |
| | | | | | |
| | | | | | |
| | | | | | |
| | | | | | |
| | | | | | |
| | | | | | |
| | | | | | |
| | | | | | |
| | | | | | |
| | | | | | |
The Costa Rica digital nomad visa provides a unique opportunity for digital nomads to experience the warm smiles, rich culture, and breathtaking natural beauty of Costa Rica while legally residing in the country as a remote worker.
If you're still curious, you can see an up-to-date map showing all the countries offering a digital nomad visa in 2023, and all the information you need to start your journey as a digital nomad!
Thank you for reading, and we wish you the best of luck on your digital nomad journey!