In 2016, I parted company with my former traditional bank because I felt the level of service was too low. Basically, my bank was no longer covering my needs as an entrepreneur. And most banking transactions were expensive…
By 2020, N26, the German digital bank, had attracted over 5 million users worldwide thanks to the ease at which you can manage your online business finances, and of course, its low rates.
The N26 Business plan has continued to attract microentrepreneurs and digital nomads, so, I wanted to find out why, and conducted a survey to evaluate N26's offer for businesses.
Having used N26's services for a few years now, I have never looked back, and so I decided to write this N26 Business review!
Official N26 website: https://www.n26.com
N26 Business account for freelancers
N26 Business currently offers four accounts for freelancers:
All are exclusively available for freelancers. If you have another type of business, you will not be able to open one of these accounts.
To sign up for N26 Business, you don't need to meet any income conditions.
Who is N26 Business aimed at?
N26 business has positioned itself as one of the top online banks in Europe among microentrepreneurs, and shows no sign of stopping.
Only microentrepreneurs and the self-employed can open an N26 Business account. The bank does not accept subscriptions to its offer if you have another legal status.
If you are not a microentrepreneur, then Qonto for businesses will probably suit your needs better.
How does N26 Business work?
You open your account online in 8 minutes.
N26 Business offers an intuitive interface for users on smartphones and computers.
For your information, access to the web platform from a computer is not available with its direct competitor, Qonto.
In December 2023, you can open an N26 Business account for free.
Click here: Activate N26 Business account
You will be redirected to the official N26 website.
Click on "Open bank account."
Fill out the form and follow the instructions.
All done! You can now use your N26 business account.
At the time of writing, N26 does not offer any savings products, bank loans or cheque deposits. But these services will be available soon, you can check here.
Is the N26 app easy to use?
The N26 Business app makes it easier to manage your finances. The categorisation of expenses is a great addition because it allows you to control where your money goes, down to the last cent. We also appreciate the real-time notifications of all transactions.
Contacting customer service is pretty quick (about a 2-minute wait) with the LiveChat available from the app.
Making payments with your smartphone is quick and easy, as your N26 bank account comes with a digital N26 Mastercard.
Simply link this card to the Apply Pay or Google Pay on your smartphone, and you're ready to go! Personally, I really enjoy not having to bring my physical card with me wherever I go.
The N26 Business You card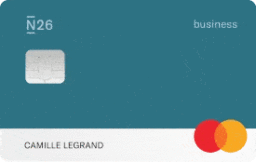 ✅ Advantages
0.1% cashback
Expense categorisation
Transaction/bank statement export function
No commission
Affordable or free rates
User-friendly mobile application
Activity tracking features
❌ Disadvantages
No chequebook or cheque deposit: the neobank Anytime offers this service.
The offer is only available to microentrepreneurs
The account is a German IBAN (DE)
There is no authorised overdraft (available soon)
What does N26 Business You insurance cover?
The travel insurance included is specially designed for business trips. It covers the following risks:
Flight delay or cancellation
Emergency medical expenses
Theft of equipment
Loss of luggage
To see all the guarantees, click here
How do I pay with N26 Business You?
By bank transfer
By Mastercard Business debit card
No commission on exchange rates
Free withdrawals
For the €9.90 Business You account, the card offered is a Mastercard Word Elite.
Some will regret the lack of a chequebook, but only Anytime bank still offers chequebooks.
How do I get paid with N26 Business You?
By bank transfer
By payment terminal (Sumup, Izettle, etc.)
Good to know: the N26 Business account provides you with a German IBAN number. If you want an account with an IBAN number from another country, I recommend Qonto for micro-businesses.
How much does N26 Business You cost?
Opening an account is free and without obligation. It is done online and there are no income requirements. To register, simply provide proof of identity and a postal address to receive your card.
On average, it takes 8 minutes to open an account.
The N26 Business You premium account costs €9.90. This is a multi-currency account offering full Allianz travel insurance and exclusive offers for frequent travellers and digital nomads.
A free, no-obligation account for starting up a micro-business
While traditional banks charge abusive fees for the slightest transfer, N26 offers a totally free, no-obligation solution.
The free account is aimed at micro-entrepreneurs who are starting up their business and want to save on their bank transaction fees.
Regardless of the micro-business, or sector of business activity, the account can be opened with no income requirements and no commitment.
Also, N26 Business helps you to spend as little as possible thanks to its spending categorisation feature, a banking solution designed for micro-businesses.
It's also the cheapest neobank on the market, with a business account for €0.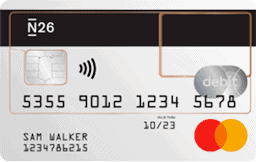 How do I open an N26 Business account?
Opening an N26 Business account is quick and easy. It takes about 8 minutes. The first step is to access the official N26 website by clicking here
Just like with the Business You account, registration is free and doesn't include any minimum income requirements. All you need to register are your identity documents, and a postal address to receive your card.
To register, you must fulfil the following requirements:
Not already have an account with N26.
Be a microentrepreneur and use the account for a professional activity
Reside in one of these countries: Austria, Belgium, Denmark, Estonia, Finland, France, Germany, Greece, Iceland, Ireland, Italy, Liechtenstein, Luxembourg, Netherlands, Norway, Poland, Portugal, Slovakia, Slovenia, Spain, Sweden, or Switzerland.
If you are already an individual customer with N26, then you can only open a Business account if you close your personal account.
However, if you want to keep it, you can open a Qonto account for microentrepreneurs as an excellent alternative.
My personal N26 Business review
In my opinion, the free N26 Business account is a really practical solution for microentrepreneurs, as it offers a bank account with no fees and no commitment. This is a huge advantage, especially if you are just starting up your business.
The main advantages include:
intuitive account management
excellent value for money
its easy-to-use mobile application
The disadvantages are:
the systematic authorisation debit card
the lack of a national IBAN number
the offer is limited to micro-entrepreneurs. If you are not a micro-entrepreneur, the Qonto bank is better suited to your needs.
What is N26?
Founded in 2013, German neobank N26 aims to reinvent the banking sector with convenient and affordable solutions, all done online.
In July 2019, N26 raised $170 million from investors and continues to expand.
Traditional banks are content to offer only a simple personal account to most microentrepreneurs… These accounts are often more expensive than a business account.
So in June 2017, N26 decided to launch its N26 business account, specifically designed for microentrepreneurs and the self-employed.
Opening an online business bank account linked to your business activity is a must for any microentrepreneur.
N26 now has well over 5 million users throughout Europe thanks to an easy-to-use account: transactions are managed from a smartphone or a secure web platform. Online banking has never been easier!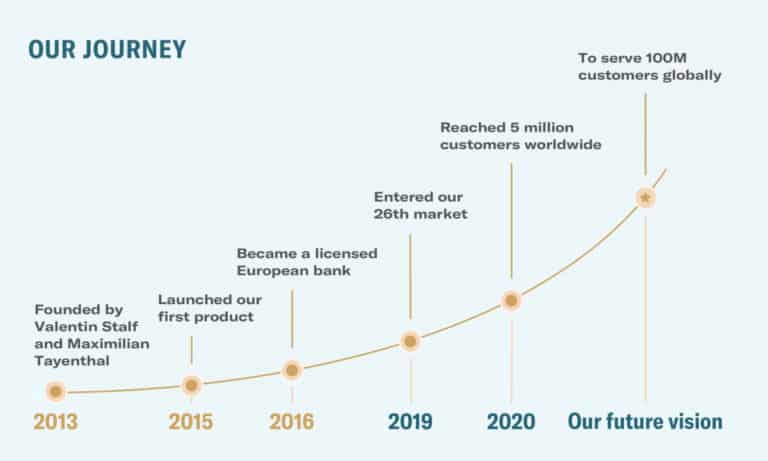 Best alternatives to N26 Business
Wise: manage your finances online
This digital bank allows you to transfer money securely online, offering a low-cost alternative to traditional banking.
For €0 per month, Wise Business allows you to trade multiple currencies through your account.
In December 2023, get your free Wise Business account.
Click here: Activate Free Account
You will be redirected to the official Wise website.
Click on "Get Started" and then fill in the form.
Finally, click on "Register".
That's it! You can now use the Wise Business platform for free.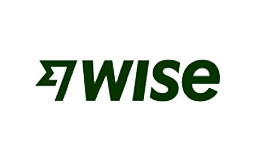 It also comes with an associated Wise Business card to send, pay, and receive in up to 50 different currencies, with one of the most competitive exchange rates on the market.
Despite this, and despite being one of the most popular neobanks alongside N26, it does not offer as many tools for managing your money as N26.
Qonto: account with national IBAN, chequebooks and cheque deposit
For some of us, the drawbacks of N26 can be a deal-breaker. For example, if you need an account with a national IBAN and chequebooks, then don't sign up for N26 Business. This could cause problems…
Even if your local tax agency does not have the right to refuse a foreign IBAN, you may need a national IBAN and the ability to write cheques. There is a good alternative for this: Qonto Bank.
Qonto for micro-entrepreneurs
| | | | |
| --- | --- | --- | --- |
| | | | |
| | | | |
| | | | |
| | | | |
| | | | |
| | | | |
| | | | |
| | | | |
| | | | |
| | | | |
| | | | |
| | | | |
| --- | --- | --- | --- |
| | | | |
| | | | |
| | | | |
| Virements et prélévements | | | |
| | | | |
| | | | |
| | | | |
| | | | |
| | | | |
I hope that this post has provided some insight into the rapidly expanding world of digital banking. If you have further questions, don't hesitate to get in touch!