One of the most important things I have learnt during my time travelling in over 30 countries, where I've experienced all kinds of situations, is that good travel insurance is essential.
Today, the vast majority of countries in the world require you to have travel insurance.
Before starting with Heymondo's reviews, it is necessary to provide a brief summary of all the Heymondo travel insurance policies available to us, and their indications regarding the type of trip or traveller they are intended for:
Heymondo Insurance reviews
A good way to measure how satisfied customers are with a service is to look at the reviews they post online.
In this Heymondo insurance review, we'll cover users' opinions, policies, general information, and how to contract Heymondo, so you can be sure you're making the right choice.
Not only that, but we'll also be sharing our money-saving travel hacks with you!
Here is a summary of some real users' Heymondo Travel Insurance reviews:
Heymondo has an average rating of 4.5/5 on TrustPilot.
Heymondo has an average rating of 4.4/5 on Google.
Heymondo reviews on TrustPilot
On the world's leading review forum, Trustpilot, Heymondo has positive reviews.
In addition, all complaints are addressed and resolved. This indicates a concern for the quality of service.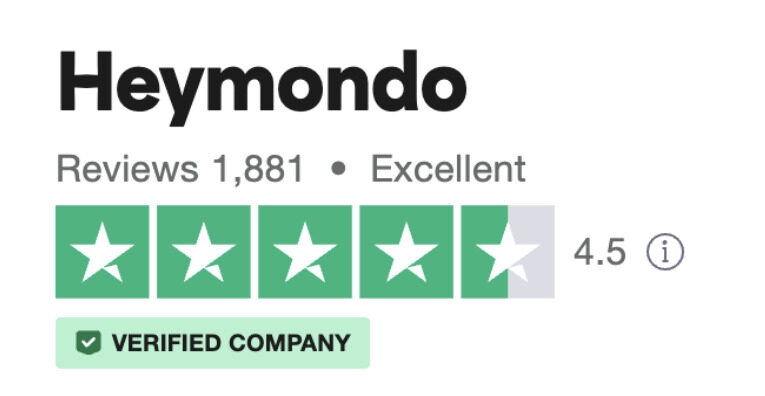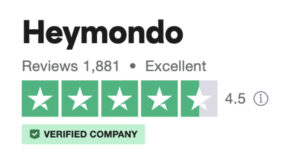 ✅ Positive Heymondo Travel Insurance reviews on TrustPilot
Quick resolution of problems and concerns.
Comprehensive insurance with high medical cover.
Effective customer service.
❌ Negative Heymondo Travel Insurance reviews on TrustPilot
Difficult to resolve problems with damaged luggage.
Slow claims process.
Heymondo reviews on Google
Doing a search on the Google my Business channel, I could also see mostly positive reviews. Like TrustPilot, the company cannot delete or manage reviews.
On Google, Heymondo has a score of 4.4 out of 5, with over 70 reviews.
One of the highlights mentioned is the quality of service. More specifically, Heymondo has quick response times to refund claims resulting from travel problems, such as cancellations or emergency medical care.
✅ Positive Heymondo Travel Insurance reviews on Google
Helpful and professional customer service.
Easy to contract and renew your policy.
Straightforward claims process.
❌ Negative Heymondo Travel Insurance reviews on Google
Lack of broad luggage cover.
Long travel to Heymondo-approved medical centres abroad.
Slow response times.
My Heymondo insurance review
During my travels, I have had to resort to my Heymondo policy on several occasions. The first time was in Cambodia, where I had a small fall on a motorbike that required some minor treatment to treat the wound and prevent it from getting infected.
First, I called the phone number I had been given in my policy confirmation email. After speaking to a doctor and giving them my exact location, they told me where I could go right then and there to have my wound checked.
In just a matter of minutes, the situation was resolved.
On at least a couple of other occasions, including in Ho Chi Minh City (Vietnam) and Chiang Mai (Thailand), I had to call for assistance again as a result of food poisoning that stopped me from leaving the hotel bathroom.
Again, after contacting them, this time via the App, they suggested where to go to get checked and treated as soon as possible. After being examined and taking a couple of pills – and after some rest – I was able to get back on the road as if nothing had happened.
Personally, I can't praise Heymondo enough for the speed and professionalism with which they tend to their customers.
For this reason, I think it is the travel insurance company that offers the best value for money, and it's the one I choose every time I go on a trip.
Which Heymondo policy should I take out?
Here's a brief overview of Heymondo's travel insurance:
Single trip insurance: for short holidays of less than 90 days
Long stay insurance: covers trips over 90 days
Annual multi-trip: covers all of your trips of less than 60 days made during the same year
⚠️ Special offer, valid until 07/12/2023, get 5% OFF on Heymondo!
Click here: Activate Discount Now
Whether you're planning a family holiday abroad, or a backpacker adventure trip, it's vital that you consider all the risks involved with the trip you're taking. It's also important to consider any special travel requirements you have.
Selecting an insurance policy that is suited to your traveller profile is the best way of ensuring that you get the right level of coverage at the best price.
To help you find out which Heymondo policy is right for you, I've set out the best Heymondo travel insurance policies by trip type in December 2023:
The best policy for short vacations abroad
Ideal for both domestic and international trips, here you have the most complete policy for your next holiday, and you can even customise it according to the needs and circumstances of your trip.
This Heymondo plan covers your medical assistance, possible repatriation or early return, theft, or damage to your luggage, trip cancellation, and much more.
Heymondo also offers you 24/7 assistance, with a medical chat, free assistance calls, incident management services, and trip cancellation coverage in case you don't travel.
Get Heymondo insurance with a 5% discount valid until 07/12/2023.
Click here: Activate Discount
Fill in your info: country of residence, coverage regions, and dates
Click on "Calculate Price."
All Done! Your discount will be applied automatically.
The best policy for long-term trips and digital nomads
The long stay travel insurance is perfect for those who are going to spend a minimum of 90 days travelling. You can take it out even after your trip has started and renew it as you wish.
This is the company's most suitable plan for digital nomads and content creators, as it has broad medical coverage, and electronic equipment cover.
Perfect for backpackers and long-term trips, this policy will keep you covered, wherever your adventure takes you! Most notably, it covers your emergency medical and dental expenses, as well as repatriation.
Get a 5% discount on Heymondo Long Stay (valid until 07/12/2023). Don't miss out!
The best annual insurance policy
The annual travel insurance is ideal for all frequent travellers who wish to be fully insured on their trips. You will enjoy maximum coverage for all trips in the same year, without any of them exceeding 60 days outside your country of residence.
Here you will also have total assistance 24/7, as well as medical assistance and all types of cover adapted to your needs.
Sign up for a 5% discount on Heymondo Annual Multi-trip (valid until 07/12/2023).
Fill in your country of residence, area of coverage and dates. Click on "Calculate price".
That's it! The discount will be applied automatically.
How Heymondo insurance works
To use your Heymondo policy, you have two options:
Call the telephone number provided to you in the email that you received the moment you signed up;
Access the App to contact a doctor or customer service representative. You can contact them by phone or chat to arrange your medical visit immediately.
Once you tell them what's wrong and give them your policy number, they will tell you which is the nearest or most convenient hospital for your specific case and, if necessary, they will send a doctor to your hotel.
To enjoy the coverage included in your policy, you need only your passport and your policy number at hand, as well as your phone or the Heymondo app.
If you have an emergency, or forget to notify the insurance company in advance, the process to follow is simple.
You should claim and keep all documentation relating to the treatment you have undergone and its costs to be able to initiate reimbursement procedures as soon as possible.
How to use the Heymondo application
Once you take out travel insurance with Heymondo, you'll have access to their 24-hour assistance app. Available for iOS or Android, just download it to your phone, tablet, iPad or iPod touch and familiarise yourself with it.
In the application you have a 24-hour medical chat at your disposal, a free online assistance call service, a claims' management service, and a private and personal space to consult all the information related to your policies.
In my experience, I've found that having quick and easy access to everything concerning your policy in one place is an incredibly useful benefit.
What are the benefits of Heymondo?
In addition to reading opinions of other Heymondo users, another crucial element in making your decision is to understand exactly what their benefits and disadvantages are.
To save you some time, I've summarised their pros and cons here:
✅ Advantages of Heymondo Travel Insurance
24-hour assistance via the Heymondo app.
Offers the highest maximum coverage for medical expenses on the market.
In case you have to return early, you will be reimbursed for the holidays not taken (optional).
Includes COVID-19 coverage on all travel and cancellation insurance.
❌ Disadvantages of Heymondo Travel Insurance
Coverage related to sporting activities is only available with the Premium policy.
Trip cancellation is optional and is not available in the Long stay plan.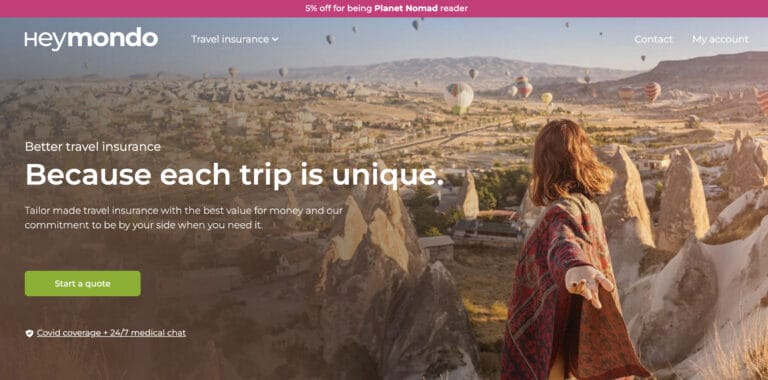 How to take out Heymondo insurance?
To enjoy Heymondo's travel insurance policies, I've summarised the process in this step-by-step guide.
Click here to enter the Heymondo website
Fill in your info: country of residence, coverage regions, and dates
Click on "Calculate Price."
Fill in your payment details.
All Done! Your discount will be applied automatically.
How to reduce the cost of your trip
All travellers want to save money where they can, but most don't know where to look!
Choosing insurance that is tailored to your needs is vital, but remember that flights and accommodation are crucial factors as well.
Here are a few tricks I've learned over the years, they'll help you save on your travels, so you can focus on the things that you love about travelling.
If you follow these tips, you might just find that by the end of your trip, you have enough money left over to extend your trip!
Find cheaper flights
You know, flights don't cost the same from all countries! To pay for my cheapest flights, I use NordVPN.
Basically, it's a private network that allows you to access Internet sites from locations other than your own, and this can have some serious benefits:
In December 2023, enjoy a 59% discount on NordVPN.
Click here to activate your discount
Flights from Barcelona to Buenos Aires don't cost the same if you buy them from Spain as from India, for example. So, once you've installed NordVPN, simply access websites like Skyscanner and compare prices by entering as if you were browsing from different countries.
The 8 countries from which it is cheapest to buy flights are: Malaysia, Bulgaria, India, Turkey, Romania, Indonesia, Portugal, and Thailand. Once you have NordVPN, head over to Skyscanner and start paying reduced prices for flights all over the world!
Finding cheap accommodation these days can be tough, so I'd also like to share my tips for saving money on lodging and accommodation.
Find accommodation at a discount
Access Booking.com now and get discounts of up to 15% in December 2023 by becoming a Genius user.
There are also ways to save money when booking your accommodation with Booking. The first of which is becoming a Genius user, something you get from making 2 bookings (Genius level 1), and 5 bookings (Genius level 2).
As a Genius user in Booking.com, you can enjoy:
Discounts on room rates.
Free breakfast.
Upgrades to superior room categories.
Free parking.
Late check-out.
Welcome gifts.
In addition, there are hotels in Booking.com that directly offer you a 10 to 15% discount on your rate for being a Genius user.
Access to get discounts of up to 15% by becoming a Genius user.
Finally, Booking.com has a Minimum Price Guarantee program, so if you find a cheaper price for your hotel on any other website, they'll match it!
Comparing Heymondo with other insurers
When it comes to finding the right insurance for an upcoming trip, it's crucial that you find coverage that fits your specific needs, without having to pay for coverage you don't need. The best way to do this is to compare travel insurance policies.
With Heymondo, the hard part is done for you. With just a few clicks, you're shown a broad range of comprehensive policies that you can compare to find the one that fits you best.
To save you some time, I've created a comparative table, showing the best insurance policies for trips up to 3 months.
Frequently asked questions about Heymondo
What are Heymondo's payment methods?
For any type of insurance, the customer may use Visa, Mastercard, and American Express cards as means of payment.
Why take out a policy with Heymondo Insurance?
In addition to having the most comprehensive policies, Heymondo offers a customer service like no other thanks to its state-of-the-art App.
The Heymondo app, as we revealed above, allows you to request assistance (via telephone or chat) 24/7/365 at no cost wherever you are. For me, this is what really makes Heymondo stand out above the rest.
Is taking out Heymondo Insurance worth it?
Although many people believe that travel insurance isn't worth it because you are unlikely to use it, experience tells me otherwise. A dream trip can come to a screeching halt when you least expect it, and may end up costing you thousands.
That is why whenever I am asked whether it is worth taking out travel insurance, my answer is always the same: to be able to enjoy a trip 100%, you need to have complete peace of mind.
This is only possible if you have comprehensive insurance that covers you at all times and in case of any unforeseen event.
Although there is no one-size-fits-all when it comes to travel insurance, Heymondo's broad coverage and 24/7 assistance make it a real contender for the provider of the most extensive travel insurance.
I hope that this Heymondo review has given you some insight into the world of insurance. So, with that said, I wish you a safe trip!