As a digital nomad, I understand that getting suitable coverage for my lifestyle can be difficult. SafetyWing is travel insurance designed for digital nomads, remote workers and frequent travellers. Unlike other international travel insurances, it offers coverage in over 170 countries, for a cheap, monthly fee.
The digital nomads who started Safetywing felt that there was a lack of affordable and flexible travel insurance on the market. Now, the company has become a go-to option for a wide variety of travellers who don't know exactly where, or when their travels will end.
In this SafetyWing Insurance review, I'll be covering online SafetyWing reviews that have been posted by real-life users, so you can make an informed decision if their insurance is right for you.
SafetyWing reviews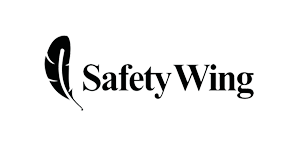 Here's a summary of the online SafetyWing reviews in December 2023:
SafetyWing has an average rating of 4.3/5 on TrustPilot.
SafetyWing has an average rating of 3.4/5 on Producthunt.com.
SafetyWing reviews on TrustPilot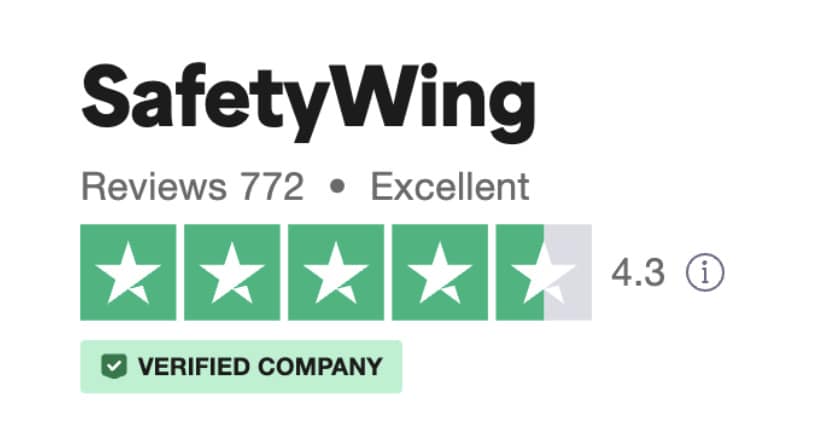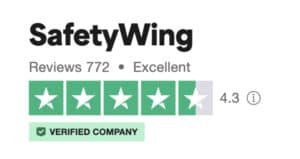 TrustPilot is one of the world's leading online review platforms, which shows users' reviews of goods and services from around the world.
Trustpilot receives almost 1 million new reviews each month, and at the time of writing this post, there are 772 SafetyWing reviews currently available.
SafetyWing has a score of 4.3/5 on TrustPilot.
✅ Positive SafetyWing reviews on TrustPilot
Flexible policies
Affordable options for backpackers
Platform is quick and easy to use
Helpful customer service team
Smooth claims process
While I was reading the various SafetyWing insurance reviews, I saw that there were plenty of users who were pleased and satisfied with the claims process of SafetyWing. I feel that I should note that this is pretty uncommon for insurance companies!
❌ Negative SafetyWing reviews on TrustPilot
Slow response times
Drawn out claims process
Lack of coverage for personal belongings
SafetyWing reviews on Product Hunt
Producthunt.com is an American website dedicated to allowing users to share their thoughts and experiences about different products.
At the time of writing this review, there are 33 total SafetyWing reviews on Product Hunt. So, let's take a closer look at what people had to say.
✅ Positive SafetyWing reviews on Product Hunt
Quick and easy to contract
Good customer support
Great for remote companies
Competitive prices
Flexible
❌ Negative SafetyWing reviews on Product Hunt
Drawn out claims process
Technical issues on the website
Claims rejected on a technicality
A real-life SafetyWing review
Imagine you're walking through the streets of Rio de Janeiro, not a care in the world, enjoying the good life. Now imagine that, out of nowhere, things suddenly take a turn for the worst. You trip, fall, and seriously injure yourself.
What do you do?
When this happened to Enelin, a digital nomad, she first thought it was a minor injury, but it turned out that she'd broken her toe, and after a few hours, she was completely unable to walk.
She went to the Doctor and was given treatment and antibiotics. Luckily, Enelin had taken out SafetyWing insurance.
After buying antibiotics from the pharmacy, she logged on to the online portal and downloaded the PDF of the medical claim form from the insurance company.
After filling it out, she sent it back to the SafetyWing email address with the hospital and pharmacy accounts included.
After 24 hours, SafetyWing sent a confirmation email stating that they would assess the claim, and another email with the results of the review.
SafetyWing's initial response arrived 24 hours later.
Four weeks later, SafetyWing accepted her request and sent an email explaining all the necessary information. This included the details of the policy, the benefits, and information on how to appeal if you felt the decision was inappropriate.
Overall, Enelin was very satisfied with the process and the coverage offered by SafetyWing. The claims' system is simple as you only needed to send an email, and you can check the status of your claim during the reimbursement process.
Stories like Enelin's are common, so it's important to highlight that we digital nomads, who live and work abroad, must protect ourselves from the dangers of everyday life.
Which is the best SafetyWing policy for me?
Quick side note: if you can, try looking for SafetyWing insurance reviews for the particular policy you plan to take out, whether it be Nomad, or Nomad Health.
Best policy for digital nomads
Innovative and flexible travel medical insurance for a monthly fee. You can contract the policy while abroad, and you can even insure one child per adult under the age of ten with you, free of charge.
In December 2023, get SafetyWing Nomad Insurance for $45/month
You will be redirected to the official SafetyWing website.
Click on "Sign me up".
Fill in the form and follow the instructions by clicking on "Next".
That's it! You will receive your travel insurance at the end of the registration process.
Best policy for businesses
Comprehensive health insurance for a global workforce with a 24/7 assistance service. Add and remove people at any time, so you can easily manage your company's health insurance.
Get SafetyWing Nomad Health in December 2023
Click on "Sign me up".
Fill in the form and follow the instructions by clicking on "Next".
That's it! You will receive your remote team health insurance at the end of the registration process.
How does SafetyWing Insurance work?
SafetyWing's Nomad and Nomad Health policies are specifically tailored to suit the needs of digital nomads and frequent travellers, as well as remote workers.
Taking out one of these policies will ensure that you have both medical and travel insurance, providing you with indispensable financial security if something goes wrong while abroad.
From the start date you choose, your insurance will automatically renew itself every 28 days until you choose a termination date, making it the perfect option for digital nomads and backpackers who may not know when their adventures will end.
If you need medical treatment while abroad, simply search on the web for a member hospital near you. Schedule a medical appointment, and the hospital will send a bill directly to SafetyWing, free of charge for you.
Or, if you prefer, you can consult any medical centre, pay for the consultation in advance, and then send a claim to SafetyWing through the claim portal on their website.
What are the benefits of SafetyWing Insurance?
Let's say you've forgotten to take out travel insurance, and suddenly, you're abroad with no protection. With SafetyWing, this isn't a problem, as you can contract while overseas.
From there, your policy will be renewed each month, and can be cancelled at any time, allowing you to focus on your travels without having to deal with any insurance hassles. It's no wonder that there are so many SafetyWing reviews highlighting the flexibility of their policies!
Another stand-out feature is the price! The monthly fee is much lower than comparable insurers. Another distinguishing factor which, in my opinion, makes all the difference, is that with SafetyWing, you're insured in virtually every country.
Now let's take a look at the most useful benefits that SafetyWing has to offer:
Medical Cover: SafetyWing health insurance provides broad medical coverage with access to a global network of hospitals and doctors to treat you in case of illness or accident. It includes medical consultations, admissions to hospitals, and emergency medical transfers.
Flexible and continuous coverage: Automatic renewal of your policy each 4 weeks, which you can cancel at any time.
Travel Insurance: It includes cover in case of delay, lost checked baggage, natural disasters, and civil liability.
Coverage in over 170 countries. You're covered in virtually every country, except for countries with significant travel warnings. Check your government's travel advice to be sure.
Coverage in your country of origin: You can use your medical coverage in your home country according to each type of insurance. Nomad insurance has a limit, nomad health does not. It is always a good idea to check beforehand.
Children under 10 years included: The insurance can cover one child per adult (up to two children per family), under 10 years old, at no additional cost.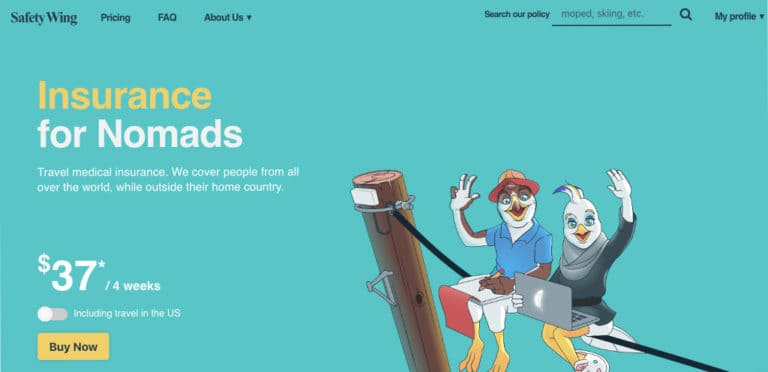 How to contract SafetyWing insurance?
SafetyWing insurance can be purchased from anywhere, at any time, whether you're still at home or already travelling. There are no special restrictions, and SafetyWing insurance is available in over 170 countries.
SafetyWing will ask you to declare the countries you'll be travelling to. They only need to know your first destination to activate your worldwide coverage, but it's a good idea to add as many destinations you can.
Here are the steps you need to take to contract SafetyWing Insurance:
Register with SafetyWing on their official website
Select your start date, and end date, if applicable.
Select your destination(s).
Fill in traveller details.
Enter your payment details, and that's it!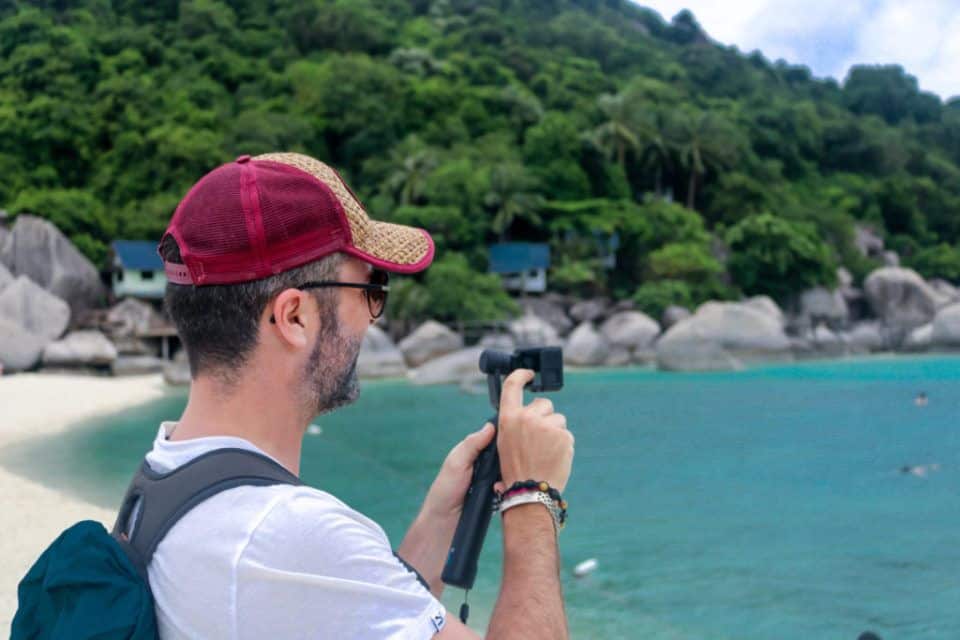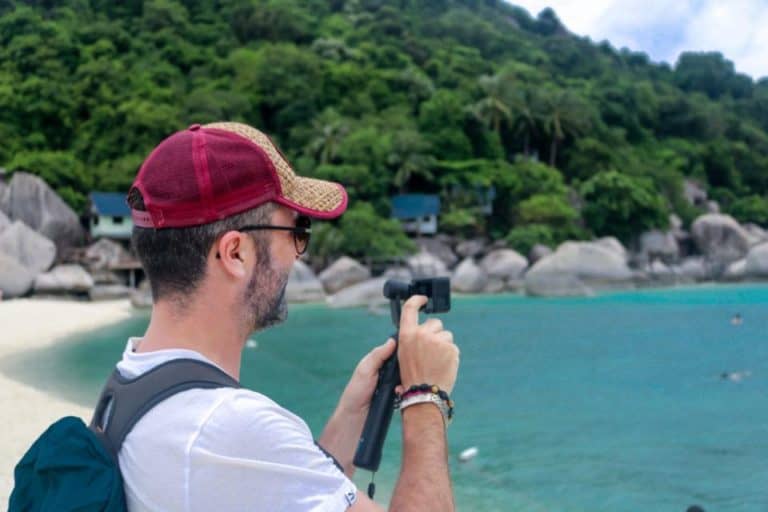 Comparing SafetyWing with other insurers
Throughout my years spent travelling, I've found that comparing different insurance policies is the best way to get a good deal.
This approach also helps you identify your needs as a traveller, so you can get the ideal level of coverage.
To help you out a little, I created the following comparative table of the top insurers offering insurance for digital nomads and businesses in December 2023.
Frequently asked questions about SafetyWing
What are SafetyWing's means of payment?
SafetyWing accepts payment by card, including Visa, Mastercard, American Express, and Discover card.
Remember that your subscription will renew automatically unless you select an end date while contracting. You can end your subscription at any time.
Can I bring my kids with me?
Yes. One child between the ages of 14 days and 10 years will be included in your insurance for free.
Why take out a policy with SafetyWing?
Travelling without insurance is highly inadvisable, especially as a digital nomad who travels for long periods at a time with expensive equipment. In fact, many countries require you to have comprehensive insurance as an entry requirement.
This is where SafetyWing comes in, as their coverage is designed for people who may not know exactly which countries they'll be visiting, or for how long they'll stay.
Whether you're a digital nomad, remote worker, or simply live a lifestyle of adventure travel, SafetyWing will provide you with a crucial financial safeguard, without you needing to worry about a thing.
How to make your travels cheaper
There are plenty of ways to save money on your travels. SafetyWing boasts some of the most affordable prices on the market, which is great, but there are other ways to reduce the cost of your trip.
Choosing insurance that is tailored to your needs is vital, but remember that flights and accommodation are crucial factors as well.
Here are a few tricks I've learned over the years, they'll help you save money on your travels, so you can focus on the travels ahead.
If you follow these tips, you might just find that by the end of your trip, you have enough money left over to extend your trip or even explore an extra destination on your route home!
Find cheaper flights
You know, flights don't cost the same from all countries! To pay for my cheapest flights, I use NordVPN.
Basically, it's a private network that allows you to access Internet sites from locations other than your own, and this can have some serious benefits:
In December 2023, enjoy a 59% discount on NordVPN.
Click here to activate your discount
Flights from Barcelona to Buenos Aires don't cost the same if you buy them from Spain as from India, for example. So, once you've installed NordVPN, simply access websites like Skyscanner and compare prices by entering as if you were browsing from different countries.
The 8 countries from which it is cheapest to buy flights are: Malaysia, Bulgaria, India, Turkey, Romania, Indonesia, Portugal, and Thailand. Once you have NordVPN, head over to Skyscanner and start paying reduced prices for flights all over the world!
Finding cheap accommodation these days is really tough, I also want to share my tips for saving money on your accommodation.
Find accommodation at a discount
Access Booking.com now and get discounts of up to 15% in December 2023 by becoming a Genius user.
There are also ways to save money when booking your accommodation with Booking. The first of which is becoming a Genius user, something you get from making 2 bookings (Genius level 1), and 5 bookings (Genius level 2).
As a Genius user in Booking.com, you can enjoy:
Discounts on room rates.
Free breakfast.
Upgrades to superior room categories.
Free parking.
Late check-out.
Welcome gifts.
In addition, there are hotels in Booking.com that directly offer you a 10 to 15% discount on your rate for being a Genius user.
Access to get discounts of up to 15% by becoming a Genius user.
Finally, Booking.com has a Minimum Price Guarantee program, so if you find a cheaper price for your hotel on any other website, they'll match it!
Is taking out SafetyWing insurance worth it?
After this thorough evaluation, we can draw some conclusions. If you are a digital nomad or travelling around the world without a fixed home, SafetyWing's services are designed to meet your needs, and give you peace of mind as you travel the world.
Put simply, travelling for long periods without insurance can put you in a dire financial situation. It's simply not worth the risk!
If you're an adventurer who needs cover for adventure activities, such as kitesurfing or diving, it is best to opt for World Nomads. If you want to learn about other digital nomad insurance options, click here.
The SafetyWing reviews show that the flexible nature of their insurance allows you to focus on the travels ahead. The most unique feature, however, is the price. For a low monthly fee, you're insured in virtually every country, which is why it is such a great option for digital nomads.
I hope that this SafetyWing review has helped you reach an informed decision on which insurer is the best fit for you. If you have further questions, don't hesitate to get in touch!