If you are a traveller like me, you know that anything can happen on a trip. No one is exempt from unforeseen events such as health problems, luggage, accidents, etc…
Travel insurance is the best companion for travellers at all times. One of the best financial safeguards on the market is IATI Insurance, helping you manage any unexpected event while travelling.
Wherever you go, wherever you are and whatever your destination, IATI Insurance will accompany you and adapt to your travelling needs. It covers various types of trips and for any period of time, these characteristics being its main differential.
Before we dive into the practical information about IATI, including an overview of their policies' benefits, FAQs, and its best policies, here's a brief summary of what users think:
IATI has an average score of 4.5/5 on TrustPilot
IATI has an average score of 3.7/5 on Facebook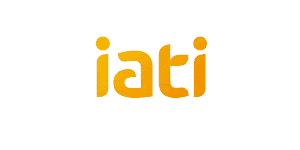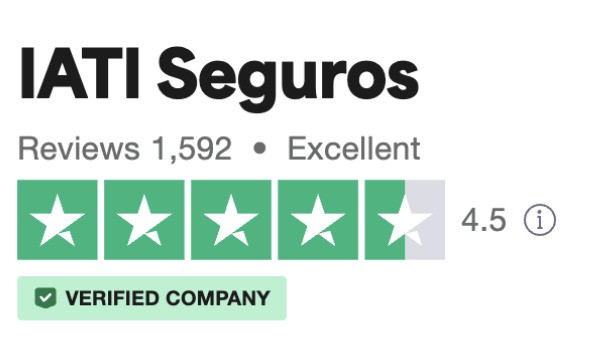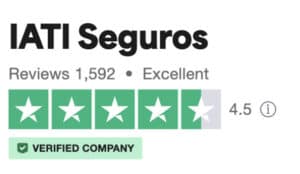 IATI travel insurance reviews on TrustPilot
TrustPilot already has over 1500 IATI travel insurance reviews. IATI have a rating of 4.5 out of 5 stars, quite high indeed for an insurance company!
Here's a brief summary of these online opinions.
✅ Positive IATI travel insurance reviews on TrustPilot
Cheap prices
Quick and simple application process
Helpful responses from the customer service representatives
Effective claims process
Great coverage
❌ Negative IATI travel insurance reviews on TrustPilot
Overly complicated claims process
Slow response times
IATI travel insurance reviews on Facebook
At the time of writing this post, IATI has an average rating of 3.7/5 on Facebook, based on a total of 140 user reviews.
✅ Positive IATI travel insurance reviews on Facebook
Attentive and helpful customer service
Issues with policies resolved quickly
❌ Negative IATI travel insurance reviews on Facebook
Poor coverage of chronic and pre-existing conditions
Slow response times
Customers comment that they are very happy with the service and customer care. They say they are always attentive to answering support queries.
In the few negative IATI travel insurance reviews that are found, IATI representatives contact the customer and invite them to give more details about their case privately. Therefore, their attention is always excellent.
My opinion on IATI Insurance
There are always doubts involved when it comes to choosing travel insurance. This is normal and even expected. After all, nobody wants to pay for something that isn't useful or reliable.
Seeking information from those who have already used a certain service or product is the smartest way to evaluate the pros and cons of a product or service.
IATI is seen as a reference in the market and a great alternative for digital nomads. I've found it to be a comprehensive plan that meets all my needs when I travel. In addition, it adapts to the duration of the trip.
With IATI travel insurance, you can select the one that best suits the type of trip you are going on, and this flexibility is what really stood out to me about IATI. Needless to say, I have been very pleased with IATI's coverage.
Which is the best IATI policy for me?
Here are the best IATI travel insurance policies for each traveller profile. Note that IATI is currently offering some exciting discounts, which will be applied automatically when you use the links found below.
Best policy for short-term trips
IATI Standard plan is IATI's intermediate coverage option, allowing you to enjoy a relaxing holiday and peace of mind, all for an affordable price.
If you're headed on a short-term holiday with low potential risks involved, Standard is a great option.
IATI is offering a 5% discount. But don't wait too long! This offer is valid until the end of December 2023.
Fill in your travel information (country of residence, dates, personal information) and select "Get a Quote."
All done! Your discount will be applied automatically.
Best policy for long-term trips
IATI Star insurance has been specially developed for travelling to countries that have very high hospital care costs. It has among the highest medical expense coverage in the market.
It also includes coverage to protect your luggage or in case you practice adventure sports, so it offers a very complete service and adapts to all types of trips.
You can get 5% off your IATI Star policy in December 2023. Don't miss out!
Fill in your travel information (country of residence, dates, personal information) and select "Get a Quote."
Your discount will then be applied automatically.
IATI Star is the perfect insurance plan if you want a high level of coverage at a good price, as it has broad medical coverage, and includes a number of thrilling adventure activities.
Best policy for backpackers
IATI Backpacker includes broad coverage for medical expenses, displacement of a family member in case of hospitalisation, theft or damage to luggage, and the shipment of forgotten or stolen objects during the trip.
And of course, coverage for various adventure sports!
Get 5% off IATI Backpacker when you contract in December 2023.
Fill in your travel information (country of residence, dates, personal information) and select "Get a Quote."
All done! Your discount will be applied automatically.
IATI Backpacker is the perfect insurance plan if you want comprehensive coverage that offers you the invaluable benefit of travelling with peace of mind. This way, you can focus on the adventures ahead.
How does IATI travel insurance work?
If something goes wrong while abroad, knowing that you can get quick and easy access to your insurer is invaluable.
That's why IATI offers its very own app, so you can manage your policy from your phone or computer, before, during, and after your trip.
You can use the app to get 24/7 assistance for any problems involving your policy, including loss of documents, medical advice, or emergency situations.
If something does go wrong, you can make a claim using the app, by uploading the necessary documents, providing information about the incident, and then you can even track the status of your claim.
IATI strives to make the entire process of contracting and utilising your insurance as efficient and transparent as possible, which is evidenced by this innovative app. For more information, simply visit the IATI official website.
What are the benefits of IATI travel insurance?
According to IATI travel insurance reviews, this company offers comprehensive coverage at a reasonable price, but in this section, I'd like to delve a little deeper into what makes IATI stand out from its competitors.
Firstly, IATI's medical expenses coverage. IATI offers coverage for dental expenses, the transportation of medications to your location, and exhaustive repatriation and early return coverage.
IATI's cancellation coverage is another stand-out feature. If something goes wrong, and you need to cancel an upcoming trip, you, can make use of IATI's cancellation premium to recover the costs.
IATI accepts a wide range of cancellation causes, which can be utilised by the insured person, a close family member, or even a travel companion.
Above and beyond these key benefits, there are plenty of other important advantages. Here is a brief summary:
Plenty of adventure sports activities covered
Broad medical expenses coverage with Covid-19 cover
Coverage for dental expenses
Repatriation and early return
Theft and damage to luggage
Delay in the delivery of checked luggage
Search and rescue costs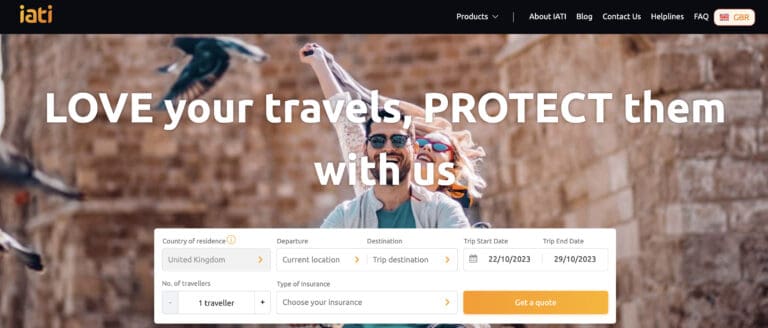 How to contract IATI travel insurance
Now that we've gone over some IATI travel insurance reviews and general information about IATI, let's take a look at how you can enjoy all the benefits they have to offer at the best price.
To contract IATI insurance, simply follow these steps:
Click here: Activate Discount
You will be redirected to the official IATI website.
Enter your travel details and click on "Calculate your insurance".
Select your travel insurance and click on "Contract".
That's it! Your insurance policy will be sent to your email.
Comparing IATI with other insurers
Apart from browsing through IATI travel insurance reviews, comparing the best policies is a guaranteed way to confirm whether or not IATI is right for you, and to get a good bargain on your travel insurance.
I've found that this approach also helps you identify your needs as a traveller, so you can get the ideal level of coverage.
To make it easier, I've compiled the best insurance providers in this comparative table of short-term travel insurance in December 2023.
Frequently asked questions about IATI
What are IATI's means of payment?
To contract your IATI insurance, you can use one of the following secure payment methods: Visa, or Mastercard.
Why take out IATI Insurance?
Travelling without travel insurance is extremely risky, as medical treatment abroad can end up costing you hundreds of thousands of pounds. It's simply not worth the risk.
There are also plenty of nonmedical reasons to take out insurance. For example, many countries require travellers to provide proof of insurance before entering the country.
As a digital nomad, I bring my expensive electronic equipment with me everywhere I go, so I know the importance of having extensive gadget coverage.
IATI Insurance provides you with a financial safeguard for all these things, and much more, so you can travel with peace of mind.
Of course, no one wants to think about being involved in an accident or having their belongings stolen, but it's incredibly important to invest in comprehensive travel insurance.
How to reduce the cost of your trip
If you want to pay less for your travels, I'm here to share some of my best tips with you.
Choosing insurance that is tailored to your travelling needs is important, but flights and accommodation are crucial factors as well.
Here are a few tips and tricks I've learned over the years, they'll help you save money on your travels, so you can focus on the things you enjoy about travelling.
If you follow these simple tips, I'm sure you will find that your travel budget will increase to the point that you can squeeze more out of your trip than you had planned!
Find cheaper flights
You know, flights don't cost the same from all countries! To pay for my cheapest flights, I use NordVPN.
Basically, it's a private network that allows you to access Internet sites from locations other than your own, and this can have some serious benefits:
In December 2023, enjoy a 59% discount on NordVPN.
Click here to activate your discount
Flights from Barcelona to Buenos Aires don't cost the same if you buy them from Spain as from India, for example. So, once you've installed NordVPN, simply access websites like Skyscanner and compare prices by entering as if you were browsing from different countries.
The 8 countries from which it is cheapest to buy flights are: Malaysia, Bulgaria, India, Turkey, Romania, Indonesia, Portugal, and Thailand. Once you have NordVPN, head over to Skyscanner and start paying reduced prices for flights all over the world!
Finding cheap accommodation these days can be a challenge, so I'd like to share my tips for saving money on lodging.
Find accommodation at a discount
Access Booking.com now and get discounts of up to 15% in December 2023 by becoming a Genius user.
There are also ways to save money when booking your accommodation with Booking. The first of which is becoming a Genius user, something you get from making 2 bookings (Genius level 1), and 5 bookings (Genius level 2).
As a Genius user in Booking.com, you can enjoy:
Discounts on room rates.
Free breakfast.
Upgrades to superior room categories.
Free parking.
Late check-out.
Welcome gifts.
In addition, there are hotels in Booking.com that directly offer you a 10 to 15% discount on your rate for being a Genius user.
Access to get discounts of up to 15% by becoming a Genius user.
Finally, Booking.com has a Minimum Price Guarantee program, so if you find a cheaper price for your hotel on any other website, they'll match it!
Is taking out IATI insurance worth it?
Browsing through the online IATI travel insurance reviews, it's clear that they have positioned themselves as one of the most reliable insurers on the market. Especially when you consider that most insurers tend to receive mostly negative reviews.
It's important to read the terms and conditions of your policy carefully before contracting to ensure that it is consistent with the type of trip you're taking, and to avoid for paying for coverage you don't need.
With that said, IATI is a great option for the average holiday or backpacking adventure. Its policies are not the cheapest on the market, but it's certainly worth it when you consider the level of coverage you get with their policies.
IATI is currently offering some exciting discounts that you can take advantage of in December 2023. If you'd like to know more, we've written the following article on how to activate your discount:
IATI Insurance Promo Code: Get 5% off in 2023
Now, all that is left is for me to wish you safe travels!