The aim of today's post is to provide some insight into the genuine customer experiences of people who have used Chapka Insurance. We'll be covering both positive and negative online Chapka Insurance reviews, as well as the benefits of their policies and coverage.
Hopefully, you'll be able to use this information to make an informed decision on whether Chapka Insurance is right for you, and whether their various policies meet your needs as a traveller.
To give you a quick idea of the experiences people have had with Chapka Insurance, I've summarised their online reviews in December 2023:
Chapka Insurance has an average rating of 4.7/5 on verified-reviews.co.uk.
Chapka offers a wide range of policies suited to different travellers. Today, we'll be focusing on their policies designed for short-term trips, long-term and backpacking trips, working holidays, students, and annual travel.
Chapka Insurance reviews
In the following paragraphs, I've compiled and summarised a variety of online reviews made about Chapka. This is to give you an idea of real users' experiences with Chapka's services.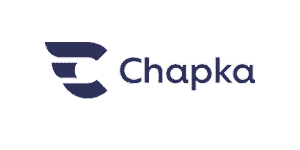 Reviews of Chapka Insurance on TrustPilot
TrustPilot is one of the world's leading online review platforms, which shows users' reviews of goods and services from around the world.
Trustpilot receives almost 1 million new reviews each month, and in the case of Chapka, there are 70 total reviews at the time of writing this post.
✅ Positive reviews of Chapka on TrustPilot
Quick and efficient claims process
❌ Negative reviews of Chapka on TrustPilot
Slow response times
Claims rejected on a technicality
I think that the fact that there are only 70 TrustPilot reviews for Chapka makes it a little difficult to draw any conclusions. Let's take a look at another review forum, verified-reviews.co.uk.
Reviews of Chapka Insurance on Verified Reviews
At the time of writing this post, Chapka has 129 reviews on verifiedreviews.co.uk.
✅ Positive reviews of Chapka on Verified Reviews
Friendly and helpful customer service representatives
Straightforward application process
Affordable
❌ Negative reviews of Chapka on Verified Reviews
Slow response times
Website not mobile-friendly
Personally, I don't think there are enough online reviews of Chapka out there to make a decision merely on this basis.
So, to give you further insight, I'll be sharing my own experiences with Chapka, as well as some information about their policies and their benefits.
My opinion on Chapka Insurance
I never thought I would have such a frightening experience while travelling, but while in Vietnam, the worst happened. I began suffering from a terrible eye infection, and after being admitted to hospital, the doctors told me they were unable to treat me there.
Obviously, when a problem like this occurs, we don't necessarily know how to react. If you're insured, however, you just need to follow a simple principle. Always keep your supporting documents, or your claim may be rejected!
Luckily, I was able to provide this proof, and I recovered the costs of my emergency repatriation and medical treatment.
All you have to do is prove to Chapka that you had an accident, the nature of the accident, and the amount of the expenses related to the accident. The same is true for car accidents or thefts: the police report will be requested by any insurer.
Which is the best Chapka policy for me?
When selecting an insurance policy, it's vital that you consider all the possible risks related to the trip you're taking, so you can prevent being uninsured for a potential incident while abroad.
Aside from possible risks, you should also carefully consider what your personal needs are as travellers, so you can ensure you get the right level of coverage based on those needs.
Having a good idea of which traveller profile you fit into is crucial when taking out insurance. So, let's take a look at the best Chapka policies for the different traveller profiles in December 2023:
The best policy for short-term trips and holidays
Cap Assistance is Chapka's short-term policy, designed for holidays and trips of 3 months or less. With its broad coverage, you'll have all the freedom in the world to enjoy your trip to the fullest.
Get a special 5% discount on Chapka Assistance valid until 07/12/2023.
Click here: Activate Promo Code
Fill in your travel details : dates, country, destination
Click on "Get a quote"
All done! The discount will be applied automatically.
Cap Assistance is a great option for all short-term travellers. This policy covers medical fees with no deductible, has broad equipment and medical coverage, insures you during sporting activities, and even covers pre-existing conditions.
The best policy for backpackers and long-term trips
Chapka Cap Adventure is the perfect plan for the intrepid travellers and adventurers out there, and of course, the backpackers! You can enjoy broad medical coverage and plenty of adventure sports, so don't miss out!
Get a 15% discount on Chapka Cap Adventure for families in December 2023:
Click here to Activate Promo Code
You will be redirected to the official Chapka website.
Fill in the form and choose the "Family" package.
You will then receive your 15% discount!
*Offer available to families of 3 or more. There is currently no general discount on Cap Adventure.
For more information, visit Chapka's official website.
Best annual travel insurance policy
Do you travel frequently throughout the year? If so, I'm sure annual insurance will be a life-changing alternative for you. Chapka Cap Multi-trip covers all short-term trips you take in a year, for one basic premium.
Put another way, Cap Multi-trip is the most effective way to maximise your coverage, while also saving time and money on insurance.
Get Chapka Cap Annual Assistance now for just 198€ in December 2023:
Fill in your trip details (dates, country of residence, and destination) and select "Get my quote."
Continue filling in the form (policyholder details) to book.
You now have your annual insurance policy!
Cap Annual Assistance insurance really is a travelling hack for frequent travellers! You can now enjoy worldwide, extensive coverage for the next 12 months.
Best policy for working holidays
If you're headed abroad on a working holiday or gap year, you want coverage that is suited to this type of trip. Luckily, Chapka has you covered!
Get 5% off Chapka Working Holiday insurance (valid until 07/12/2023)
Click here: Activate Discount
Fill in your trip info (travel dates, country of residence, destination).
Click on "Get my quote."
All Done! Your discount will be applied automatically.
Best policy for students
Enjoy worldwide coverage with Chapka's Cap Student policy. You are also covered for repatriation, early return, and any medical expenses you incur are covered at 100% of the cost, leaving you to enjoy your student exchange experience with peace of mind.
In December 2023, get a 5% discount on Chapka Cap Student:
Click here: Activate Promo Code
Fill in your travel information (dates, country of residence, and destination) and select Calculate price.
Continue filling in the form (policyholder details) to sign up.
That's it! Your discount will be applied automatically.
How does Chapka Insurance work?
It's simple. If you take out a policy with Chapka, you can make a claim on this insurance if something goes wrong while abroad, and receive reimbursement for the costs. A real life-saver!
To recover the costs of medical treatment abroad, for example, simply print out the online form on the Chapka website. Then, go to the hospital and present it to them, and they will provide you with all the supporting documents you'll need to make a claim with Chapka.
All insurers require this document signed by doctors to trigger reimbursement of expenses. If you can't print documents on the spot, keep the supporting documents: medical reports, declaration, detailed invoices, etc.).
Also, it's incredibly important to declare any pre-existing conditions when contracting. If you follow all these steps, you are likely to have a successful claim with Chapka.
What are the benefits of Chapka Insurance?
Chapka Direct is perhaps not the cheapest insurance company on the market. But it does offer excellent coverage, and a range of useful services that aren't covered by many other insurers.
For example, there are few insurers with as many different policies as Chapka. This means that each policy is perfectly suited to its target audience, meaning you're getting the best coverage.
Another stand-out feature of Chapka is their medical coverage. Depending on the plan you choose, you can even get unlimited medical expenses covered for, making it perfect for the adventure sportspeople. With Chapka Cap Adventure, you can also make use of a 24/7 medical teleconsultation service.
Chapka Insurance coverage
In this section, I've summarised the most useful benefits that Chapka has to offer:
Extensive medical coverage, and in some cases, medical coverage during trips home to your country of residence.
Baggage compensation in the event of lost or stolen belongings.
Repatriation and early return.
Covid-19 coverage, with a wide range of cancellation causes.
Broad coverage for sports and adventure activities.
Search and rescue expenses.
Personally, I prefer to pay a few extra euros to be covered for risky sports or activities, or for high medical expenses, as most countries have exorbitantly high medical costs for foreigners.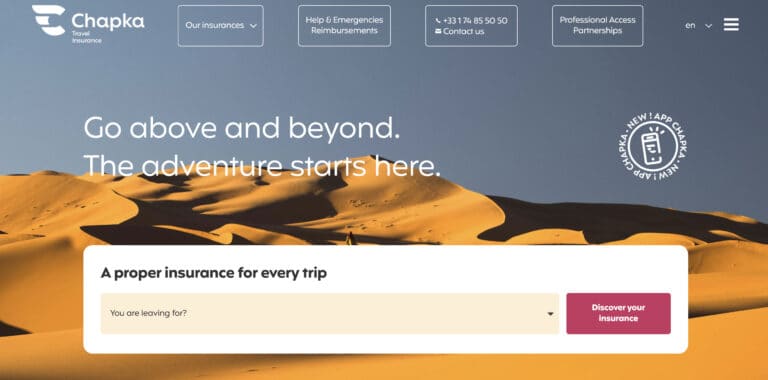 How to contract Chapka Insurance
The Chapka website is easy to navigate, and taking out a policy with Chapka is a straightforward process. To give you an idea of how it works, I've created a step-by-step guide.
Click here to be redirected to the Chapka website.
Select a policy, and fill in the details of your next trip.
Then click on "Get a quote".
Fill in your personal and payment details, and you're done!
Remember, if you click on any of the Chapka promo code links featured on our blog, your discount will be applied automatically.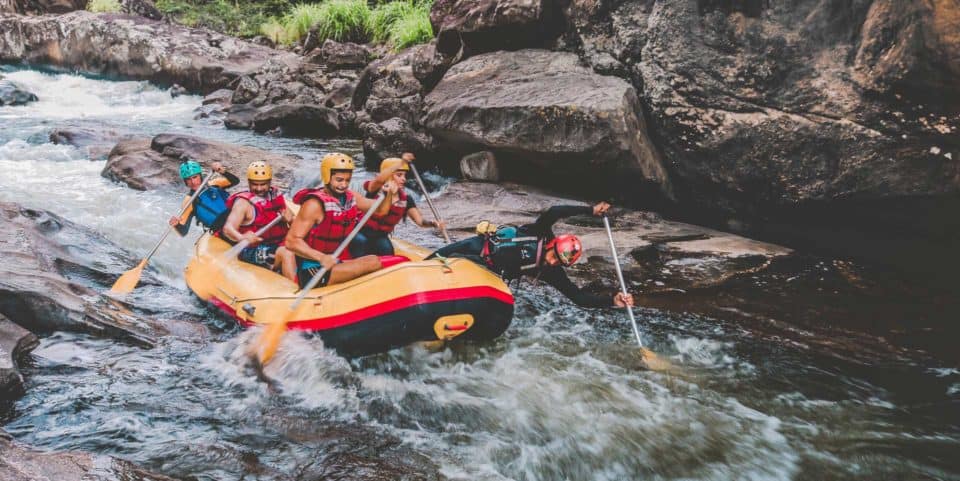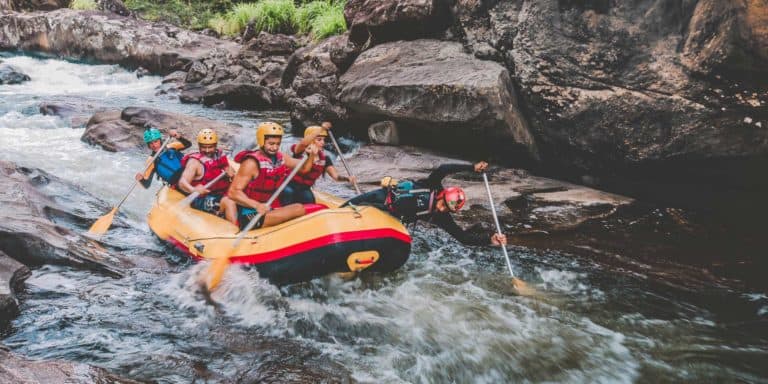 Comparing Chapka with other insurers
Finding a low-cost travel insurance policy that includes broad coverage suited to your needs should be your number one priority. Over the years, I've found that the most efficient way to do this is to compare different policies.
When you compare policies, it helps you to identify the pros and cons of various policies, which helps you identify the guarantees that best suit your needs.
To help you, I've created this comparative table for short-term trips of less than 3 months, so you can compare Chapka Cap Assistance with other similar policies on the market.
Frequently asked questions about Chapka Insurance
What are the means of payment for Chapka Insurance?
Chapka receives online payment by credit card, with guaranteed security.
If you are unable to do this, Chapka does offer the opportunity to pay by personal cheque, although this is a time-consuming process. For more information, see Chapka's official website.
Why take out a travel insurance policy with Chapka?
Insurance companies who have spent many decades in the industry, such as Chapka, understand the needs of travellers.
Some credit cards such as Visa Premier or Mastercard Gold offer travel insurance too, but these cards do not cover all situations in the event of a claim. In most cases, medical visits are not covered, and your luggage is not covered by your credit card insurance.
Finally, reimbursement is often complicated and slow. This is why we always recommend opting for a traditional insurance provider.
After having tried countless travel insurance plans over the years, I generally opt for Chapka as I have only had positive experiences with them. There are even a number of exciting Chapka promotional offers in December 2023.
How to reduce the cost of your trip
There are countless ways to make your travels cheaper. Chapka offers some great discounts, which is great, but there are plenty of other ways to reduce the cost of your trip.
Choosing insurance that is tailored to your needs is vital, but remember that flights and accommodation are crucial factors as well.
Here are a few tricks I've learned over the years, they'll help you save money on your travels, so you can focus on the travels ahead.
If you follow these tips, you might just find that by the end of your trip, you have enough money left over to extend your trip or even explore an extra destination on your route home!
Find cheaper flights
You know, flights don't cost the same from all countries! To pay for my cheapest flights, I use NordVPN.
Basically, it's a private network that allows you to access Internet sites from locations other than your own, and this can have some serious benefits:
In December 2023, enjoy a 59% discount on NordVPN.
Click here to activate your discount
Flights from Barcelona to Buenos Aires don't cost the same if you buy them from Spain as from India, for example. So, once you've installed NordVPN, simply access websites like Skyscanner and compare prices by entering as if you were browsing from different countries.
The 8 countries from which it is cheapest to buy flights are: Malaysia, Bulgaria, India, Turkey, Romania, Indonesia, Portugal, and Thailand. Once you have NordVPN, head over to Skyscanner and start paying reduced prices for flights all over the world!
Finding cheap accommodation these days is really tough, I also want to share my tips for saving money on your accommodation.
Find accommodation at a discount
Access Booking.com now and get discounts of up to 15% in December 2023 by becoming a Genius user.
There are also ways to save money when booking your accommodation with Booking. The first of which is becoming a Genius user, something you get from making 2 bookings (Genius level 1), and 5 bookings (Genius level 2).
As a Genius user in Booking.com, you can enjoy:
Discounts on room rates.
Free breakfast.
Upgrades to superior room categories.
Free parking.
Late check-out.
Welcome gifts.
In addition, there are hotels in Booking.com that directly offer you a 10 to 15% discount on your rate for being a Genius user.
Access to get discounts of up to 15% by becoming a Genius user.
Finally, Booking.com has a Minimum Price Guarantee program, so if you find a cheaper price for your hotel on any other website, they'll match it!
Is taking out Chapka Insurance worth it?
Chapka offers travel insurance policies for virtually all types of trips, each one tailored to the needs of travellers embarking on that type of trip, from short-holidays, to adventurous travel.
So, whether you're a backpacker, student, working holiday-goer, frequent traveller, or whether you're simply craving another holiday, Chapka has a plan that will provide you with a financial safeguard if something goes wrong while abroad.
To be sure that Chapka is right for you, you need to consider your needs as a traveller, and take the time to read through the chosen policy's terms and conditions before contracting. With this part done, you'll be able to contract your insurance and start travelling.
I hope this Chapka Insurance review has given you the information you need to make an informed decision. After all, taking out insurance may be the most important investment you ever make!