In recent years, Chapka Insurance has positioned itself as one of the leading travel insurance providers on the market, offering a wide array of types of insurance, tailored to travellers' varying needs.
This is significant because it's not enough simply to contract insurance. You need to be sure that the insurance you have is ideally suited to the type of trip you plan to take, so you don't end up with too little, or even too much coverage for your trip.
Today, I'll be taking you through everything you need to know about Chapka working holiday insurance, the best way to ensure that you have a smooth working experience abroad!
Chapka Insurance Working Holiday Certificate
When you subscribe, you will receive the Chapka Insurance Working Holiday certificate. This is signed and stamped by Chapka. This certificate must be presented to the authorities when crossing the border, or in case of a claim.
You will also receive your assistance card, and these contract documents will be issued to you in English, French, and Spanish: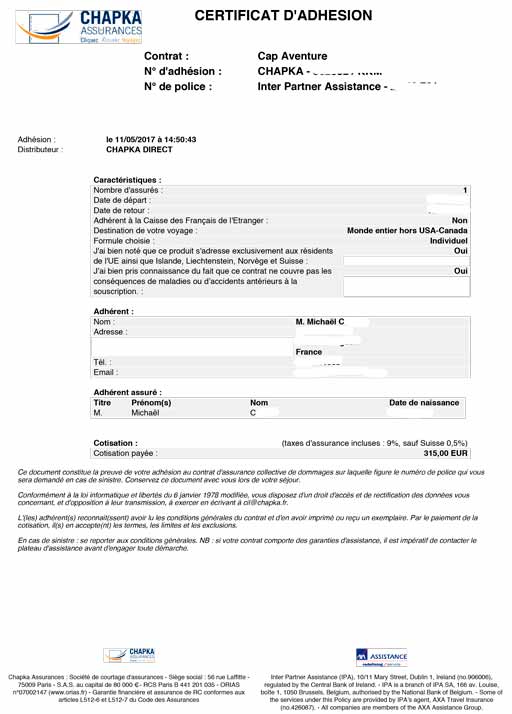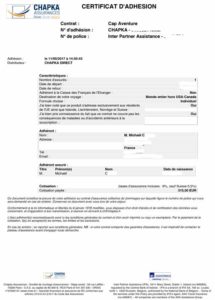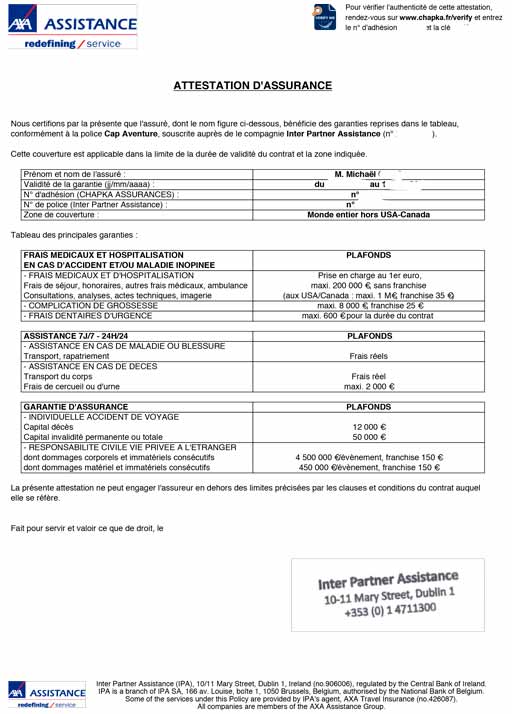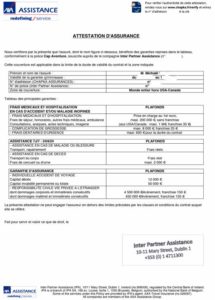 How to get a working holiday insurance certificate?
Since the beginning of the pandemic, dozens of countries now require proof of working holiday (WH) insurance to cross their borders.
If you do not present this certificate, the authorities of that country can send you back to your country of origin without any further explanation.
To avoid this situation, you will need to present a Chapka working holiday insurance certificate. You can even subscribe to the Cap Working Holiday package with a special readers' discount:
In March 2023, get 5% off on Cap Working Holiday insurance.
Click here: Activate Discount Now
You will be redirected to the official Chapka website.
Fill in the form. Do not fill in the promo code, as it will be applied automatically.
Click on "Get a quote". That's it! Discount is applied automatically.
Chapka working holiday insurance benefits
The guarantees offered by Chapka Working Holiday Insurance are specifically designed for working holiday programs:
Full and unlimited medical coverage in case of an accident or unforeseeable illness (such as Covid-19).
Early return: if a member of your family is hospitalised or dies during your stay, Chapka covers your return airfare.
Coverage in case of theft or damage to your luggage.
Insured worldwide: you are covered in the country where you are on a WH, and if you go on holiday in another country (90 days max).
Payment in 3 instalments from €150.
Chapka Working Holiday Insurance Coverage
Chapka Working Holiday
If you're going on a working holiday programme (WHP), this is the right option for you. The Chapka Working Holiday Insurance Certificate will be sent to you when you subscribe.
You'll be covered for:
Medical and hospitalisation costs (including PCR tests) in the event of Covid-19 at destination, as well as medical repatriation, recommended by the assistance centre.
Extension of stay if you fall ill with Covid-19 at destination.
Early return in case of hospitalisation due to serious illness, or death related to Covid-19 of a family member in your country of residence.
You won't be covered for:
Quarantine at destination.
Repatriation, if you are stranded at your destination due to a general lockdown (closed borders or airports, no transport).
Coverage of a mandatory PCR test to get to your destination.
Subscribe to Chapka Working Holiday
100% medical and hospitalisation costs
The real advantage of the Chapka Working Holiday Insurance is that medical expenses are insured at 100%, unlimited, and without deductibles. This means that your health expenses are covered in the event of a sudden, unforeseen illness or accident.
Reimbursement of medical expenses in case of Covid-19.
Repatriation assistance guarantee.
Original and certified Chapka Covid-19 Insurance Certificate.
Civil liability coverage.
Coverage of your luggage during transport and stay.
24-hour repatriation assistance
Chapka insurance provides 100% repatriation at actual cost. If the doctor requests repatriation for medical treatment, then repatriation is fully insured.
Presence of a relative in case of hospitalisation
If you are hospitalised in your country of expatriation, Chapka working holiday insurance offers one of your relatives a return ticket to be with you, as well as the cost of the hotel.
Early return
In the event of serious hospitalisation or the death of a relative, you can benefit from an early return with Chapka working holiday, at the actual cost of the journey.
Luggage theft insurance
With Chapka WH Insurance, your luggage is insured against theft or damage up to €2,000 (including during transport).
Civil liability for rental
You are covered up to €100,000 with Chapka insurance if you cause damage to the property you are renting.
Search and rescue costs
Search and rescue costs at sea and in the mountains are reimbursed up to €5,000 (upon presentation of an invoice) with the Chapka insurance package.
Comparison of Chapka working holiday
Here are the rates for Chapka working holiday insurance regarding other insurers:
Chapka Working Holiday France
This insurance policy is for travellers with a working holiday visa in France and whose country of residence is (these two criteria are imperative):
Canada,
Argentina,
Brazil,
Australia,
New Zealand,
South Korea,
Mexico,
Uruguay,
Japan,
Taiwan,
Chile,
Hong Kong,
Russia.
Conditions for taking out Chapka Insurance
You must be a citizen of the European Union, and hold a Working Holiday Visa (WHV).
Chapka insurance is intended for holders of a Working Holiday visa for:
Australia,
Canada,
Japan,
New Zealand,
Argentina,
Brazil,
Chile,
Colombia,
Mexico,
Uruguay,
Russia,
Singapore,
Taiwan,
Hong Kong
South Korea.
This contract is also intended for holders of:
Bridging visa.
Visa subclass 416, 417, 462.
Young professional visa.
For J1 visa holders in the US, the Cap Student insurance is the best option, as the Cap Working Holiday option is not suitable.
If you're a British passport holder dreaming of embarking on a working holiday, don't you worry! The UK Government has entered into a number of bilateral agreements that allow you to apply for working holiday visas overseas. These include: Australia, New Zealand, Canada, Japan, South Korea, Taiwan, Hong Kong, and Singapore.
My opinion on Chapka Insurance
In my opinion, Chapka Insurance is a recommended and even necessary option if you are going on a working holiday programme.
Of course, you don't expect to have to use your travel insurance, but it is important to know what to do in the event of a claim.
Is Chapka working holiday insurance necessary?
If you go without travel insurance, you will have to pay out of your own pocket for treatment. To give you an idea of what this may look like, appendicitis surgery costs €44,060 in the United States, and flu treatment costs €24,120 in Canada. So, it's easy to see why travel insurance is so essential.
If you want to pay less for your insurance, refer to the list of Chapka insurance promo codes currently available.
Getting reimbursed by Chapka Insurance
It's rather simple, and above all, un-bureaucratic.
Just print out the online form on the Chapka insurance website. Then go to the doctor or hospital and present it to be fully insured.
All insurers require this document signed by doctors to trigger reimbursement of costs. If you cannot print documents on the spot, keep the supporting documents (medical report, certificate, detailed invoice, etc.).
Then send all the documents back to Chapka and the fee will be refunded.
Some common situations are:
24-hour hospitalisation: you must advance the costs incurred and keep all receipts for medical and hospital expenses. You must also keep all the invoices for medication to send them to the insurer later for reimbursement.
Hospitalisation of more than 24 hours: you will have to contact the insurer so that they can contact the hospital where you are being treated. This way, there's no need to make an advance payment for medical expenses.
Luggage theft: the insurer must be contacted within five days. The time limit may vary depending on the loss suffered.
A working holiday is a transformative experience: meeting new people, learning about new cultures and languages, and of course, making some money to fund your travels.
I hope you have an excellent working holiday and create memories that you'll cherish for a lifetime!✈️🌍