In this Wise money transfer review, I hope to change the way you see international banking. A huge undertaking, I know!
Sending money abroad can be slow, complicated, and expensive. However, Wise promises to solve this problem.
If you are reading this article, you know that with the advent of new banking technologies, new alternatives have emerged… Nowadays, there are many platforms for transferring money abroad, most of them being more or less efficient.
For 2 years now, I've been using and evaluating the Wise bank card (TransferWise) and its "Borderless" account. It is a platform that essentially acts as a multi-currency, multi-country account, and can be used from anywhere in the world that accepts Mastercard.
If you're a world traveller who deals in numerous currencies, this is an absolute game-changer!
Official website: www.wise.com
What is Wise?
Founded in London, UK, this new financial institution was seen as highly innovative, by allowing transactions at cheaper exchange rates than traditional banks, without all the bureaucracy.
You can send and receive money in Euros (€), Dollars ($), Pounds (£), and 25 other currencies, both faster, and cheaper than before. The website is straightforward and convenient, allowing you to make an international transfer safely in just a few clicks.
By mid-2018, Wise (formerly Transferwise) had 3 million users transferring €2.19 billion per month. By 2019, Wise already had over 6 million people transferring €4.38 billion per month. This represents a €1.1 billion saving per year compared to traditional banking.
Wise is a great choice for a many reasons. Among them, the cost, convenience, and time saved are the most significant.
The Borderless Wise card offers a perfect solution whether you're going on holiday, or simply want to make bank transfers between friends or family. Compared with its main competitors, Wise stands out for its reliability and positive reviews on Trustpilot.
How does Wise money transfer work?
The Wise solution allows you to transfer money quickly and cheaply. In just a short period of time, Wise has become the number one choice for travellers and digital nomads from around the world.
Simply sign up to Wise, a short and easy online process. Within minutes, you will have your own:
UK account number and sort code
European IBAN
US account number, routing and wiring number
Australian account number and BSB number
These are now your own personal bank details that you can use to make or receive payments from friends, family, or employers in these currencies. All of this, with no fees.
If you want to convert your money into any of the other 25 currencies available through Wise, simply pay a minimal, and most importantly, transparent, fee, and the conversion will go through in just a matter of seconds.
Wise offers an intuitive and convenient interface for managing bank transfers, and guarantees that there are no sneaky, hidden fees. If you travel a lot or live abroad part of the time, Wise is definitely an exceptional money-saving banking solution for you.
Wise money transfer fees
In my opinion, Wise's low prices are its most exciting feature.
In fact, Wise's Borderless account offers lower fees and lower barriers to entry than any other traditional bank:
Wise Account
| | |
| --- | --- |
| Service | Price |
| Account opening | Free |
| Multi-currency account (40 currencies) | Free |
| UK IBAN account number | Free |
| Routing and Wiring Number in the USA | Free |
| IBAN account in Europe | Free |
| BSB account and code in Australia | Free |
| New Zealand Account Number | Free |
| Currency conversion | |
| Flat fee for sending money (varies according to currency) | €0.63 |
| Receive money in EUR, USD, GBP, PLN, AUD and NZD | Free |
| Deposit money into accounts | |
Wise Bank Card
| | |
| --- | --- |
| Service | Cost |
| Pay with the Borderless Card | Free |
| Convert a currency using the card | |
| ATM withdrawals up to €240 per month | Free |
| ATM withdrawals of more than €240 /month | 2% of the value |
Guide to Wise money transfers
First, it's important to take precautions when filling in your details. Especially the correct spelling of your names and your personal information to avoid future problems in your transactions.
Step 1: Choose the quantity to send (Click on the option)
Step 2: Enter your details. Once you have logged in and confirmed your email address, you can start your first transfer! Choose the amount you wish to transfer.
Step 3: Choose the type of transfer in the box below the amount.
You will then be faced with two options:
Fast: by bank transfer
Default: send money by bank payment
Step 4: Select the recipient, the person, or entity you want to send money to.
You must enter the full name of the account holder, and the bank details with IBAN (international bank account number). If you do not know it, please contact your bank.
Step 5: Confirm the transfer details.
Step 6: Choose how you wish to pay (invoice, bank transfer, or debit/credit card).
Step 7: Confirm payment and you're done.
Advantages of Wise according to your profile
Students: bank charges are reduced, and ATM withdrawals are free (240 euros/month).
Expatriates: transfers are free of charge if the associated multicurrency account has the bank details of your country of residence.
Digital nomads and travellers: Wise allows you to control the balance of your accounts in multiple currencies. This allows you to save on currency exchange when travelling to another country.
Business travellers: the multi-currency account allows you to convert and spend the exact amounts you need when you travel, so you no longer have excess currency to exchange when you return.
Wise Borderless Bank Card
In addition to allowing international bank transfers at the best price, Wise also offers a multi-currency digital account.
This account allows you to receive transactions in different currencies from all over the world (Euro, US Dollar, Australian Dollar and British Pound).
When you open your account, you are also entitled to apply for the Wise Card.
Advantages of the Borderless Card
Reduced exchange rate: the Borderless card allows you to benefit from a real exchange rate up to 8 times cheaper than conventional banks.
Free withdrawals: up to €240 per month
Prepaid card: To use the Borderless card, you must top it up because it is not linked to the multi-currency account, so in case of theft or loss, it is impossible for the thief to access your accounts and withdraw money.
Best of all: it's totally free.
For now, the digital account and card are not available in all countries around the world, but it is an excellent option for those living abroad who want to move money, make online payments or purchases.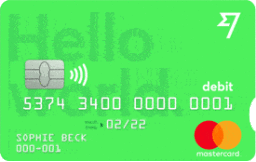 How to order the Wise Borderless Card?
Step 1: Create a Wise account
Once created, you will find the "Borderless Account" option in the navigation menu.
Step 2: You will see a debit card option (Borderless card).
Step 3: Confirm your details (you need a fixed address).
Step 4: To receive your Borderless card, you must deposit a minimum of 20 euros (or equivalent in the currency of the country you live in). This money will not be charged from your account, and you can use it as you please when you receive your card.
Step 5: Activate your card with the Wise application.
Step 6: Once enabled, the application will create a secret PIN for your Borderless card.
That's it! Now you can use your Wise Mastercard.
Frequently asked questions about Wise
How much does Wise charge?
Sending money from your account to someone else with Wise is much cheaper than with a traditional bank.
Typically, traditional banks charge fees of between 7 and 10% of the total amount, while Wise charges between 1.5% and 3%.
However, these fees are already included in the amount shown on the Transferwise website or application.
When completing your transfer amounts, the total shown for each currency is the final amount, with no hidden fees or surprises in the fine print.
What are Wise's payment methods?
There are two options for making Wise money transfers between different countries.
Simply choose whether the transfer will be made by phone, online, or as a bank transfer. When you select the latter option, you have to enter your Wise details and transfer directly from your online bank.
When dealing with foreign currencies, payments can be made by Visa, Mastercard, or another type of card depending on your country of origin.
Is the Wise card available in my country?
If you are a resident of any of the following countries or regions, and have a Wise account, you are eligible to receive the Wise card:
Europe: European Union member states, the United Kingdom, Norway, and Switzerland.
Asia: Singapore, Malaysia, and Japan.
The Americas: Brazil, Canada, and the United States (except for residents of Nebraska).
Oceania: New Zealand and Australia.
Wise's services are also available in a multitude of smaller countries, including British and French overseas territories. For more information, see Wise Card
Can I cancel my transfer from Wise?
Yes, sending money abroad can be cancelled, but this will depend on the progress of the bank transfer.
If the payment has not yet been made, simply log in to your profile, click on "Activity", select the transfer, and click on the "Cancel transfer" button.
If the Wise money transfer has been made, it is still possible to cancel it in progress, or even if the money is already with Wise. In this case, the "Cancel transfer" option may no longer appear in your profile, and you will need to contact Wise.
The transaction can only not be cancelled when the money is already in the recipient's account.
Do I have to declare taxes on Wise money transfers?
If your bank transfers are to cover educational expenses (exchanges, university fees, master's, doctorate, etc.) they are exempt from income tax, i.e. you do not need to declare them.
However, if you send money to cover your living expenses abroad, the amount of tax is 6%.
How long does it take for the money to reach the account?
It all depends on the type of transaction you choose.
Usually, it will take 2-4 working days, but in my experience when sending money from Europe to Brazil, for example, it only takes a few hours.
Bank transfer is often the fastest option!
Is Wise safe, and will my money be deposited?
Wise money transfers are secure. All transactions are reported to the Central Bank of the country of residence, which guarantees the security of international transfers.
I have been making Wise money transfers since I moved to Europe and have never had a problem with the platform.
Wise money transfer review: final remarks
In my experience with the service, and after reading plenty of Wise money transfers reviews, I am totally convinced that it is the best solution to the high cost and bureaucracy of international transfers.
I see it as a revolutionary solution for travellers, exchange students, and people living abroad who still have a current account in their home country and want a quick and efficient way to deal in international currencies.
I hope that this Wise money transfer review has helped you reach a decision on whether the platform can be of use to you. If you have further questions, don't hesitate to get in touch with us. Safe travels! ✈️ 🌎