When travelling, accidents and health risks are numerous and often unknown.
With the pandemic, some countries now require proof of insurance to cross the border, so ultimately, it's simply best not to take the risk!
That's why I've created this guide to the online ACS AMI insurance reviews, to provide some insight, so you can make an informed decision on your insurance for your next overseas adventure.
Before delving deeper into the content, including an overview of ACS AMI's benefits, FAQs, and its best policies, here's an overview of their online reviews:
ACS AMI has an average score of 2.9/5 on TrustPilot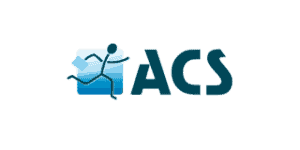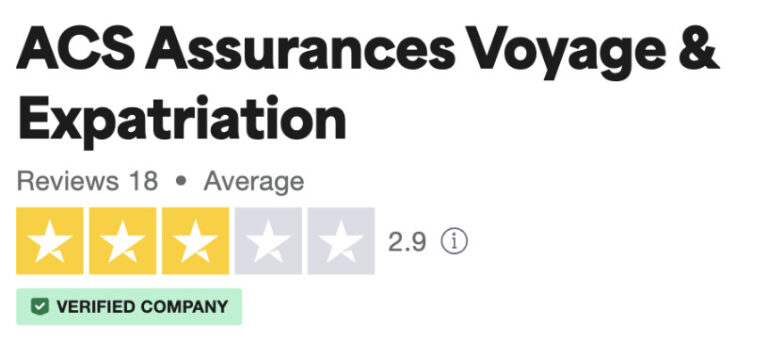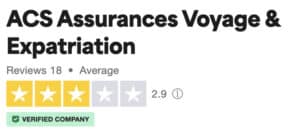 ACS AMI insurance reviews on TrustPilot
TrustPilot is one of the world's leading online review platforms, giving users the opportunity to share their thoughts and experiences about businesses from around the world.
Trustpilot receives almost 1 million new reviews each month, but at the time of writing this post, ACS AMI only has 18 total reviews. Their Trust rating is 2.9.
✅ Positive ACS AMI insurance reviews on TrustPilot
Smooth claims process
Helpful customer service
❌ Negative ACS AMI insurance reviews on TrustPilot
Slow claims payout
Slow response times
As you can see, there are some conflicting opinions.
After all, 18 reviews aren't much to go by, so I'm going to give you a brief look into my thoughts on ACS AMI, and then some further useful information about their services.
My opinion on ACS AMI travel insurance
My own personal experience has shown me that a simple eye infection can lead to an emergency repatriation. For 30 years, ACS AMI has demonstrated its reliability and experience in multi-risk coverage abroad.
Needless to say, I have been satisfied with their coverage. As such, I would like to point out a few of the pros and cons of ACS AMI from my experiences with them.
✅ Advantages of ACS AMI insurance
ACS AMI's tariffs are the lowest on the market.
There is no increase in insurance premiums for the USA.
ACS AMI has 30 years of experience and presence in the travel insurance market.
❌ Disadvantages of ACS AMI insurance
Luggage is only insured during travel.
The early return of a family member in case of hospitalisation is not included in the insurance offers.
Which ACS AMI policy is right for me?
After researching and comparing relevant benefits and prices, these are the best ACS AMI policies for each traveller profile in December 2023:
The best policy for short holidays
If you're planning a short-term trip of less than three months, you want an insurance policy that covers your activities, without having to pay for coverage that you don't need.
Get ACS AMI Globe Partner from 15€ for a limited time in December 2023
Click here: Get a Free Quote
Enter your trip details: type of travel, destination, dates, and number of travellers.
Select your medical expenses limit.
Enter your traveller and payment details,

and that's it!
It's important to have the right coverage if something goes wrong while on holiday, so you can avoid having to face a nasty financial nightmare. With ACS AMI, you'll be covered worldwide, with repatriation assistance, broad medical expenses, and plenty of other useful benefits.
The best policy for long-term trips
For long-term trips of three months or more, you need broader coverage, to provide you with financial protection from any unforeseeable events.
Globe Traveller offers the possibility to contract your insurance while abroad, although this involves an 8-day waiting period. This policy is also easily customisable, to suit your travelling needs.
Get ACS AMI Globe Traveller from 20€ now in December 2023:
Click here: Get a Free Quote
Enter your trip details: type of travel, destination, dates, and number of travellers.
Select your medical expenses limit.
Enter your traveller and payment details,

and that's it!
Taking out a comprehensive travel insurance plan is essential for all long-term and worldwide trips. With Globe Traveller, you have recourse to a 24/7 emergency helpline, broad coverage, and a 10% discount for groups of 3 or more.
How ACS AMI travel insurance works
Obviously, you don't want to have to use your travel insurance. However, it can be useful to know what to do in the event of a claim to avoid making the situation worse.
For example, repatriation is sometimes necessary when you are hospitalised following an accident or illness, including accidents at home or the death of a relative. ACS AMI travel insurance offers effective repatriation coverage in these cases.
If you are hospitalised for more than a week, other benefits will be added, such as the possibility of a relative joining you at the insurer's expense. In all cases, the logistics and conditions of repatriation are fully covered by ACS AMI insurance.
Here are some guidelines in case of a glitch:
24-hour hospitalisation: you must advance the costs incurred and keep all the receipts for medical and hospital expenses. As well as the invoices for medication in order to send them back to the insurer later to obtain your reimbursement.
Hospitalisation of more than 24 hours: you will have to contact the insurer so that it can contact the hospital where you are being treated. This way, there is no need to make an advance payment for medical expenses.
Luggage theft: the insurer must be contacted within 5 days. The delay may vary depending on the loss suffered.
What are the benefits of ACS AMI travel insurance?
With Globe Traveller, ACS AMI offers the possibility to subscribe even if you have already left home. However, there is a waiting period of 8 days.
This is a huge advantage for travellers who may have forgotten to insure themselves.
ACS AMI also stands out for its affordable prices compared to other similar insurers. Their policies offer great value for money, especially for travellers going on regular, low-risk holidays abroad.
To give you a better idea of what ACS AMI's policies have to offer, I've summarised their main advantages below:
Main benefits of Globe Partner
Valid worldwide
Quick and secure online subscription
Customisable medical expenses cover
Free choice of doctors and hospitals
Repatriation assistance and medical transportation
Covid-19 coverage
Unfortunately, Globe Partner is exclusively reserved for those under 40 years of age. If you're searching for travel insurance options for people above 75, or people with pre-existing medical conditions, click here.
Main benefits of Globe Traveller
Multilingual 24/7 helpline
Subscribe after your departure
Customisable guarantees
Risky sports coverage add-on option
Repatriation assistance and medical transportation
Unfortunately, Globe Traveller is exclusively reserved for those under 66 years of age.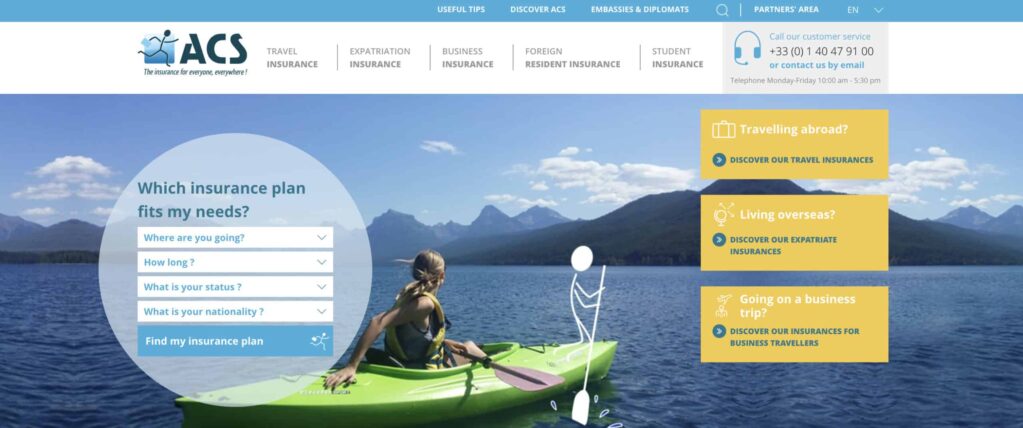 How to contract ACS AMI travel insurance
The ACS AMI website is easy to navigate, so you shouldn't have any problems contracting your insurance.
Here's a quick step-by-step guide to taking out your policy on the ACS AMI platform:
Go to the ACS AMI Insurance website.
On the homepage, fill in your personal details and trip details.
Select the type of policy you want to contract.
Choose your medical expenses limit and sports coverage add-on if needed.
Fill in your personal details.
Fill in your payment details, and that's it!
Comparing ACS AMI with other insurance providers
Every trip is different, so it's important to compare travel insurance options to ensure you get the right policy for the trip you're taking.
Comparing policies has the added benefit of highlighting the cheapest options, so you can get a bargain on your insurance!
To help you compare ACS AMI policies with other similar policies, I created this comparative table for short-term trips of less than 3 months. Here you can see which plans offer the ideal level of coverage for your particular trip.
Frequently asked questions about ACS AMI
What methods of payment are accepted?
ACS AMI accepts payment from all the most secure bank cards. These are: Visa, Mastercard, American Express, and PayPal.
Why take out a policy with ACS AMI insurance?
Some types of Visa Premier or Mastercard Gold bank cards offer 'travel insurance' as part of the card contract.
However, this type of insurance does not cover all claims. In most cases, an excess will have to be paid, and medical visits are not covered. This is why this type of insurance is not recommended for travel.
As we have seen, it is important to take out an insurance policy that is perfectly suited to the needs of your trip. Both for the activities you will be doing and for the guarantees in case of a claim.
The packages offered by ACS AMI insurance have the advantage of being both affordable and comprehensive, in covering most unexpected travel situations.
How to reduce the cost of your trip
One thing that all travellers have in common is the desire to save money while travelling. More often than not, to be able to continue travelling!
There are countless ways to make your travels cheaper. Choosing insurance that is tailored to your needs is vital, but remember that flights and accommodation are crucial factors as well.
Here are a few tricks I've learned over the years, they'll help you save money on your travels, so you can focus on the things you enjoy about travelling.
If you follow these tips, you might just find that by the end of your trip, you have enough money left over to explore an extra destination on your route home!
Find cheaper flights
You know, flights don't cost the same from all countries! To pay for my cheapest flights, I use NordVPN.
Basically, it's a private network that allows you to access Internet sites from locations other than your own, and this can have some serious benefits:
In December 2023, enjoy a 59% discount on NordVPN.
Click here to activate your discount
Flights from Barcelona to Buenos Aires don't cost the same if you buy them from Spain as from India, for example. So, once you've installed NordVPN, simply access websites like Skyscanner and compare prices by entering as if you were browsing from different countries.
The 8 countries from which it is cheapest to buy flights are: Malaysia, Bulgaria, India, Turkey, Romania, Indonesia, Portugal, and Thailand. Once you have NordVPN, head over to Skyscanner and start paying reduced prices for flights all over the world!
Find accommodation at a discount
Access Booking.com now and get discounts of up to 15% in December 2023 by becoming a Genius user.
There are also ways to save money when booking your accommodation with Booking. The first of which is becoming a Genius user, something you get from making 2 bookings (Genius level 1), and 5 bookings (Genius level 2).
As a Genius user in Booking.com, you can enjoy:
Discounts on room rates.
Free breakfast.
Upgrades to superior room categories.
Free parking.
Late check-out.
Welcome gifts.
In addition, there are hotels in Booking.com that directly offer you a 10 to 15% discount on your rate for being a Genius user.
Access to get discounts of up to 15% by becoming a Genius user.
Finally, Booking.com has a Minimum Price Guarantee program, so if you find a cheaper price for your hotel on any other website, they'll match it!
Is taking out ACS AMI travel insurance worth it?
In conclusion, deciding whether ACS AMI is right for you requires some consideration of your traveller needs.
For example, if you're looking for extensive coverage for a big adventure abroad, it may not be right for you. If so, I recommend you check out our article on Long Stay travel insurance.
However, if you're looking for an affordable policy for your next holiday, or if you're already abroad and forgot to take out insurance, then ACS AMI is definitely worth it.
ACS AMI's policies will provide you with an effective financial safeguard in case something goes wrong, which, at the end of the day, is an invaluable benefit to have as you explore your next destination.
I hope that this ACS AMI travel insurance review has given you the necessary insight you need to reach a decision on insurance. Thank you for reading, and safe travels!