Spain has always been a favourite destination for tourists, and even more so for digital nomads. We absolutely love Spain. Not only will you find world-renowned cuisine and tons of amazing places to visit, but it also has a relatively low cost of living.
Spain, eager to grow its economy and take advantage of the global trend towards remote work, has a visa project for digital nomads and remote workers called la Ley de Startups. In other words, a digital nomad visa to Spain!
The Spanish Congress of Deputies finally approved the law in December 2022, and the Government will begin to receive applications from early 2023. At last, digital nomads will be able to live and work in Spain for an extended period of time.
We're going to provide you with all the new information you'll need to apply for the long-awaited digital nomad visa to Spain, which was designed specifically for nomadic travellers and remote workers eager to travel and live in Spain.
What is a digital nomad visa?
Following the pandemic-driven teleworking boom, countries have finally started to offer visas for digital nomads, and now there is a digital nomad visa to Spain.
Although our nomadic lifestyle has been around for a long time, it wasn't until 2020 that visas for remote workers started to emerge. Estonia was the first country to grant a visa for nomads, and they also offer e-residency for remote digital entrepreneurs.
This type of visa is ideal for remote or self-employed workers who take the opportunity to spend long periods of time abroad, without the time constraints of tourist visas.
The "digital nomad visa" works differently in each country, and can even be called by different names. However, this type of visa is generally characterised by the fact that it is:
A residence permit for more than 6 months (most of them for 1 year)
only applicable for persons who have a foreign company or work remotely for companies outside the national territory.
A visa with no right or permission to work locally.
How to apply for the digital nomad visa to Spain?
If you want to apply for the digital nomad visa to Spain, you have two options. Apply directly through a consulate or embassy in your home country, or you can enter Spain using a tourist visa and apply from inside Spain, but don't wait more than 3 months.
The application process requires various documents, including:
The application form
Proof of payment of the administrative fee
A copy of your passport
Proof of your qualifications or work experience
Proof of employment and income
Evidence that the company has been in operation for over a year
A letter of authorisation from your company to work in Spain
Proof of a clear criminal record
Proof of health insurance
It is expected that you will be able to apply for the digital nomad visa to Spain online shortly, although a streamlined online application process is yet to emerge.
If you want to be among the first to receive news regarding the digital nomad visa to Spain, and others like it from around the world, subscribe to our newsletter.
If you need a visa urgently, iVisa provides travellers with a streamlined way to apply for visas around the world. It's a traveller-friendly online service that simplifies the visa application process, and provides useful information on the visa requirements for over 200 different countries and territories around the world.
Get your visa quick with a 7% discount to your order's service fee at:
https://www.ivisa.com/
How does the digital nomad visa to Spain work?
Spain joins the list of countries with a visa for digital nomads, with the new Startups law. Essentially, it's a residence permit to live in Spain, designed to attract international talent and investment, and to boost digital entrepreneurship in the country.
Thanks to the Startups Act, digital nomad visas to Spain will be granted to remote workers and digital entrepreneurs, as long as they are non-European Economic Area (EEA) nationals.
People with a European passport can work remotely for up to 6 months without the need for official registration, thanks to being part of the EEA.
Requirements for the digital nomad visa to Spain in March 2023
To apply for the digital nomad visa to Spain, you must meet one of the following profiles:
Demonstrable digital nomad activity.
Remote worker of a company outside Spanish territory.
A foreign worker of a foreign company located in Spain.
Digital entrepreneurs.
The duration of the digital nomad visa to Spain will be one year, with the opportunity for successful remote workers to extend their visa to up to five years. After this period, you should be eligible to apply for permanent residency in Spain. Please remember, however, it's still essential to take out travel insurance!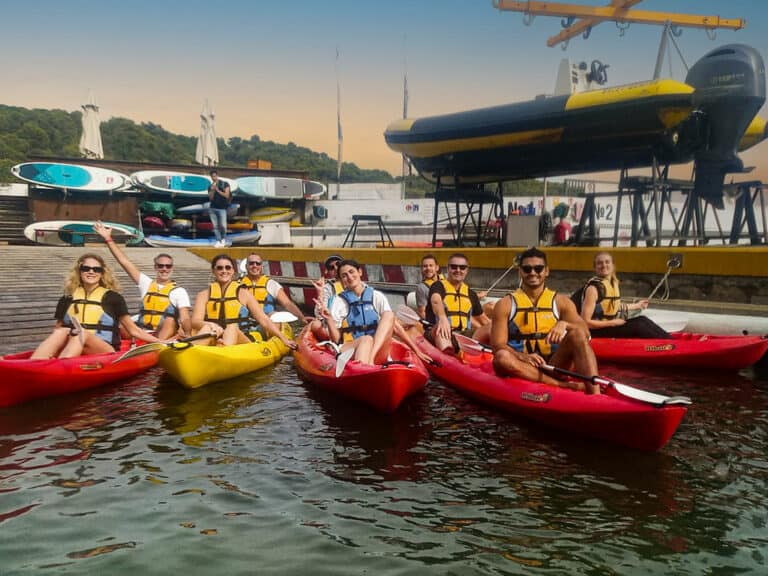 The digital nomad visa to Spain will also bring tax benefits for both companies and employees, as the Startup Act offers measures that are much more favourable than the country's other permits.
Digital nomads will have to pay the non-resident income tax (IRNR), but not the income tax on non-resident persons (IRPF). Also, the usual foreigner identification number (NIE) will not be expressly required, just the Spanish tax identification number (NIF).
With this law, Spain also appeals to expatriate Spaniards who have not resided in the country for at least 5 years, who are digital nomads or entrepreneurs. In these cases, the same visa benefits will apply.
Keep up to date on future visas for digital nomads in 2023
Leave your email and receive the latest updates:
Advantages of the digital nomad visa to Spain
Visa applicable without risk of refusal.

Possibility to live in Spain for up to 5 years.

Being able to register a company with tax benefits.

Return opportunities for UK citizens and businesses affected by Brexit.

The creation of more Co-working and Co-living spaces in Spain.

The possibility to obtain permanent residence in Spain.

Spain has the potential to become a hub for digital entrepreneurship.
Disadvantages of the digital nomad visa to Spain
The requirements may seem demanding.

Ownership of a digital business is not a sufficient requirement.

Startups older than 5 years cannot apply for this visa (or 7 years for startups in strategically important sectors).

No more than 20% of the total revenue can be generated locally.

Digital nomads would enter the tax system with payment of tax.
Requirements for obtaining a digital nomad visa to Spain
As with most visa processes, there are a number of mandatory requirements:
Filling out a visa application form;
Pay the corresponding fee;
Take out travel insurance
Bank proof of income for the last 3 months;
Present documents proving that you are a remote worker for a company outside Spain.
According to the draft Startup Law, applicants for the digital nomad visa to Spain will also have to comply with some specific requirements:
Proof of employment relationship with the foreign company for at least 3 months prior, and then for a period of at least 1 year;
Document proving work experience for more than 3 years;
Highly qualified vocational qualification such as a bachelor's degree, postgraduate degree, business school-leaving certificate, etc;
Authorisation for telecommuting or teleworking.
Remember, the digital nomad visa to Spain is for non-European Economic Area (EEA) nationals. European citizens can live and work remotely in Spain for up to 6 months without applying for a specific visa.
Can I use another visa to live in Spain and work remotely?
Until now, digital nomads in Spain were playing a bit of a gamble in staying more than 3 to 6 months, and some had to resort to work or residence visas that ended up affecting the nomadic lifestyle.
Non-profit residency, although not a specific visa for digital nomads, could be applied in some cases. However, without legal advice, applications may be rejected. There were some cases of refusal of this visa, as the visa was designed for different purposes.
This visa allows you to reside in Spain for one year and the possibility of renewing it for up to 2 more years, but on the condition that you do not exercise any lucrative activity in the country.
This permit is intended for people who have sufficient funds to guarantee the first year of stay. That is, about €32,000. Alternatively, they can demonstrate financial benefits from passive income, such as property or other assets.
In my opinion, this visa can be a bit complicated to obtain. That's why the new digital nomad visa to Spain is such a great opportunity for digital nomads and digital entrepreneurs!
Is travel insurance mandatory for Spain?
For the digital nomad visa to Spain, you do need private health insurance.
For general travel to Spain, there is no requirement to have travel insurance when visiting the country. However, Spain's official tourism website does highly recommend taking out insurance before arriving, especially for non-EEA citizens.
It's worth mentioning here that this website also has a page dedicated to providing information for British passport holders travelling to Spain following Brexit.
What is the best travel insurance for Spain?
After having tested a wide variety of travel insurance options over the years, we've been able to identify which insurance providers offer the best deals specifically for digital nomads.
If you want to get a digital nomad visa to Spain, and live and work in the country, here's a great limited time promotional offer for an insurance policy that will keep you covered:
In March 2023, get a 5% discount on HeyMondo Long Stay:
Fill in your trip info (country of residence, regions covered, dates, and number of travellers).

Click on "Calculate Price".

All done! The discount will be applied automatically.
Some of the most useful benefits of HeyMondo for digital nomads include:
24/7 assistance platform.

Electronic equipment coverage.

Repatriation and early return.

Adventure sports coverage.

Travel expenses for a family member if you are hospitalised for over a week.
Comparative table of travel insurance to Spain
How to travel to Spain at the best price?
Fly at reduced prices!
If you're headed to Europe on a digital nomad visa to Spain, you want to save money where you can, so you can make the most of your experience.
It's worth remembering that flights can cost different amounts depending on where you buy them from. To pay the cheapest prices possible, I buy flights using NordVPN.
NordVPN is essentially a private network that allows you to access internet sites from locations other than your own. This is very handy because by using a Turkish VPN, your flights to Spain will almost certainly be cheaper than if you were to buy them in the UK, for example.
Once you have installed NordVPN, you can simply access websites like Skyscanner and compare prices by browsing from different countries. The 8 countries from which it is cheapest to buy flights are: Malaysia, Bulgaria, India, Turkey, Romania, Indonesia, Portugal, and Thailand.
Discounted accommodation all year round
You can also save money on accommodation by becoming a Genius user with Booking.com. With 2 bookings, you reach Genius level 1, and with 5 bookings you reach Genius level 2.
Genius users on Booking.com can enjoy:
Discounts on rooms rates.
Free breakfast.
Upgrades to superior room categories.
Free parking.
Late check-out.
Welcome gifts.
In addition, there are hotels on Booking.com that offer you a direct 10 to 15% discount on your accommodation, simply for being a Genius user.
Access Booking.com now and get discounts of up to 15% by becoming a Genius user.
Finally, Booking.com has a Minimum Price Guarantee program. This means that if you find a cheaper price for your hotel on any other website, they will match it!
Reserve your activities and entertainment in advance
GetYourGuide is an indispensable tool for organising any trip to any destination. It's a platform that helps you book tourism and leisure activities on your trip.
With GetYourGuide, you can book your activities online to avoid queues, and take advantage of a discount for online bookings. This way, you save time and money, so you can enjoy more activities during your trip!
Keep up to date on future visas for digital nomads in 2023
Leave your email and receive the latest updates:
Which countries offer visas for digital nomads?
Although many countries have yet to grant this visa, the number of places where we can explore, work and live as digital nomads is growing.
The digital nomad visa to Spain is a relatively new arrival, but to date, over 40 countries are granting temporary residence permits for travellers who are working from all over the world.
Each visa has different application conditions, varying lengths of time, and requirements may be more flexible or demanding, depending on the country.
Here's a list of the countries that offer visas for nomads, depending on the region you want to visit:
| | | | | | |
| --- | --- | --- | --- | --- | --- |
| | | | | | |
| | | | | | |
| | | | | | |
| | | | | | |
| | | | | | |
| | | | | | |
| | | | | | |
| | | | | | |
| | | | | | |
| | | | | | |
| | | | | | |
| | | | | | |
| | | | | | |
| | | | | | |
| | | | | | |
| | | | | | |
| | | | | | |
| | | | | | |
| | | | | | |
| | | | | | |
| | | | | | |
| | | | | | |
| | | | | | |
| | | | | | |
| | | | | | |
| | | | | | |
| | | | | | |
| | | | | | |
| | | | | | |
| | | | | | |
| | | | | | |
| | | | | | |
| | | | | | |
| | | | | | |
| | | | | | |
| | | | | | |
| | | | | | |
| | | | | | |
| | | | | | |
| | | | | | |
| | | | | | |
| | | | | | |
| | | | | | |
| | | | | | |