Estonia is the first country to offer 100% online residency. The goal of the program is to create a digital identity so that anyone can run a business online regardless of location.
The ID card allows you, from anywhere, to work with Estonian banks and all public agencies, necessary for paying taxes and managing your business.
It is worth mentioning that opening a business in the country takes only 20 minutes, such is the ease of bureaucracy when compared to other countries.
What is E-residency in Estonia?
For the country's government: "E-residency offers every citizen of the world a government-issued digital identity and the opportunity to run a trusted online business, unleashing the world's entrepreneurial potential.
It is like having a digital-only residence, without the need to be present or ever having passed through the country. Among the great opportunities are the low taxes and the great opportunity to be able to do everything online.
Estonia is one of the most connected and digital countries in the world. Today, more than 99% of public services for Estonians, ranging from birth certificates to starting a business, are conducted 100% online.
How to become an e-resident in Estonia?
Since 2014 anyone can apply for e-residency in Estonia. To get the card, just apply online and pay a fee of 50 euros and wait for the approval of the application.
There is no difference whether you are a citizen of the European Union or not, but if your country doesn't offer ease of joining the European Union, it may take a little longer. You have two options on how to do the process:
Using a platform: to make the process simpler, I used the Xolo platform. They helped me in every step, and today they do all the accounting for my company.
On your own: for more information, you can go to the Estonian government website and find out what documents are needed. In this case, you are responsible for all the steps.
Some private companies have already opted for e-residency. Startups like Teleport, Funderbeam or Fundwise have chosen Estonia's e-residency platform. As the months go by, the benefits multiply for Estonia's private sector and e-residents.
How to apply for e-residency and start a business
1. Submit an application and obtain a digital ID. Pay the program membership fee and choose a location to receive your digital ID kit. Cost: $100.
2. Select a service provider and declare your company. Get an address and a contact person in Estonia to help define your business structure. Cost: $50-100 per month.
3. Register the company in Estonia and pay registration fees. Cost: $265.
4. Open a bank account and find a Fintech partner to cover your company's banking needs. I use Wise business because it offers a multi-currency account and 100% online service.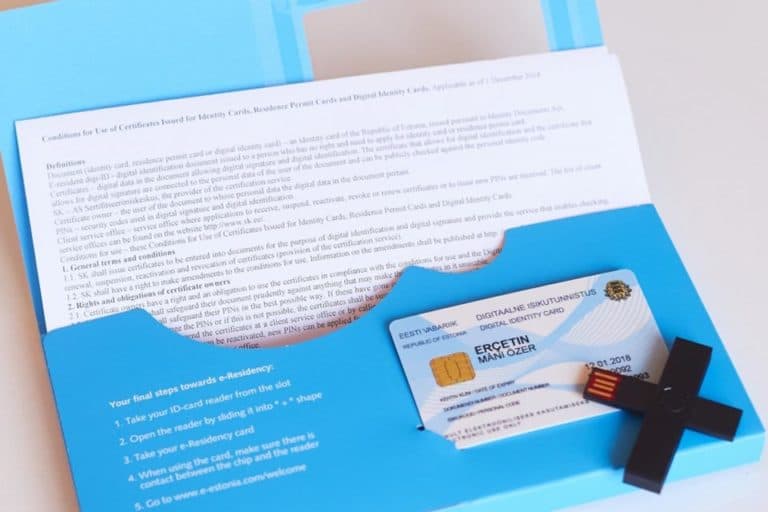 Advantages of E-residency
Estonia is close to becoming the first country without digital borders. After many years of investment in security and technological development, the country is becoming a digital powerhouse.
Virtually all the country's administrative procedures are done online. This makes life easier in many ways for people living in the country, and is now extended to those who want e-residency.
Being able to do everything online and securely is not the only advantage of e-residency. You can also:
Digitally sign official documents;
Encrypt and send documents securely;
Verify the authenticity of documents;
Access to a wide range of public and private services in Estonia;
You can establish and manage your business online in the European Union from anywhere in the world;
Minimize administrative costs and problems;
File Estonian corporate tax returns online (if your company is an Estonian tax resident)
Participate in lower and more transparent tax policies.
How to open a company in Estonia
The only sense in doing the whole E-residency process is to open a company in Estonia. Either to perform a freelance activity or to have a partnership.
For this process, there are two ways:
On your own;
using a platform or company that facilitates the full process.
I ended up choosing the second option, since I would have to hire an accountant or a platform to help me when I opened my company.
Among my researches, I found Xolo, which facilitated all the information and the process of opening the company. Everything is done 100% online and the customer service really works.
I shared my experience of opening a company in Estonia in another article, where I detail the whole process and how the taxes and fees work.
Digital banking for individuals and businesses
Having an international digital account is also a way to save money and facilitate your day-to-day life as an individual or company. I have and use the main ones in the market, being: Wise and N26. The best way I found is to use the N26 account with Wise for international transfers. All done online!
Official sites:
In the case of Wise, the biggest highlight is the international transfer service and the multi-currency account. You can open an account and save money in several currencies, besides having the bank details of 6 countries in the same space.
N26 offers 5 monthly withdrawals at no cost, worldwide debit payment and full integration with Wise.
Both offer options for businesses and the self-employed, with different services that help a lot in the day to day management of the business.
Wise for businesses
N26 for self-employed
Who the E-residency program is for
In 2014, when the program was first launched, the head of the Estonian government's department of immigration services, Taavi Kotka, announced an ambitious goal: 10 million e-residents by 2025. The numbers indicate that things are on the right track.
Since its launch, the program has continued to grow and every day more people are interested in e-residency. As of June 2018, more than 100,000 people from over 160 countries have applied for e-residency and more than 83,000 had already received their digital identity card.
Among them 17,400 have set up a company in Estonia!
E-residency works well for entrepreneurs who offer location-independent digital services, such as: consultants, freelancers and digital nomads who:
sell digital services or products online in a wide range of sectors, including IT, marketing, publishing, consulting and more,
want to reduce paperwork and bureaucracy in order to save time and money,
have no fixed location, or
want their business to remain in – or enter – the EU market so they can expand regionally or globally, trade in euros, access financial services, EU funding, or stay within EU legal structures.
Pope Francis became the 37,647th e-resident of Estonia
The idea of making the program more popular and attracting more talent and companies to the country, even the pope, got into the dance. He became the 37,647th e-resident of the country. This was also a way to give more confidence of the program to the rest of the world.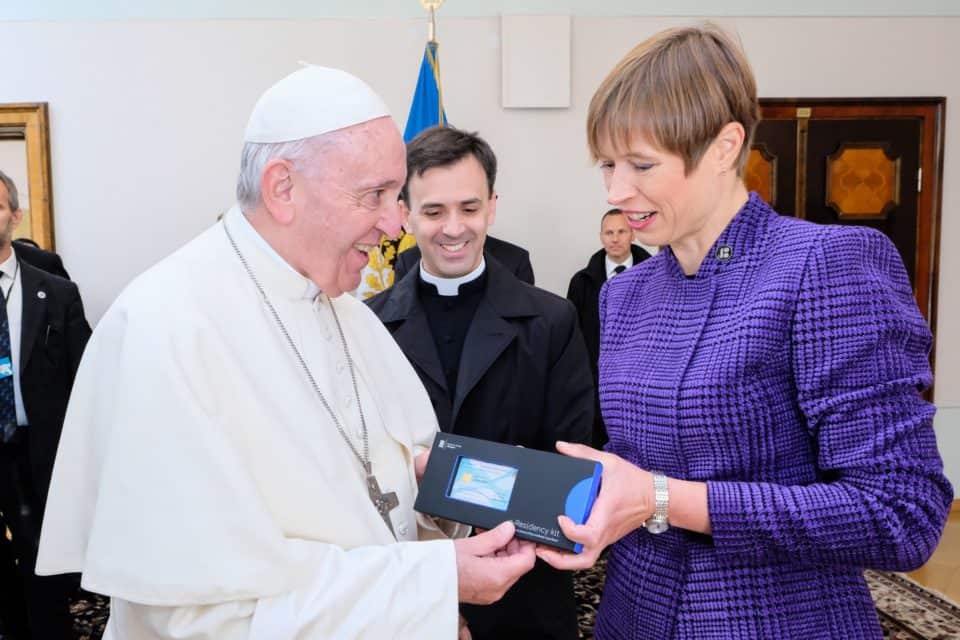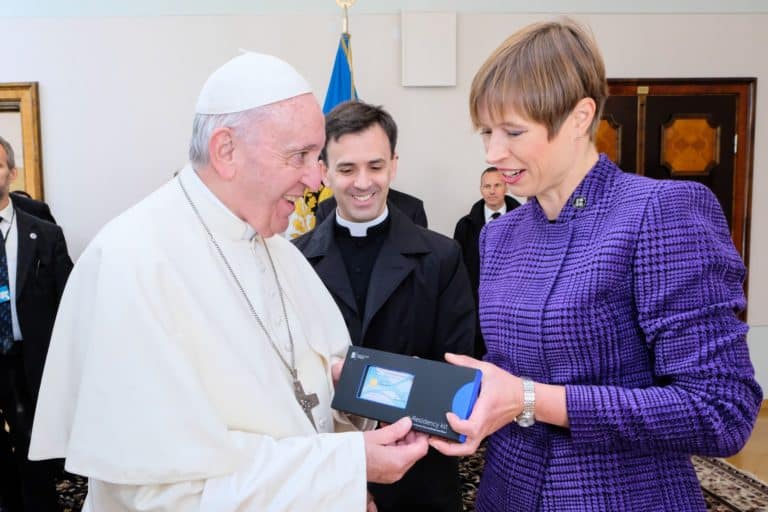 Visas for digital nomads: the perfect complement
As I have explained throughout this article, E-residency does not give you the right to live in the country. It only provides the opportunity to have your company and legal entity in Estonia in a 100% online way.
On the other hand, other nations already offer exclusive visas for remote workers and digital nomads. By 2022 more than 33 countries have "started" for this type of visa.
Some of these countries are: Barbados, Cayman Islands, Costa Rica, Czech Republic, Georgia, Germany… see full list of countries offering visas for digital nomads.
These visas offer the possibility to live in some of these countries for a while, just by proving that you work online and can stay in the country during the requested period.
This makes it much easier for those who already live as nomads or want to have a new experience living in different countries while working online.
Is E-residency worth it?
If you want to become an e-resident to operate your legal entity in Estonia, my answer is yes!
The ease of being able to solve everything online from anywhere in the world is already a dream (especially for those who travel frequently).
In addition, the whole system of taxes and fees are much lower than in most countries around the world, in addition to the transparency of knowing exactly when and how you must pay.
On the other hand, it is important to note that the program is not made for everyone. Your business should be 100% online!
Although it has many tax advantages and more transparent taxes, beware: Estonia is not a tax haven, far from it.
If you were interested and want to know more, read my full article "How to open a company in Estonia?" to better understand how everything works.