Estonia is the first country to offer 100% online residency. The main objective of the program is to allow people to create a digital identity in the country, and run their businesses regardless of their location. Naturally, this is a big deal for digital nomads!
Estonia's initiatives within digital entrepreneurship have brought plenty of benefits, opening a business in the country only takes 20 minutes, for example. Estonia has been successful in eliminating bureaucratic hurdles present in many other countries.
The ID card you receive when becoming an E-resident in Estonia allows you to use the internet to work with Estonian banks and all public agencies in Estonia necessary for paying taxes and managing your business.
Today, I'll be covering Estonian E-residency, an exciting addition to the online ecosystem that is digital nomadism. Continue reading to learn more!
What is E-residency in Estonia?
Estonian E-residency offers citizens of the world a government-issued digital identity and the opportunity to run a trusted online business, unleashing the world's entrepreneurial potential. Compelling, right?
E-residency is like having a completely digitalised residency, without the need to be present or ever having been to Estonia. Among the many benefits of the initiative are the low taxes and the unique opportunity to be able to conduct your business online.
Estonia is one of the most connected and digital countries in the world. Today, more than 99% of public services in Estonia, from birth certificates to starting businesses, are conducted 100% online.
What can E-residency do for you?
The services used for Estonia's E-residency system have already existed for over ten years, allowing Estonians have to reap the benefits of a highly digitalised society. Now, these services have been made available to foreigners.
Today, an E-resident in Estonia has the possibility to:
Set up a company in Estonia and manage it online (a physical address in Estonia is required)
Sign and encrypt documents online
Verify the authenticity of contract signatures
Transfer documents securely
Perform banking operations and transfers online
Declare your income online
Receive an E-resident kit including a digital identity card and secure key.
The services associated with the electronic ID are based on a technology that includes a 2048-bit public key. It includes a microchip with two security credentials:
PIN1 for authentication (4 characters).
PIN2 for digital signatures (minimum 5 characters)
How to become an E-resident in Estonia?
Since 2014, anyone can apply for E-residency in Estonia. To get the card, just apply online, pay a fee of €120, and wait for the approval of the application. Please note that if your application is rejected, this amount will not be refunded.
It doesn't matter whether you are a citizen of the European Union or not, but if you are not an EU citizen, the process may take a little longer. You have two options to complete the process:
Using a platform: to make the process simpler, I used the Xolo platform. They helped me in every step, and today they do all the accounting for my company.
On your own: for more information, you can go to the Estonian government website and find out what documents are needed. In this case, you are responsible for all the steps.
Some private companies have already opted for E-residency. Startups like Teleport, Funderbeam, and Fundwise have chosen Estonia's E-residency platform. As time goes, Estonia's private sector and its E-residents continue to benefit from this scheme.
How to apply for E-residency and start a company
1. Submit an application on the Estonian government website, and obtain a digital ID. Pay the program membership fee and choose a location to receive your digital ID kit.
The membership fee costs €100, but if you apply for the corresponding "ID card" outside Estonia, they add a fee of €20 euros, totalling €120. Remember, this amount will not be refunded if your application is rejected.
2. Select a service provider and declare your company. Get a physical address and a contact person in Estonia to help establish your business structure. Cost: Approx. €79 per month.
3. Register your company in Estonia and pay the registration fees. Cost: €265.
4. Open a bank account and find a Fintech partner to cover your company's banking needs. I use Wise business because it offers a multi-currency account and 100% online service.
This may seem like a lot of work, but I assure you that with the assistance of Xolo, all these administrative tasks are made much easier, including the management of your company!
In September 2023, get Xolo Leap Pro for €129 per month!
Click here: Activate Promo Offer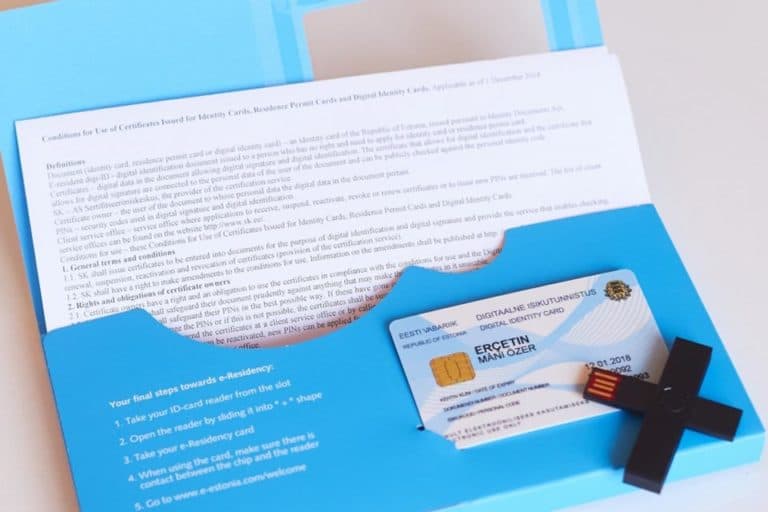 Advantages of Estonian E-residency
Estonia is close to becoming the first country without digital borders. After many years of investment in security and technological development, the country is fast becoming a digital powerhouse.
As we have seen, virtually all the country's administrative procedures are done online. This makes life easier in many ways for people living in the country, and is now extended to those who don't live in Estonia who want E-residency.
Being able to do everything online and in a safe and secure manner is not the only advantage of E-residency. You can also:
Verify the authenticity of documents;
Have access to a wide range of public and private services in Estonia;
Establish and manage your business online from anywhere in the world;
Reduce administrative costs and bureaucratic processes;
File Estonian corporate tax returns online (if your company is an Estonian tax resident)
Have access to lower and more transparent tax policies.
How to open a company in Estonia
The main advantage of the whole E-residency process is to open a company in Estonia. Either to perform a freelance activity or to conduct a business partnership.
For this process, there are two alternatives available to you:
Carry out the administrative tasks on your own; or
Use a platform or company designed to facilitate the process.
I ended up choosing the second option, since I was not actually in Estonia. I therefore had to hire an accountancy platform to help me open my company.
Through my research, I found Xolo, which facilitates the administration and process of opening a company. Everything is done 100% online, and they provide high-quality customer service.
If you want further information about opening a company in Estonia, I've shared my experiences in another article, where I detail the entire process and provide all the relevant details surrounding fees and taxation.
Digital banking for individuals and businesses
Estonian banks have become reluctant to open accounts for non-residents, mainly due to financial scandals in neighbouring Latvia. Estonian banks, eager to avoid certain risks, now only offer bank accounts to E-residents with sufficient guarantees.
Many Estonian accounts held by E-residents have been closed, which not only raises constitutional concerns, but it is also very inefficient if you run an online business in Estonia but can't open a local bank account. You can read more here at Estonia News.
However, there are several online banking services that offer a solution to manage your business in Estonia! Having an international digital account is a great way to save money and facilitate your day-to-day life as an individual or company.
I have tried and tested the main options on the market, Wise and N26. Personally, I prefer to use a N26 account, and Wise for international transfers. All done online!
The best online banking services
In the case of Wise, the biggest highlight is the international transfer service and the multi-currency accounts. You can open an account and save money while dealing with numerous currencies. You also have the bank details of 6 countries in the same space.
N26 offers 5 monthly withdrawals at no cost, worldwide debit payment, and full integration with Wise. Both the financial and administrative aspects of being a digital nomad have never been so convenient!
Both offer options for businesses and the self-employed, with different services that are a great help in the day to day management of the business.
Wise for businesses
N26 for the self-employed
Who is the E-residency program for?
In 2014, when the program was first launched, the head of the Estonian government's department of immigration services, Taavi Kotka, announced an ambitious goal: 10 million E-residents by 2025, and the numbers indicate that they're on the right track.
Since its launch, the program has continued to grow and every day more people are interested in E-residency. As of June 2018, over 100,000 people from over 160 countries had applied for E-residency, and over 83,000 had received their digital identity card.
Among them, 17,400 had set up a company in Estonia!
E-residency is a great option for entrepreneurs who offer location-independent digital services, such as consultants, freelancers and digital nomads, who:
Sell digital services or products online. Estonian E-residency covers a wide range of sectors, including IT, marketing, publishing, consulting and more.
Want to reduce time-consuming paperwork processes and bureaucracy, to save time and money.
Have no fixed location.
Want their business to remain in – or enter – the EU market, so they can expand regionally or globally, trade in euros, access financial services, access EU funding, or stay within EU legal structures.
E-resident card and tax residence
It is important to underline that E-residency does not grant tax residence, Estonian citizenship, or the right to enter Europe or Estonia. The E-residence card is not a travel document. It does not show a photograph of the holder.
In fact, if you become an E-resident, you retain your usual tax residence, without being subject to double taxation.
Pope Francis became the 37,647th E-resident of Estonia
Having seen the rapid success of Estonia's E-residency program, and the business it attracted to the country, even the pope decided to join the party! He became the 37,647th E-resident of the country.
This has since made people even more trustful of the program, and it continues to attract both talented individuals and successful businesses to Estonia's digital ecosystem.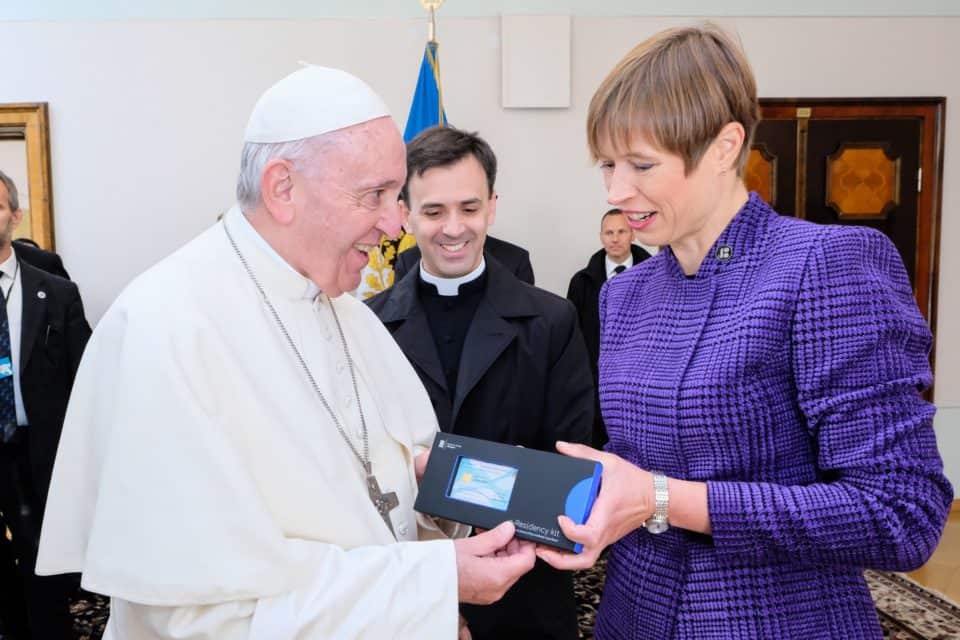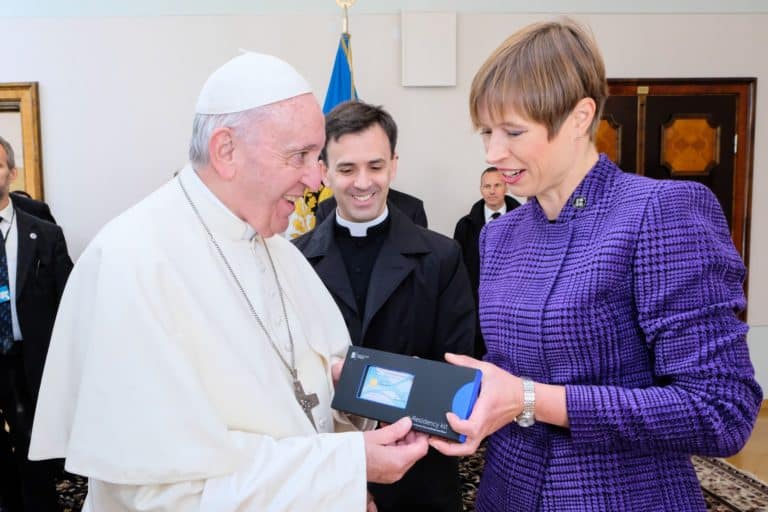 Digital nomad visas: the perfect complement to E-residency
As I have explained throughout this article, E-residency does not give you the right to live in the country. It merely provides the opportunity to have your company and legal identity in Estonia online.
However, many nations now offer exclusive visas for remote workers and digital nomads. By 2023, over 40 countries have introduced this type of visa.
Some of these countries include: Spain, Brazil, Costa Rica, the Czech Republic, Portugal, Germany, and Estonia… Click here to see the full list of countries offering visas for digital nomads in September 2023.
These visas offer the possibility to live and work in another country, by proving that you work online and can sustain yourself during the requested period. This makes it much easier for those who already live as nomads or those who want to try a new lifestyle.
Is E-residency worth it?
If you're thinking of becoming an E-resident to operate your legal entity in Estonia, I can assure you, it's a great option! However, it's important to note that the program is not made for everyone, and your business should be 100% online!
With E-residency, the ease of conducting everything online from anywhere in the world is a dream, especially for those who travel frequently. For digital nomads, it's a truly welcome addition to the constantly evolving digital nomad online landscape.
So, you'll need to carefully consider whether this online business environment is right for you, and whether your business fits the relevant requirements.
Final remarks
Another great benefit of Estonia's E-residency scheme is taxation. Estonia's system of taxes and registration fees are much lower than in most countries around the world, and there is a high level of transparency regarding when and how you have to pay.
Despite the fact that it offers many tax advantages and a very unique taxation system, please note that Estonia is not a tax haven, far from it.
Estonia's E-residency initiative is a truly innovative endeavour, and can drastically change not only the way in which you run your business, but it can change your life. I hope this post has answered your questions, and we look forward to hearing from you!