Want to take your digitise your business and increase your sales like never before? Wise has a great solution for entrepreneurs, and online businesses, where you can receive payments, pay employees, and manage your cash flow, all in one place.
E-commerce offers an unparalleled opportunity for all entrepreneurs who want to facilitate online businesses and open up new international markets.
In today's post, I'll cover everything you need to know to get started with Wise for e-commerce, and highlight some reviews. But first, I'd like to give you a quick overview as a guide:
Wise for e-commerce is characterised by being very easy to use, and an affordable option compared to its competitors, such as PayPal and Payoneer.
Wise for e-commerce stands out for its wide coverage, infinite integrations and for being a solution for quick invoicing.
The main disadvantages of Wise for e-commerce are that it can be a slow service, has widely varying prices and cannot be used worldwide.
How Wise for e-commerce works
The Wise platform is straightforward and intuitive for people starting out in the world of technology and e-commerce, so don't worry!
Here's how you get started, it only takes a few minutes.
1. Create an account
You will need to create an account through their website, Wise Business, and pay the appropriate fee.
You will then have the possibility to register using your Google, Facebook, or Apple accounts. Select the type of account you want (personal or business), then fill in your two-step authentication method, and password.
2. Enter your transaction details
After you have created your Wise e-commerce account, enter your transaction details and information.
In this step, you will have to indicate how much money you are going to send, to whom you are sending it, and the currency in which you are going to send it.
The Wise platform will indicate the fee and commissions according to the amount of money to be sent.
3. Add funds
At this stage, you will need to add the necessary funds to complete the transfer.
The Wise e-commerce platform allows you to add or upload your funds directly through your debit or credit card, or manually through a local bank transfer.
4. That's it!
Wise takes care of the rest and you can continue selling and transacting. The platform will convert the currency and send it to your recipient in no time.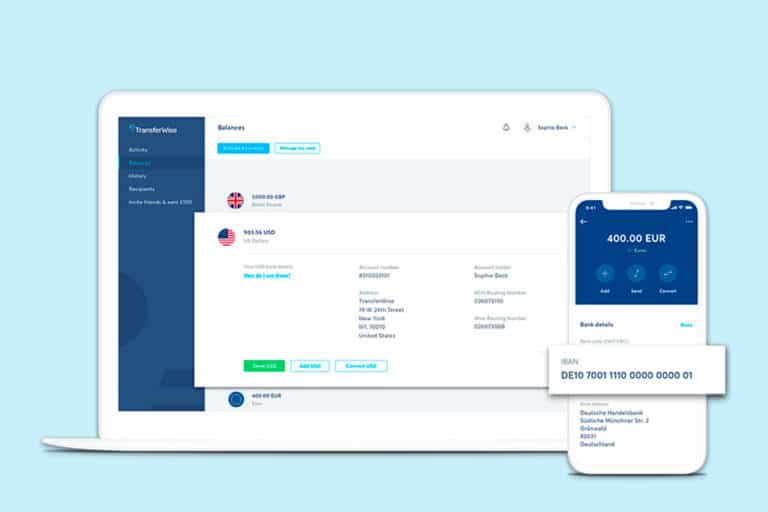 A multi-currency platform for your business
Wise allows you to trade in over 70 different currencies, with e-commerce facilitating up to 10 bank accounts in different currencies, such as:
Euro.
US Dollar.
Pound Sterling.
Australian Dollar.
New Zealand Dollar.
Hungarian forint.
Romanian Leo.
Singapore Dollar.
Having a Wise e-commerce account gives you access to a multi-currency platform, allowing you to send and receive money internationally.
You can convert your money from one currency to another at the actual exchange rate, as well as transfer money to your bank or debit card immediately.
Wise has a conversion calculator that allows you to see the exchange value, the associated commission, and the exact amount that the recipient receives, as well as the estimated time of receipt of the funds. No hidden fees or sneaky surprises!
Account connected to your e-commerce
Wise has an API which you can use to connect to the platform where you carry out your e-commerce. Thus, you will be able to:
Automate payments.
Place orders.
Follow the types of changes to make automated conversions.
Optimise profits.
And many other tasks that simplify online shop operations.
Wise e-commerce debit card
When you open a Wise Business account, you can request a debit card for your registered company, i.e. a card in the name of your e-commerce operations.
It costs €4 and will be associated with your active Wise accounts. This card can be used worldwide and can be used to make automatic currency exchanges.
You can even make payments from your account balance without additional fees using this debit card. You can also make withdrawals at any ATM without commission for withdrawals up to €200. After this, the fees are 2% of the amount dispensed. Very cheap, indeed!
It is important to remember that depending on the ATM used, there may be extra fees not associated with Wise.
Wise fees and prices for e-traders
Wise's fees are very competitive in the market for currency convertibility and electronic transactions.
For that reason, they charge a small fee through your account when you make each transaction. In summary, the Wise e-commerce fees are as follows:
Create your Wise Business account: €50.
Fee for receiving money: none.
Fixed fee for sending money: varies depending on the currency (from €0.43).
Obtain bank details to receive currency: €50 (one-off fee and a one-off payment).
Adding and converting currencies: varies according to prices (from €0.43).
Withdrawing money: free for a maximum of €200 in the first two withdrawals (2% commission from that amount or third withdrawal).
To give you a better idea of how it works, here is an example of a transaction of €1000 to £1000. As you can see, all fees are displayed in a transparent fashion.
Advantages of Wise for e-commerce
The two main stand-out features that benefit users are that Wise offers wide coverage in more than 70 countries, and accepts over 80 currencies, so there are a multitude of options for buyers all over the world.
In addition, as an added value, most payments are credited immediately or within minutes. Naturally, this depends somewhat on the banks involved in the transaction.
Low interest rates
Another of Wise's main advantages for e-commerce is its low interest rates, which appears to be the lowest possible price compared to its competitors at the moment.
Safe and reliable company
In addition, it provides peace of mind for being a company with high security standards, and for being available free of charge to all customers.
On the other hand, it has a specialised and trained team that provides assistance to customers and buyers in case of any doubt, complaint or problem, 24 hours a day, 365 days a year.
Dynamic online business management
Wise for e-commerce offers extensive coverage and takes care of the legal aspects and disputes that may arise between each sale and/or transaction, giving business owners added reassurance when making large transactions.
You also have the ability to connect your account with other platforms to receive your revenue, such as Ebay Xero, Freeeagent, Amazon and Stripe, all of which are widely used e-commerce entities.
Quick invoicing solutions
On the accounting and invoicing side of things, Wise allows you to make payments to up to 1000 people at the same time and create smart invoices with your local bank details.
In addition, you can opt for a Wise debit card, which allows you to pay anywhere in the world in the currency of your choice, with no interest, and no annual maintenance fee.
All of these advantages make Wise stand out from their competitors, but it's still important to consider the disadvantages of the platform, so let's take a look.
Disadvantages of Wise for e-commerce
Like any platform, Wise for e-commerce has its disadvantages, of which I would like to highlight the following:
The main drawback is that the service is sometimes slow, due to the large number of users on the platform worldwide, especially on weekends.
According to market rates, Wise prices can vary significantly, considering the supply and demand of specific products, which gives the user the feeling that prices change on a daily basis.
If you are in a country that is internationally isolated or at risk of fraud, you will not be able to use your card for withdrawals or transactions. These include: North Korea, Venezuela, and Afghanistan.
Reviews of Wise for e-commerce
Wise Business is a finance management service designed for businesses, freelancers, online entrepreneurs, and charities with one goal: to have an account where you can integrate your business finances and grow.
As a result, Wise has positioned itself as the best option to avoid complications and have everything conveniently located in one place.
Here are some useful opinions on Wise for e-commerce.
✅ Positive reviews of Wise for e-commerce
Allows you to integrate currency accounts with QuickBooks or Xero, so you can see all your money on one platform.
It offers batch payments: up to 1,000 recipients with just one click.
It is transparent, and you are aware of the commissions you are going to pay at all times.
❌ Negative reviews of Wise for e-commerce
Opening a Wise Business account costs €50.
Account verification can take 2 to 3 working days.
Is Wise for e-commerce worth it?
Wise is undoubtedly the best option available in the market for e-commerce because it helps e-commerce entities to make transactions by providing an indispensable benefit: security and reliability.
In addition to their very low interest rates and transparency, the platform ensures users have the best possible experience, facilitating transactions, invoicing, currency convertibility, and the withdrawal of funds.
In addition, entrepreneurs and small businesses will be able to opt for a debit card to use to pay physically in local shops regardless of currency and country, significantly improving the benefits compared to a traditional bank.
In our increasingly globalised world, Wise has become the top international banking alternative, and for good reason.
Technical support
Another aspect that, in my opinion, is very important when choosing a platform, is technical support.
The platform's customer service and support is handled by an experienced team of experts. It therefore takes a huge burden off the shoulders of sellers so that we can focus on getting our products to market and invoicing quickly and easily.
In a very short time, Wise has become the most convenient solution for online businesses. It takes care of providing a satisfying experience for business owners, employees and buyers all under one platform, from start to finish.
If you haven't had the opportunity to use it yet, now is the perfect time to do so!
Frequently asked questions about Wise for e-commerce
If you have any questions about using Wise for e-commerce, I've answered some frequently asked questions below:
How long does it take to open an account on Wise for e-commerce?
Registering with Wise will take seconds, and you will be able to access the platform straight away once you are registered.
However, verification can take 1-3 business days.
What type of company can use Wise for e-commerce and what documents do I need?
Any company registered in any of the 70 countries where Wise operates can use Wise Business.
Wise only asks you to send the company registration information and identity documents of the owner(s). In the form, you will have to give more details of the company, but other additional extra documents.
How much does an e-commerce account with Wise cost?
Registration is free, and you can start transferring money once your account is validated using your cards or personal accounts to send money. You will only be charged for the transfer fee.
If you want to get bank details to link your e-commerce to one or more accounts, it will cost you €23. It is a one-off payment, and you will not have any account maintenance expenses or fees for receiving money.
What happens if I use the Wise Business Mastercard debit card in a country where I don't have a local currency account?
If you make a payment in a currency you don't have an active account in, Wise will automatically convert the amount from the currency you have at the best exchange rate available at the time. So, make the most of it!
What happens to my money if there is a problem with Wise?
Wise for e-commerce is reliable, so this is unlikely to happen. However, in this case, Wise is backed by financial institutions such as Barclays (UK) and Wells Fargo (USA) who will refund by cheque to the Wise Business account holder.
I hope that this post has given you some insight into the world of Wise. If you have further questions, don't hesitate to get in touch!