Italy is one of the most visited destinations in the world for its incredible historic monuments, warm climate, and exquisite cuisine. Italy is also a technology hotspot, welcoming remote workers to live and work in the country.
There is currently no specific Italian digital nomad visa, but the Italian Government is in the process of approving one. Luckily, there is a similar visa for self-employed non-EU citizens. This allows people who fulfil the requirements to live and work in Italy.
Today, I will refer to this visa as the Italian digital nomad visa. Before we get into the details, here's a brief summary:
The application process is relatively simple.
The fees are lower than in other European countries.
You can apply online on the website of the Italian Ministry of the Interior.
It is valid for entrepreneurs, people in management and corporate positions, artists, and workers in regulated professions. Continue reading for more details.
How to apply for the Italy digital nomad visa?
Applying for the Italian digital nomad visa, or self-employment visa, is not too complicated, simply follow the steps below.
Before starting the application process, you can also check out the Italian Government's Immigrant Integration website, so you will have all the information, and be able to solve any doubts!
The first step is to submit the application for the issuance of the authorisation, also known as nulla osta, online. This can be done on the website of the Italian Ministry of the Interior in accordance with the established deadlines and procedures.
The second step is to obtain all the documentation required for the granting of the Italian digital nomad visa for non-EU workers. Remember that these documents must be presented physically at the Italian consulate or diplomatic representation of your country of origin or residence. We will discuss the documentation in detail below.
The next step is to wait to see if your Italian digital nomad visa gets granted.
Visa delivery time
Once the application for your self-employment visa has been submitted, the Italian administration has 120 days to provide a response.
At that time, they will notify you whether your visa has been granted or rejected. If granted, an entry visa will be issued to you by the Italian consulate or diplomatic representatives in your country of origin or residence.
This document will be delivered in the language you have marked as your preference in the application form. The main languages available are Italian, English, Spanish, French, and Arabic.
Once you enter the country, you only have 8 days to apply for your residence permit or permesso di soggierno to legalise the application. Don't miss the deadline!
How does the Italy digital nomad visa work?
Italy has not yet launched a specific visa using the name "digital nomad visa". However, it offers an equally beneficial option for self-employed workers. This is the non-EU Self-Employment visa. It is still, in effect, an Italian digital nomad visa.
This Italy digital nomad visa works very similarly to other digital nomad visas, and offers remote workers the opportunity to live and work in Italy for a period of two years, which can be extended without any issues.
Moreover, as you might guess from its name, it is designed for all self-employed people who are not residents of the European Union. All European citizens of the Schengen zone can work and live in any of its countries!
Pros of the Italy digital nomad visa
Among the main advantages of the Italian digital nomad visa, I would like to highlight the following in particular:
The simplicity of the application process.
The cost of living is lower in Italy compared to other EU countries.
The rich cuisine and warm climate found throughout the country.
The incredible transport connections in the country and with other European countries.
The hospitality of the Italian people.
Cons of the Italy digital nomad visa
Regarding the disadvantages of the Italian digital nomad visa, I would mention the following:
The high visa delivery time.
The restrictions related to the activities allowed to be carried out by the remote worker.
The application must be made in the country of origin or residence.
Is it compulsory to have travel insurance for Italy?
Having a travel insurance is a mandatory requirement to be granted the Italian digital nomad visa, as well as a requirement of the Schengen area in general. As a digital nomad myself, I've tried numerous insurance policies suited to digital nomads.
Here's what I recommend:
What is the best travel insurance?
There is a wide variety of international travel insurance available on the market, with many policies specifically tailored to suit the lifestyle of digital nomads.
So, I would advise you to do your research, to ensure you get the ideal policy for your trip. You can also take a look at our guide to travel insurance for digital nomads.
As mentioned earlier, to really benefit from your experience on the Italy digital nomad visa, you need comprehensive insurance. Luckily, there is a great deal on offer for a limited time only, providing all the coverage you need to live a nomadic lifestyle.
Get a 5% discount on Heymondo until the end of September 2023!
Fill in your trip info
(Country of residence, regions covered, dates, and number of travellers).

Click on "Calculate Price".


All done! The discount will be applied automatically.
Some of the most useful benefits of Heymondo travel insurance for digital nomads include:
24/7 assistance platform.

Repatriation and early return.

Travel expenses for a family member if you are hospitalised for over a week.
Comparative table of travel insurance to Italy
Here's a comparative table of the best travel insurance policies to Italy in September 2023. If you're headed to Europe on an Italian digital nomad visa, it's a good idea to compare coverage to find the right fit for you.
The benefits and coverage in this table have been chosen specifically to meet the needs of digital nomads and remote workers.
Requirements to apply for the Italian digital nomad visa
The essential requirements to apply for an Italian digital nomad visa are as follows:
Have a property or rental contract, or a declaration signed by an Italian resident, proving adequate accommodation in the country.
Proof of an annual income of more than €8,400 in the year prior to application. This is the minimum legal requirement for exemption from the health contribution in Italy.
Have a valid passport with two blank visa pages. Its validity must also be 3 months longer than the duration of the visa.
Provide evidence of sufficient funds to live in the country, as well as a certificate issued by the Chamber of Commerce, stating the self-employed activity to be carried out.
Obtain a marital status certificate.
Have comprehensive travel insurance.
What activities are permitted and prohibited?
The Italian digital nomad visa has a set of permitted activities for self-employed non-EU nationals. Specifically, there are five categories of work that are allowed for your application to be accepted.
Entrepreneurs who intend to carry out an investment plan of interest to the Italian economy. This requires the possession of at least €500,000 in capital and the creation of 3 new jobs.
Those working in administrative and management positions in companies.
Artists of notoriety or fame, or with high professional qualifications, who have been hired by a public or private entity.
Self-employed workers who are going to exercise regulated or supervised professions.
Foreign citizens who have the objective of starting up an innovative company.
For further information on the Italian digital nomad visa, or rather, the self-employment visa, take a look at the Italian Government's website for migration and integration.
What nationalities are allowed and forbidden?
There are no restrictions regarding the nationalities that can apply for this type of visa. All you need to remember is that European Union citizens do not have to apply for this visa to enter Italy to work as an employee.
Can I apply for the digital nomad visa if I am in Italy?
This visa cannot be applied for once you are in Italy. This is because the documents to establish yourself in the country as a self-employed worker must be processed at the Italian consulate in your country of origin or residence.
In addition, the whole process and the delivery of documents requires your physical presence at the consulate or embassy.
Can I bring a partner or children with me on an Italian digital nomad visa?
With an approved visa in Italy, it is possible to bring your partner and children with you if you apply for a complementary family reunification permit at the Italian consulate in your country of origin.
In this case, you must present complementary documentation, such as the birth certificates of your children.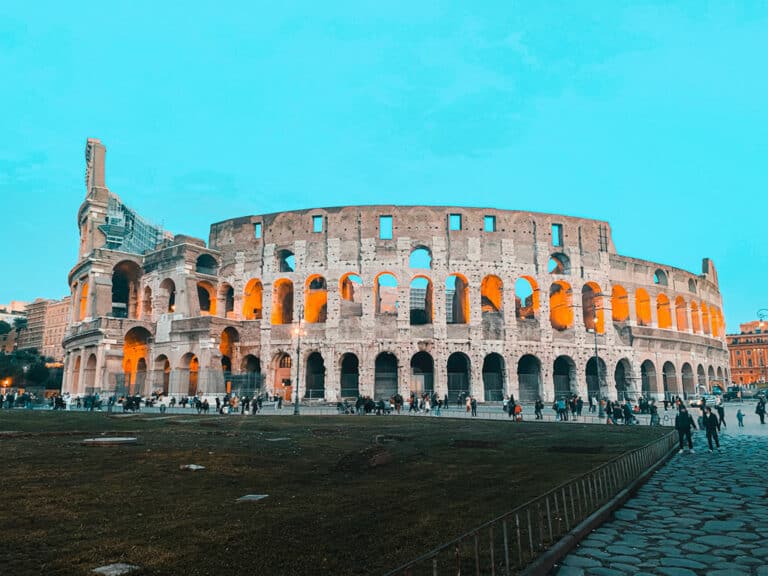 How to travel to Italy at the best price in 2023
In this part of the article, I'd like to share with you my top money-saving tips and tricks. Italy is a relatively cheap country, but as any digital nomad knows, you want to save where you can!
Choosing insurance that is tailored to your needs is vital, but remember that the following factors play a crucial role as well:
Flights
Accommodation
The card you use
How you book your activities
If you follow the following tips, you'll have more money left over to enjoy your time in Italy and Europe.
Fly to Italy at reduced prices!
You know, flights don't cost the same from all countries! To pay for my cheapest flights, I use NordVPN.
Basically, it's a private network that allows you to access Internet sites from locations other than your own, and this can have some serious benefits:
In September 2023, enjoy a 59% discount on NordVPN.
Click here to activate your discount
Flights from Barcelona to Buenos Aires don't cost the same if you buy them from Spain as from India, for example. So, once you've installed NordVPN, simply access websites like Skyscanner and compare prices by entering as if you were browsing from different countries.
The 8 countries from which it is cheapest to buy flights are: Malaysia, Bulgaria, India, Turkey, Romania, Indonesia, Portugal, and Thailand. Once you have NordVPN, head over to Skyscanner and start paying reduced prices for flights all over the world!
Stay at a discount in Italy all year round
Access Booking.com now and get discounts of up to 15% in September 2023 by becoming a Genius user.
There are also ways to save money when booking your accommodation with Booking. The first of which is becoming a Genius user, something you get from making 2 bookings (Genius level 1), and 5 bookings (Genius level 2).
As a Genius user in Booking.com, you can enjoy:
Discounts on room rates.
Free breakfast.
Upgrades to superior room categories.
Free parking.
Late check-out.
Welcome gifts.
In addition, there are hotels in Booking.com that directly offer you a 10 to 15% discount on your rate for being a Genius user.
Access to get discounts of up to 15% by becoming a Genius user.
Finally, Booking.com has a Minimum Price Guarantee program, so if you find a cheaper price for your hotel on any other website, they'll match it!
Reserve your entertainment and sightseeing in advance
GetYourGuide is an indispensable tool for organising any trip to any destination. It's a platform that helps you book tourism and leisure activities for your trip.
With GetYourGuide, you can book your activities online to avoid queues, and take advantage of a discount for online bookings. This way, you save time and money, so you can enjoy more activities during your trip!
Get the best travel card for Italy
If you travel frequently, the Revolut Metal Card is another great way to save money. For starters, they offer you unlimited currency exchanges without paying any fees!
The Revolut Metal Card allows you to make unlimited domestic transfers free of charge, and withdraw up to £800 a month from international ATMs.
If you spent £650 abroad in a month using a standard card, and withdrew £350 at ATMs, you would have paid around £44 in fees.
With the Revolut Metal card, you would have paid £0 in fees.
Keep up to date with future digital nomads visas in 2023!
Leave your email and receive the latest updates:
Countries offering digital nomad visas in 2023
The number of countries now offering digital nomad visas is rapidly growing!
In fact, more and more countries are offering digital nomad visas specifically designed to support entrepreneurial mobility for those working remotely, all to facilitate the digital nomad lifestyle and attract talent and investment to the country.
Here's a list of the countries currently offering digital nomad visas in September 2023:
| | | | | | |
| --- | --- | --- | --- | --- | --- |
| | | | | | |
| | | | | | |
| | | | | | |
| | | | | | |
| | | | | | |
| | | | | | |
| | | | | | |
| | | | | | |
| | | | | | |
| | | | | | |
| | | | | | |
| | | | | | |
| | | | | | |
| | | | | | |
| | | | | | |
| | | | | | |
| | | | | | |
| | | | | | |
| | | | | | |
| | | | | | |
| | | | | | |
| | | | | | |
| | | | | | |
| | | | | | |
| | | | | | |
| | | | | | |
| | | | | | |
| | | | | | |
| | | | | | |
| | | | | | |
| | | | | | |
| | | | | | |
| | | | | | |
| | | | | | |
| | | | | | |
| | | | | | |
| | | | | | |
| | | | | | |
| | | | | | |
| | | | | | |
| | | | | | |
| | | | | | |
| | | | | | |
| | | | | | |
Italy is world-famous for its incredible cuisine, warm and diverse culture, and Mediterranean climate. Hopefully, with the help of this article, you're one step closer to moving to Italy on an Italian digital nomad visa.
If you're still curious, you can see an up-to-date map showing all the countries offering a digital nomad visa in 2023, and all the information you need to start your journey as a digital nomad!
Tune into our blog for more information about digital nomadism. We cover everything from travel insurance to tips on leading the digital nomad lifestyle.
Thank you for reading, and best of luck in Italia! 🇮🇹