The traditional banking sector has been on high alert ever since the game-changing solutions offered by neobanks appeared on the scene.
They are cheaper, and offer better value than traditional banks, which is why I closed my account with my traditional bank. At the end of the day, the level of service was too low, and the transaction fees were too high.
In this post about the N26 Business Metal account, I'd like to take a look at how this premium card works. What are the benefits? How does it work? And what are any decent alternatives to the N26 Business Metal? Continue reading to find out!
Official N26 website: https://www.n26.com
How does N26 Business Metal work?
The N26 bank has positioned itself as a real player in Europe and the world among microentrepreneurs and self-employed workers.
N26 and comparable neobanks want to take over contemporary banking, and they seem to be well on their way to success. With N26, there are no income requirements for opening a Business account, and N26 has 3 offers entirely dedicated to micro-businesses:
N26 Business at €0 with no obligations (recommended for those who are undecided and want to test N26's level of service).
N26 Business You at €9.90 offers benefits such as insurance, low-cost international transfers, and cashback at 0.1%.
N26 Business Metal at €16.90 launched on 16 June 2020. This account offers an unprecedented insurance coverage (travel, mobile, scooter, hire car, etc.), and cashback of 0.5% on all your purchases.
Only microentrepreneurs and the self-employed can open an N26 Business account. The bank does not accept subscriptions to its offer if you have another legal status.
If you are not a microentrepreneur, then Qonto for businesses is a great alternative.
Comparing N26 Business for micro-enterprises
To compare offers for micro-businesses, I have prepared this table to make it easier for you to choose the best offer according to your needs:
In December 2023, you can open an N26 Business account for free.
Click here: Activate N26 Business account
You will be redirected to the official N26 website.
Click on "Open bank account."
Fill out the form and follow the instructions.
All done! You can now use your N26 business account.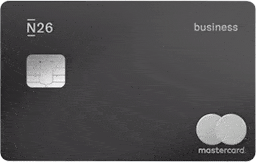 If you're not a frequent traveller, or don't travel at all and your monthly expenses do not exceed €1,400
👉 The N26 Business You account for €9.90 will more than satisfy your needs. It's also much cheaper. This is the account I currently use.
If you are currently starting your micro-business activity and not yet generating profits
👉 The €0 N26 Business Standard account (Business free links) will meet your needs. It comes without obligations and will allow you to test N26's services.
How does N26 Business Metal work?
N26 Business Metal offers cashback policy of 0.5% on all purchases made with the card. The money is credited to your bank account at the end of each month.
The N26 Business Metal account is managed via an intuitive interface accessible on both smartphone and computer. A great service. Some neobank competitors such as Revolut Business (internal links) do not allow you to access your account from your computer.
The N26 Business Metal card also offers advantages for optimising business with partners such as Google Ads, Boosted, And.co and Fiverr, Audible, TIDAL, and Udemy.
You can open a N26 Business Metal account online. It's fairly quick, and only takes around 8 to 10 minutes. At the time of writing, N26 does not offer savings or loans. However, there are whispers that they should be available soon. You can find out more here
An easy-to-use application
The N26 Business Metal app is straightforward and intuitive. After just a few hours, you'll begin to see how it can drastically improve the financial management of your micro-business.
I particularly liked the expense categorisation function. This allows you to control expenditure and income down to the last cent. All transactions linked to the account are notified in real time.
N26 Business Metal review
In my opinion, the free N26 Business stands out for offering microentrepreneurs with a no-fee, no-obligation bank account. This is an advantage, especially if you're just starting up your business.
Its greatest benefits include:
Intuitive account management.
Excellent value for money.
The convenience of the mobile application.
Its main disadvantages include:
The systematic authorisation debit card.
The lack of a national IBAN number.
The offer is limited to microentrepreneurs. If you are not a microentrepreneur, the Qonto bank will meet your needs.
N26 is no longer available in the United Kingdom following Brexit.
Advantages and disadvantages of N26 Business Metal
✅ Advantages
0.5% cashback on all purchases made with the card
Spending categorisation function
Transaction/bank statement export function
No commission on exchange rates
No account management fees
Reduced or free rates on all banking transactions
User-friendly and intuitive mobile application
❌ Disadvantages
No chequebook or cheque deposit. If you need this service, then I would recommend Anytime, which offers this service
Offer reserved for microentrepreneurs
Account with German IBAN number (DE)
Not available in the UK or US
No authorised overdraft (available soon)
What is N26 bank?
As you probably know, traditional banks offer their microentrepreneur customers a simple personal account. Most of these accounts are expensive to operate, and more costly than a business account.
This is one of the reasons why the German neobank N26 was launched in 2013. Its aim is ambitious: to reinvent the banking sector by offering a clear and practical range of services at attractive rates.
The business account is simple to use: all operations are managed from a secure website or smartphone. In June 2017, N26 launched the N26 Business account, specifically designed for microentrepreneurs and the self-employed.
Building on its success, in July 2019 N26 raised $170 million from investors, and is continuing to expand at a staggering rate within Europe.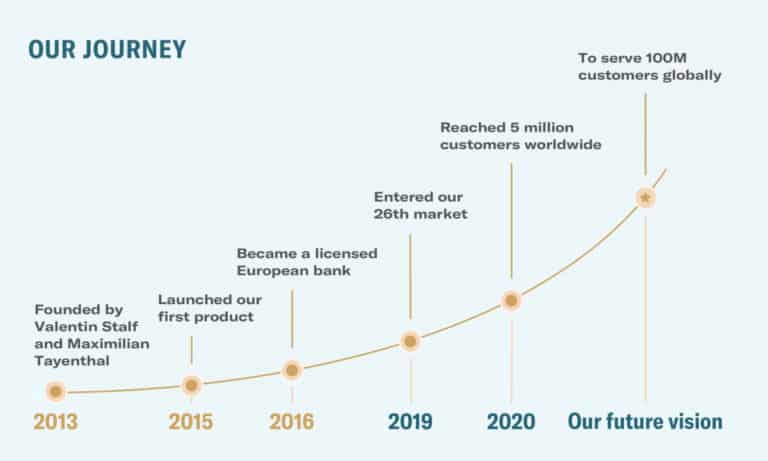 Alternatives to N26 Business
Account with national IBAN, chequebooks, and cheque deposit
For some of us, the disadvantages of N26 can be a deal-breaker. If you need an account with a national IBAN and chequebooks, then don't sign up for N26 Business, as this could cause problems for your business.
Even if your tax agency does not have the right to refuse a foreign IBAN, you may need a national IBAN and the ability to write cheques. Luckily, there is a good alternative for this: Qonto Bank
Qonto for microentrepreneurs
| | | | |
| --- | --- | --- | --- |
| | | | |
| | | | |
| | | | |
| | | | |
| | | | |
| | | | |
| | | | |
| | | | |
| | | | |
| | | | |
| | | | |
How much does N26 Business Metal cost?
The N26 Business Metal premium account costs €16.9 per month, and is a one-year subscription. The price is justified by the level of services and guarantees offered. However, you might wonder whether it's really worth it.
N26 also offers the N26 Business You card, which offers comparable benefits for €9.90. That's a saving of €7/month, which is not insignificant.
What is covered by N26 Business Metal insurance?
The N26 Business Metal card insurance is designed for travel anywhere in the world and covers most risks:
Flight delay or cancellation
Emergency medical expenses
Insurance for telephone, scooter, car hire, etc.
Theft of equipment
Loss of luggage
How do I pay with N26 Business Metal?
By bank transfer
By Mastercard Business debit card
Free cash withdrawals
If you need to manage cheque deposits, then I recommend Anytime Bank.
How do I get paid with N26 Business Metal?
By bank transfer
By financial tech institutions (Sumup, Izettle, etc.)
☝️ Please note: the N26 Business Metal account has a German IBAN number. If you want to keep the IBAN number from your country, I recommend Qonto for micro-businesses.
A free, no-obligations account for starting a business
N26 offers a business bank account that is completely free and without obligation. This free account is recommended for microentrepreneurs who are starting up their business and want to save on bank charges.
N26 Business Standard allows you to save on bank charges for micro-businesses. It's the cheapest solution on the neobank market. The business account will cost you €0.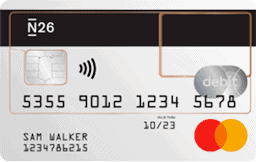 How do I open an N26 Business Metal account?
Opening an account is free and without any obligation. It is done online and there are no income requirements.
To register, you need to provide proof of identity and a postal address to receive your card. It takes about 8 minutes. Click here to open an account on the official N26 website
Conditions for opening an N26 business account:
Be a microentrepreneur and use the account for a professional activity
Reside in one of these countries: Austria, Belgium, Denmark, Estonia, Finland, France, Germany, Greece, Iceland, Ireland, Italy, Liechtenstein, Luxembourg, Netherlands, Norway, Poland, Portugal, Slovakia, Slovenia, Spain, Switzerland, or Sweden.
If you are already an individual customer with N26, you cannot open a Business account.
To open this account, you will first need to close your personal account. If you want to keep it, then the Qonto account for micro-entrepreneurs is a very good alternative.
I hope that this review of N26 Business Metal has given you some insight into the company, and whether or not their services are right for you. If you have any questions, don't hesitate to get in touch!