To make sure you're sufficiently informed about Post Office travel insurance, I've also included general need-to-know information about their policies, so you can make an informed decision when choosing your travel insurance.
In this Post Office travel Insurance review, we'll cover the main benefits of the UK-based insurance company, including its relatively low age-restrictions, broad medical conditions coverage, and competitive prices.
Whether you're going on a short holiday, or a long-term trip, taking out travel insurance offers vital protection in case of an accident or other costly unforeseen event.
This is why, it's always a good idea to do your due diligence when taking out insurance, to ensure you get the right amount of coverage.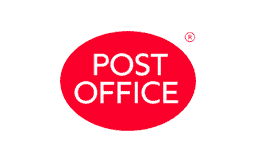 Post Office travel insurance reviews on TrustPilot
TrustPilot is one of the world's leading online review platforms that allows customers to share their experiences using businesses from around the world.
Trustpilot receives almost 1 million new reviews each month, and in the case of Post Office Insurance, there are 2,107 total reviews at the time of writing this post.
✅ Positive Post Office travel insurance reviews on TrustPilot
Several reviewers mentioned the great value for money offered by Post Office's policies, which in some instances, was several hundred GBP less than the nearest competitor.
The positive reviews citing successful claims said that their claims were paid back in full between 3 and 14 days.
The majority of positive reviews of Post Office Travel Insurance concerned their helpful customer service.
❌ Negative Post Office travel insurance reviews on TrustPilot
A number of reviews cited slow response times, and claims being rejected without any official explanation.
The majority of negative Post Office travel insurance reviews concerned the bureaucracy of the claims process, including many users commenting that their claims were only reimbursed in part.
There were also several users who were dissatisfied with their dealings with the subcontractors that deal with Post Office claims.
It seems apparent from browsing through the Post Office travel insurance reviews was that during the tourism high-seasons, their claims' department receives a very high volume of claims, leading to slow response times, as well as slow claims processes.
Post Office travel insurance reviews on Smartmoneypeople
Post Office travel insurance has a total of 104 reviews on Smartmoneypeople. Let's take a look!
✅ Positive Post Office travel insurance reviews on Smartmoneypeople
Users who recounted successful claims commented on the ease with which their claims were processed in their times of need. This included delivery of medicines, reimbursement for stolen belongings, and coverage of the accompaniment of a close relative when the insured person was admitted to hospital.
Coverage for pre-existing medical conditions was again a feature in Smartmoneypeople's online reviews, and several users with such conditions claimed that other insurance companies charged much more for coverage of their conditions.
Many users also commented on how easy and straightforward it was to contract the insurance.
❌ Negative Post Office travel insurance reviews on Smartmoneypeople
Similar to the negative reviews featured on TrustPilot, many users expressed their dissatisfaction with the bureaucracy of the claims process, citing long and tiresome exchanges with Post Office and their associates.
Another common theme among the negative reviews was that users felt as if though Post Office's customer service representatives lacked all the information on their claims, meaning they had to relay information and resend supporting documents.
A number of users also complained that their claims were dismissed on account of technicalities, or that their claims were not paid out in full.
My Post Office Travel Insurance review
Selecting a comprehensive travel insurance policy is the best way to protect yourself from a financial nightmare. A holiday can come to a screeching halt in a matter of seconds, and indeed, approximately 1 in 3 travellers are forced to resort to their insurance policies.
While in Rio de Janeiro, Brazil, I was involved in a relatively minor motorcycle accident. Luckily, I had taken out Post Office Single Trip Insurance, a policy with a high level of medical coverage and accident compensation.
After receiving treatment for my injured knee in the Brazilian hospital, I contacted Post Office and presented them with all the supporting documents I had kept. I found the process to be relatively simple, and in the end, I was reimbursed for the cost of my treatment.
This was an incredibly stressful situation, and not an uncommon one. I am extremely glad that I took the precaution of taking out insurance, as without it, my trip to South America could have become an absolute nightmare.
Take a look at this overview of the policies offered by Post Office Insurance:
Single Trip: for one-off trips and holidays.
Backpacker: for long-term trips with multiple destinations.
Annual Multi-Trip: covers all short trips taken in a year.
Which Post Office Insurance policy is right for me?
When in the process of choosing travel insurance, remember to consider the possible risks involved with your trip, and any special requirements you or your companions may have.
Your traveller profile typically refers to the length of your trip, your destinations, as well as your purpose for travel.
Having a good idea of which traveller profile you fit into is crucial when selecting a policy. As such, I've set out the best Post Office travel insurance policies according to each traveller profile in December 2023:
The best policy for short holidays
If you're travelling for less than three months, it's important to ensure you're getting insurance with all the coverage you need. Conversely, you want to avoid paying for coverage you don't need.
Post Office Single Trip easy to contract, cheap, and offers broad coverage, making it perfect for holidays.
Get Post Office Insurance at the best price in December 2023:
Click here : Get a Free Quote
Select "Single Trip Insurance".
Enter your trip details: type of travel, destination, dates, and number of travellers.
Select between Economy, Standard, and Premier packages.
Enter your payment details, and you're ready to go!
The best policy for long-term trips
Taking out insurance is particularly vital for trips of over 3 months, as there is an increased chance that you will need to make a claim, or perhaps even be repatriated back to the UK.
Post Office's Backpackers insurance is great for the adventurous traveller, covering medical emergencies and accidents, lost or stolen belongings, repatriation, and much more.
Get your Post Office Backpacker Insurance in December 2023 from only £180:
Click here : Get a Free Quote in 1 min
Select "Backpacker Insurance".
Enter your trip details: type of travel, destination, dates, and number of travellers.
Enter your payment details, and that's it!
Best annual travel insurance policy
Annual travel insurance policies are a life-changing alternative for those who travel frequently and want all their trips covered under the same plan.
Thanks to the unbelievably low price of the Post Office Annual Multi-travel plan, even if you take just two trips a year, you're likely to save money on your insurance by opting for the annual plan.
Get your Post Office Annual Multi-Trip Insurance at the best price in December 2023:
Click here : Get a Free Quote
Select "Annual Multi-Trip".
Enter your trip details: type of travel, destination, dates, and number of travellers.
Select between Economy, Standard, and Premier packages.
Enter your payment details, and that's it!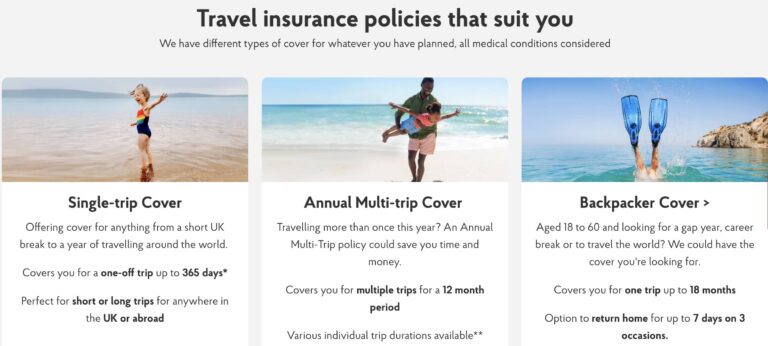 How Post Office Travel Insurance works
I'll be the first to admit that dealing with travel insurance can be somewhat daunting, but it's important to remember that taking insurance is an investment that allows you to enjoy your trip with peace of mind.
If you end up needing emergency medical treatment, cancellation cover, or cover for lost or stolen belongings while abroad, contact them as soon as possible to initiate the claims process, so you can recover the costs.
You should always familiarise yourself with your Post Office policy's terms and conditions before you travel, so you understand which situations you'll be covered for.
Making a claim with Post Office Travel Insurance
To increase the chance of a successful claim, always declare any underlying medical conditions at the time of contracting, and keep all supporting documents you may need in the future.
If something does go wrong on your trip, you'll need to start an online claim on Post Office's official website. Also note that Post Office has a medical emergency line that is available 24/7.
Post Office requires you to notify them of your incident within 3 months of it occurring. On their website, there is no official waiting time for a response to a claim.
What are the benefits of Post Office Insurance?
The main features of Post Office Insurance that set them apart are their competitive prices, coverage for pre-existing medical conditions and lack of age restrictions.
However, perhaps the most unique benefit is that with Post Office, under-18s are covered for free under the Single Trip and Annual policies.
Post Office UK also gives you the opportunity to adapt your policy to your specific needs by way of add-ons. This is particularly useful if you are travelling for a specific purpose, such as winter sports, golf and extreme sports, or cruise ship travel.
With the optional gadget cover, you'll get up to £1,000 in coverage for your electronic equipment. Some of the gadgets covered include smartphones, laptops, tablets, and drones. As a digital nomad, I can attest to the importance of gadget coverage.
Coverage for pre-existing medical conditions
If you suffer from conditions such as diabetes, asthma, or heart conditions resulting from high cholesterol or high blood-pressure, then finding travel insurance can be a real challenge. Luckily, Post Office claims to cover most pre-existing medical conditions.
If you want to know whether your condition is covered, you can complete a Post Office medical screening either online or over the phone.
Advantages of Post Office Insurance
Plenty of options when it comes to add-ons, including winter sports, cruise cover, gadget cover, excess waiver, sports & activities
Ease of contracting.
Kids under 18 are covered free of charge under Single Trip and Annual Multi-travel plans.
Covid-19 cover.
Broad pre-existing medical condition coverage.
No age-limit (Single Trip)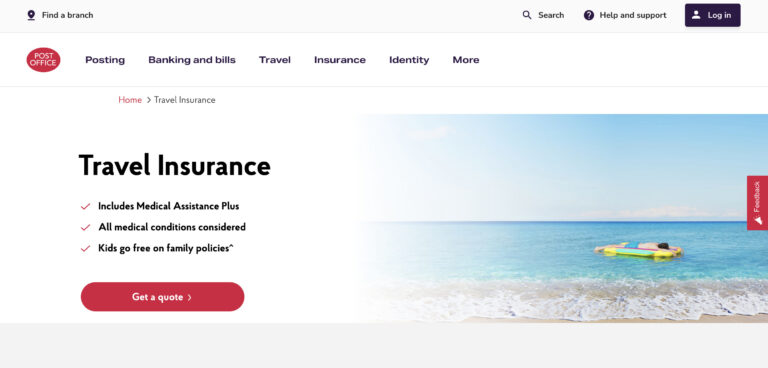 How to contract Post Office Insurance
Go to the Post Office Travel Insurance website and select the type of insurance you want: (Single Trip, Annual Multi-trip, or Backpacker)
Fill in trip details: destination, travel dates, traveller details, medical declarations (important)
Choose your plan, from least to most coverage: Economy, Standard, Premier.
Choose additional cover: Winter sports, Cruise, additional Covid-19 cover, Gadget cover (good for digital nomads), Trip Disruption cover (Including Natural Catastrophe, Terrorism, and Airspace disruption) plus more.
Enter your payment details.
That's it! You're ready to travel.
Comparing Post Office Insurance with other insurers
No Post Office travel insurance review would be complete without a comparison with its competitors, so let's take a closer look.
Comparing insurance policies allows you to find the right level of coverage for the trip you plan to take, and find a good deal, so it's definitely worth your time!
I created this comparative table for short-term trips of less than 3 months, so you can compare Post Office Single Trip with other comparable policies on the market.
Frequently asked questions about Post Office Insurance
What are the age limits for each policy?
Single Trip: No upper age limit.
Annual Multi-Trip: 75 or under.
Backpackers: Must be aged between 18 and 65 when at the time of activating the policy.
Does Post Office provide cover against Covid-19
All Post Office policies offer some cancellation coverage against trips disrupted by a positive Covid-19 test taken within 14 days of departure, which must be administered by the NHS, a medical practitioner, or a UK governing body.
What are the means of payment for Post Office Insurance?
Post Office receives payment by card. Once you have arrived at the payment stage, you will be given the option of paying with either Visa, Mastercard, or Maestro.
Why take out a policy with Post Office Insurance?
Post Office Insurance is one of the leading UK travel insurance providers, offering broad coverage for pre-existing conditions, adaptable coverage, high medical coverage, and under 18's are covered free of charge!
Some of the most useful coverage provided by Post Office includes missed departures and delays, medical emergencies, trip curtailment, loss or theft of belongings, and much more.
Post Office has a 24/7 emergency phone line. Knowing that you can call Post Office and receive assistance at any time means you can rest assured that you'll receive the assistance you need if you end up having to deal with a sticky situation abroad.
How to reduce the cost of your trip
One thing that all travellers have in common is the desire to save money while travelling. More often than not, to be able to continue travelling!
There are countless ways to make your travels cheaper. Choosing insurance that is tailored to your needs is vital, but remember that flights and accommodation are crucial factors as well.
Here are a few tricks I've learned over the years, they'll help you save money on your travels, so you can focus on the things you enjoy about travelling.
If you follow these tips, you might just find that by the end of your trip, you have enough money left over to explore an extra destination on your route home!
Find cheaper flights
You know, flights don't cost the same from all countries! To pay for my cheapest flights, I use NordVPN.
Basically, it's a private network that allows you to access Internet sites from locations other than your own, and this can have some serious benefits:
In December 2023, enjoy a 59% discount on NordVPN.
Click here to activate your discount
Flights from Barcelona to Buenos Aires don't cost the same if you buy them from Spain as from India, for example. So, once you've installed NordVPN, simply access websites like Skyscanner and compare prices by entering as if you were browsing from different countries.
The 8 countries from which it is cheapest to buy flights are: Malaysia, Bulgaria, India, Turkey, Romania, Indonesia, Portugal, and Thailand. Once you have NordVPN, head over to Skyscanner and start paying reduced prices for flights all over the world!
Finding cheap accommodation these days is really tough, I also want to share my tips for saving money on your accommodation.
Find accommodation at a discount
Access Booking.com now and get discounts of up to 15% in December 2023 by becoming a Genius user.
There are also ways to save money when booking your accommodation with Booking. The first of which is becoming a Genius user, something you get from making 2 bookings (Genius level 1), and 5 bookings (Genius level 2).
As a Genius user in Booking.com, you can enjoy:
Discounts on room rates.
Free breakfast.
Upgrades to superior room categories.
Free parking.
Late check-out.
Welcome gifts.
In addition, there are hotels in Booking.com that directly offer you a 10 to 15% discount on your rate for being a Genius user.
Access to get discounts of up to 15% by becoming a Genius user.
Finally, Booking.com has a Minimum Price Guarantee program, so if you find a cheaper price for your hotel on any other website, they'll match it!
Is taking out Post Office Insurance worth it?
Post Office is easy to contract, offers useful add-ons allowing you to customise your policy to your needs and, and as mentioned, tailors to travellers of all ages.
On the other hand, this Post Office travel insurance review has shown that many users were dissatisfied with their services, especially their claims process, due in part to the high number of claims they receive around the tourism high-season.
If you're considering whether Post Office is a suitable option for your next trip, remember to read the terms and conditions of the policy carefully to see if they correspond to your needs as a traveller.
Note that the ideal policy for someone else might not be right for you, and vice versa.
Taking out insurance may end up being one of the most important investments you make. I hope that this Post Office travel insurance review has helped you reach a decision on whether Post Office is a good option for you. Safe travels! ✈️