One of the best ways to ensure you're opting for the right insurance provider is to browse through online reviews. To save you some time, I've created this guide to the online Oasis travel insurance reviews.
Oasis Insurance is a UK-based travel insurance company that offers flexible policies, competitive prices, and various policy add-ons.
Today I'll take you through both positive and negative online reviews, as well as some more general information about Oasis Insurance's policies, including its most useful benefits.
Oasis travel insurance reviews
Find below a synopsis of over a thousand online Oasis travel insurance reviews. By reading both positive and negative reviews, I hope you can reach a decision whether Oasis is the right option for your next trip.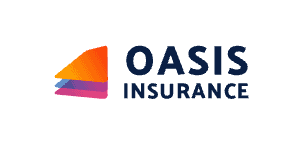 To give you a quick idea of the experiences people have had with Oasis Insurance, I've summarised their online reviews in December 2023:
Oasis has an average rating of 4.7/5 on TrustPilot. The vast majority of Oasis insurance reviews are on this platform.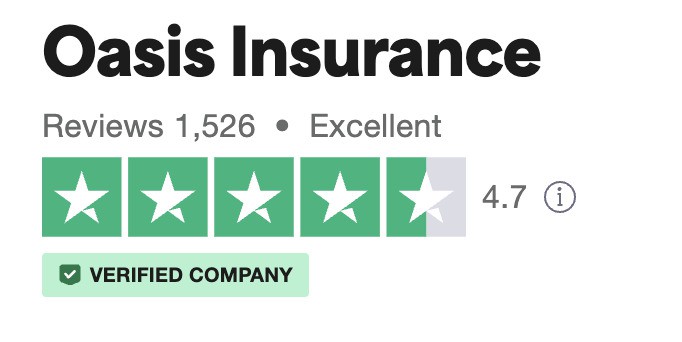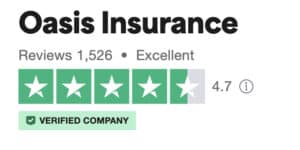 Oasis Insurance reviews on TrustPilot
TrustPilot is one of the world's leading online review platforms that allows customers to share their experiences using businesses from around the world.
Trustpilot receives almost 1 million new reviews each month, and in the case of Oasis Insurance, there are 1,526 total reviews at the time of writing this post. Their Trust rating of 4.7 is quite high indeed for travel insurance companies!
✅ Positive Oasis Insurance reviews on TrustPilot
The most common review for Oasis concerned their website. Many users commented that the website was easy to navigate, with all the relevant information clear to see.
Many users commented on the competitive prices offered by Oasis, with some even saying that Oasis' annual travel insurance policy was the best value-for-money policy of that type that they could find on the market.
From reading the reviews, it appears that many people who have used Oasis' services were pleased with the help they received from Oasis staff members, including on the phone assistance platform.
There were even a few users who said that their premium with Oasis was reduced, which is testament to the fact that Oasis values the loyalty of their customers.
Many people expressed their satisfaction with the flexibility of Oasis' policies, with plenty of options and add-ons you can use to customise your policy to your exact requirements.
❌ Negative Oasis Insurance reviews on TrustPilot
There were many reviews where people expressed their dissatisfaction with the slow response times they experienced while trying to process their claims, whether by email or by phone.
Several accounts of Oasis asking for supporting and evidence documents that had already been provided.
Most negative comments were directed at the bureaucracy of the claims' process, most of which referred to the third-party companies who handle the claims for Oasis.
There were even a few comments complaining about the long wait times while on call with the medical emergency line. One person recalls being put on hold for 1.5 hours.
Clearly, contracting the insurance is straightforward and intuitive, with ample opportunity to adapt policies to your needs.
However, I was unable to find many positive reviews about the claims process itself. I should mention, though, that this is common when it comes to travel insurance reviews.
One thing that became apparent from browsing through the Oasis Insurance reviews was that during the tourism high-seasons, their claims' department receives a very high volume of claims, leading to slow response times.
Oasis Insurance reviews on Facebook
There aren't many reviews available on Facebook for Oasis Insurance, but there are a few notable comments to highlight:
✅ Positive Oasis Insurance reviews on Facebook
Most Oasis Insurance reviews on Facebook reported an overall good experience.
Similar to the comments on TrustPilot, several users commented on the ease of the application process.
❌ Negative Oasis Insurance reviews on Facebook
The only negative review of Oasis Insurance I found on Facebook concerned the long response times when making a claim.
Oasis limits who can comment on their Facebook posts, which may have affected the number of critical reviews that were shown.
My opinion on Oasis Insurance
Approximately one in three travellers end up having to use their policy to make a claim at some point. The tricky thing is that you never really know when something is going to wrong, so you should always protect yourself by taking out broad coverage.
While in Ho Chi Minh, Vietnam, I started to feel my eye swelling up. Over the following 24 hours I started to feel that the air pollution in the city was making it worse, and I soon realised that I had a nasty eye infection. Luckily, I had taken out Oasis Insurance.
When I arrived at the hospital, the medical staff checked my insurance policy and confirmed that it was valid before I went for a consultation. Ultimately, the doctor told me that there was no way I could be treated there, and that I needed to be repatriated.
I contacted Oasis through their 24/7 medical emergency phone line, who talked me through the process, including the documents that I would need for the reimbursement of the repatriation costs. I found Oasis' services to be efficient and professional.
This was an incredibly stressful situation, and not an uncommon one. I am extremely glad that I took the precaution of taking out insurance, as without it, my trip to Vietnam could have become an absolute nightmare.
Here's a brief overview of the policies offered by Oasis Insurance:
Single Trip: for one-off trips and holidays.
Backpacker: for long-term trips with multiple destinations.
Annual Multi-Trip: covers all trips taken in a year.
Which Oasis insurance policy is right for me?
In this section, I'd like to shift the focus to traveller profiles, that is, which Oasis Insurance policies are best suited to different profiles.
Before you settle on a policy, it's a good idea to check the available options, so you can be sure that you've selected the most suitable insurance policy for your trip.
After lots of research comparing guarantees and prices, these are the best Oasis policies for each traveller profile in December 2023:
The best policy for short holidays
If you're going on holiday for less than three months, you need insurance that covers your activities, without having to pay for coverage that you don't need.
Get Oasis Insurance from £21 for a limited time (only in December 2023)
Click here: Get a Free Quote in 1 min
Enter your trip details: type of travel, destination, dates, and number of travellers.
Select between Emerald, Ruby, and Diamond packages.
Enter your traveller and payment details,

that's it!
If something goes wrong while on holiday, it's important to be insured, so you don't have to face any financial nightmares. With Oasis, you receive coverage for medical emergencies, missed departures, lost or stolen belongings, cancellations, and much more.
The best policy for long-term trips
If you're travelling for a period of over 3 months, and if you plan to travel to a number of different destinations, it's especially important to take out insurance, as you never know what can go wrong on your adventures abroad.
In December 2023, get Oasis Backpacker Insurance at the best price:
Click here: Get a Free Quote
Enter your trip details: type of travel, destination, dates, and number of travellers.
Select between Emerald, Ruby, and Diamond packages.
Enter your traveller and payment details, that's it!
For long-term trips, taking out comprehensive travel insurance is essential, as there are countless problems that can arise while travelling for so long. Oasis Backpackers' Insurance provides you with extensive coverage for medical emergencies and accidents, lost or stolen belongings, repatriation, personal liability costs, and much more.
Best annual travel insurance policy
Get Oasis Annual Multi-Trip Insurance from £35 for a limited time only in December 2023:
Click here: Get A Free Quote
Enter your trip details: type of travel, destination, dates, and number of travellers.
Select between Emerald, Ruby, and Diamond packages.
Enter your traveller and payment details and that's it!
Oasis offers perhaps the best value-for-money when it comes to annual travel insurance. Their Annual Multi-Trip plans cover cancellations, medical emergencies and repatriation costs, as well as plenty of other benefits suited to your busy travelling schedule.
Note that for Oasis' Annual Multi-Trip packages Emerald, Ruby, and Diamond, the maximum trip duration varies for each one. These are: 31 days, 45 days, and 62 days respectively.
If you take several trips between 30 and 60 days each year, the Oasis Diamond package is an incredible deal, as many other insurance providers have a hard limit of 30 days.
How Oasis Insurance works
Of course, no one ever wants to have to use their policy to make a claim, but it's better to be safe than sorry. If you need emergency medical treatment, cancellation cover, or cover for lost or stolen belongings while abroad, insurance can reimburse you.
Before you leave home, read your Oasis policy's terms and conditions carefully, so you know exactly what's covered, and you'll know what to do in case you need to make a claim. Remember to declare any underlying medical conditions at the time of contracting.
If something does go wrong on your trip, you'll need to contact Oasis' claims department. The most important thing to remember is that Oasis has three phone numbers depending on where you're calling from:
The world, excluding North America
The US and Canada
Mexico
It's absolutely imperative that you keep all supporting documents relating to your incident. Without these, your claim may not be accepted.
Oasis' official waiting time for a response to a claim is 21 days, but this can become significantly longer if you do not provide all the relevant supporting documents.
What are the benefits of Oasis Insurance?
The stand-out features of Oasis Insurance are their competitive prices, flexible policies, and quick and easy application process.
Oasis offers several add-ons, which I will mention below, that allow you to tailor your policy according to the needs of your trip. This comes in handy if you are travelling for a specific purpose, such as a wedding, winter sports, or going on a cruise.
With the enhanced gadget cover add-on, your electronic equipment coverage increases to £3,000, making it a great choice for digital nomads travelling with their work equipment. Oasis' "Business Travel" add-on covers loss or damage to your work equipment or business money.
If you choose the excess waiver add-on, you won't have to pay any excess on your claim. There is even a rental vehicle excess waiver, which covers the excess or deposit amount shown in your rental policy, in case your rental vehicle is accidentally damaged.
Advantages of Oasis Insurance
Plenty of options when it comes to add-ons, including winter sports, cruise cover, enhanced gadget cover, excess waiver, sports & activities, wedding cover, and gold cover.
Ease of contracting.
24/7 emergency assistance service phone line.
Oasis stands out for its low prices compared with other comparable insurance providers.
Covid-19 cover.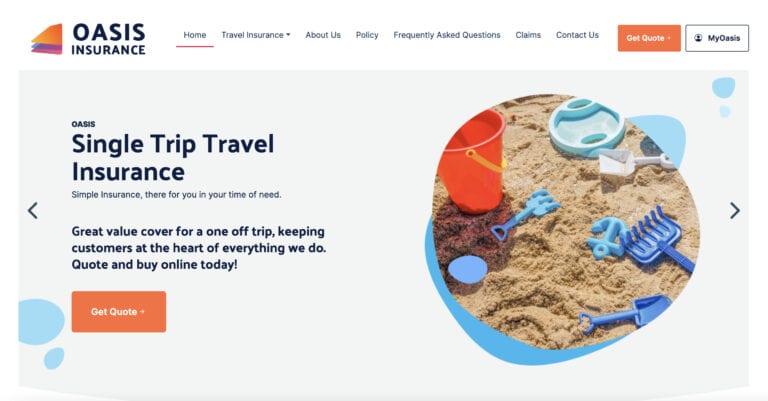 How to contract Oasis Insurance
As we learned from the various positive reviews of Oasis Insurance, their website it straightforward, with a quick and easy process for contracting their insurance.
Here's a step-by-step guide to contracting Oasis Insurance:
Go to the Oasis Insurance website and select the type of insurance you want: (Single Trip, Annual Multi-trip, Backpacker).
Fill in your trip details: destination, travel dates, traveller details, medical declarations (important).
Choose your plan, from least to most coverage: Emerald, Ruby, Diamond.
Choose additional cover: Winter sports, Cruise, Enhanced gadget cover (good for digital nomads), plus more.
Enter your payment details.
That's it! You now have your Oasis Insurance package, and you're ready to embark on your next adventure.
Comparing Oasis Insurance with other insurance providers
No two trips are the same, and this is part of the reason why it's so important to compare policies when looking for travel insurance.
Comparing insurance policies allows you to find the right level of coverage for the trip you plan to take, and find a good deal.
To help you compare Oasis Insurance's Single Trip policy with other similar policies, I created this comparative table for short-term trips of less than 3 months. Here you can see which plans offer the ideal level of coverage for your particular trip.
Frequently asked questions about Oasis Insurance
Am I covered against Covid-19?
Oasis' standard policies offer some coverage against trips disrupted by a positive Covid-19 test, but this coverage is not comprehensive. Oasis offers an additional "Enhanced Covid-19 Cover" add-on for those who want extra protection.
This add-on covers you in case you travel against a FCDO recommendation, for example.
What do I do if my airline cancels my flight?
1If your flight or scheduled tour is cancelled, for example, Oasis advises you to first contact your airline or tour operator to seek recourse.
If you are unsuccessful, make sure you keep all supporting documents that you may need for a claim and contact Oasis to see if your policy covers the cancellation.
What are the means of payment for Oasis Insurance?
Oasis receives payment by card. Once you have arrived at the payment stage, you will be given the option of paying with either Visa, Mastercard, or Maestro.
Why take out a policy with Oasis Insurance?
Oasis Insurance is one of the leading UK travel insurance providers, offering broad and flexible coverage at relatively low prices.
Some of the most useful coverage provided by Oasis includes medical emergencies, cancellations, baggage delays, missed departures and delays, loss of belongings, and much more.
I should also mention Oasis' 24/7 emergency phone line. Knowing that you can call Oasis and receive assistance at any time is a huge plus, especially when trying to navigate your way through a sticky situation in a foreign country.
How to reduce the cost of your trip
One thing that all travellers have in common is the desire to save money while travelling. More often than not, to be able to continue travelling!
There are countless ways to make your travels cheaper. Choosing insurance that is tailored to your needs is vital, but remember that flights and accommodation are crucial factors as well.
Here are a few tricks I've learned over the years, they'll help you save money on your travels, so you can focus on the things you enjoy about travelling.
If you follow these tips, you might just find that by the end of your trip, you have enough money left over to explore an extra destination on your route home!
Find cheaper flights
You know, flights don't cost the same from all countries! To pay for my cheapest flights, I use NordVPN.
Basically, it's a private network that allows you to access Internet sites from locations other than your own, and this can have some serious benefits:
In December 2023, enjoy a 59% discount on NordVPN.
Click here to activate your discount
Flights from Barcelona to Buenos Aires don't cost the same if you buy them from Spain as from India, for example. So, once you've installed NordVPN, simply access websites like Skyscanner and compare prices by entering as if you were browsing from different countries.
The 8 countries from which it is cheapest to buy flights are: Malaysia, Bulgaria, India, Turkey, Romania, Indonesia, Portugal, and Thailand. Once you have NordVPN, head over to Skyscanner and start paying reduced prices for flights all over the world!
Finding cheap accommodation these days is really tough, so you'll be excited to learn that, besides flights, there are also ways to save money on accommodation!
Find accommodation at a discount
Access Booking.com now and get discounts of up to 15% in December 2023 by becoming a Genius user.
There are also ways to save money when booking your accommodation with Booking. The first of which is becoming a Genius user, something you get from making 2 bookings (Genius level 1), and 5 bookings (Genius level 2).
As a Genius user in Booking.com, you can enjoy:
Discounts on room rates.
Free breakfast.
Upgrades to superior room categories.
Free parking.
Late check-out.
Welcome gifts.
In addition, there are hotels in Booking.com that directly offer you a 10 to 15% discount on your rate for being a Genius user.
Access to get discounts of up to 15% by becoming a Genius user.
Finally, Booking.com has a Minimum Price Guarantee program, so if you find a cheaper price for your hotel on any other website, they'll match it!
Is taking out Oasis Insurance worth it?
Oasis Insurance stands out for the ease of contracting their policies, and its numerous add-ons, which are incredibly useful if you want to adapt your policy to the type of trip you're taking.
The Oasis Insurance reviews that I've summarised in this post show a general satisfaction with Oasis, not to mention their 4.6 TrustPilot rating, which is very high for an insurance company.
As with many popular insurance companies, Oasis receives a lot of claims, especially during the high-seasons for travellers. It seems like this sometimes has a negative effect on the efficacy of their claims processes, so bear this in mind.
Ultimately, you'll need to carefully consider what your needs are as a traveller to decide whether Oasis is right for you, and remember to familiarise yourself with the terms and conditions of your policy!
So, with all the internet reviews and general information about Oasis Insurance covered, I hope you feel sufficiently informed to make a decision, and I wish you safe travels! ✈️