SafetyWing is quickly becoming a world pioneer in international health insurance with their Remote Health plan, designed for both remote businesses and digital nomads.
The remote work ecosystem is rapidly evolving, and SafetyWing are among the first to create a comprehensive support system for digital nomads. As a digital nomad myself, I think it's about time these types of insurance plans were made available!
SafetyWing Remote Health allows entrepreneurs whose workforces are spread across the globe to provide international health insurance for their employees, regardless of where they are, facilitating efficient remote business practices, and providing financial security.
So, is this policy right for you? I've outlined its best features, and who it is suited to:
SafetyWing Remote Health stands out for its broad coverage, flexible conditions, and ease of organising health insurance for remote teams.
SafetyWing Remote Health is ideal for digital nomads, remote workers, long-term travellers, and businesses with employees in different places around the world.
Here is a summary of the best insurance policies for digital nomads in September 2023:
Chapka Cap Adventure: for long trips and backpackers
(15% discount for families)
Heymondo Long Stay: for trips over 3 months
(5% discount)
Heymondo Annual Multi-trip: covers all short trips taken in a year
(5% discount)
SafetyWing: health and travel insurance for digital nomads
What type of traveller is SafetyWing Remote Health for?
This insurance policy was specifically created to give full financial protection to digital nomads while they are abroad, and is also great for remote workers and people who travel the world without a specific itinerary.
Remote Health is perfect for businesses with employees in different locations, providing broad coverage for entire teams of teleworkers, all monitored and managed from one user-friendly platform.
Unlike other health insurance policies, SafetyWing offers the possibility of buying your policy once you've started your trip. The service also allows you to renew and/or modify the policy every month according to your needs, and this flexibility goes a long way.
There were a number of specific reasons why I decided to contract Remote Health, and why, a year later, I have decided to write this guide focusing on the plan. In fact, I've found it to be one of the most complete global health insurance alternatives on the market.
Opinions of SafetyWing Remote Health
In this section, I've compiled a list of the most common online opinions of SafetyWing Remote Health. I hope that this insight into the positive and negative aspects of the plan will give you a better idea of whether SafetyWing is the right choice for you.
So, what are the most common opinions on this specialised plan?
✅ Positive Remote Health reviews
It's easy to assign different plans to each member of your team, add and remove members at any time, and indicate whether you want to cover them full-time or part-time.
24/7 medical assistance phone line, 365 days a year.
Great for long-term worldwide travel.
❌ Negative Remote Health reviews
Not enough coverage for gadgets and personal belongings.
Minimum duration of 1 year.
Over 70s not covered.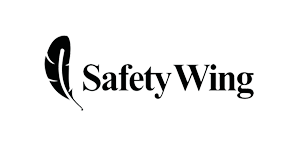 Advantages and disadvantages of SafetyWing Remote Health
As mentioned earlier, thanks to SafetyWing's easy-to-use business dashboard, you can assign a different plan type to each member of your team, add and remove members at any time, and indicate whether you want to cover them full-time or part-time.
Whichever plan you choose for each member, all users of your company's Remote Health plan will enjoy 24/7/365 medical support, as well as access to a number of extra benefits you can offer them as flexible remuneration plans.
To help you get a clearer idea of what the plan has to offer, I've created the following tables showing the pros and cons of SafetyWing Remote Health for digital nomads, remote workers, and long-term travellers.
Pros and cons for digital nomads
| | |
| --- | --- |
| PROs | CONs |
| A wide range of cover for those who spend most of the year on the move | Over 70s are not covered |
| Possible to contract it once the trip has started | Coverage not available for travel to North Korea, Cuba, or Iran |
| Possible to update your coverage once the journey has started | Minimum duration of 1 year |
| Offers medical cover in the country of origin | Does not include coverage for loss of checked baggage or trip interruption |
| COVID-19 coverage included | Doesn't include coverage for electronic equipment |
| Includes cover for some pre-existing conditions at the start of your trip | Extreme sports such as skydiving and paragliding are not covered |
| Includes coverage for cancer | |
| Includes compensation in case of flight delays, lost luggage, passport theft and natural disasters | |
Pros and cons for companies
In addition to the advantages and disadvantages mentioned in the previous section, SafetyWing Remote Health has the following pros and cons in its services for companies and remote teams.
| | |
| --- | --- |
| PROs | CONs |
| Enables you to offer medical assistance to everyone in your team, wherever they are | You need to include a minimum of 3 employees to be able to activate a discount for the policy |
| It allows for different types of plans to be offered to each member | The price increases with the age of the employee |
| Allows you to add or remove members or update plans at any time | |
| Reduces the number of absences from work, which translates into higher productivity | |
| It allows you to increase the purchasing power of your workers without having to raise their salaries | |
| Improves employer branding | |
Comparing SafetyWing Remote Health with other insurers
Digital nomads and remote workers have very specific needs when it comes to their work/travel lifestyle. That's why it's important to compare the best insurance options on the market.
This practice not only helps you get the right amount of coverage for your travels, but it will also allow you to scope out the best deals!
As a digital nomad myself, I've tried and tested plenty of different insurance companies. If you'd like to find out my top 5 insurance policies for digital nomads, click the link below:
Link: Travel Insurance for Digital Nomads: Prices & Discounts in 2023
To help you compare policies, and to save you some time, I've created the following table. It sets out the top companies currently providing travel insurance for digital nomads in September 2023:
Is there a discount for Remote Health?
Unfortunately, there is currently no discount available for this SafetyWing policy. However, the plan is being offered at a very competitive price, so don't miss out!
How to take out SafetyWing Remote Health
Your extensive health insurance is just a few clicks away. There are no special restrictions, and SafetyWing insurance is available in over 175 countries, including your home country.
The SafetyWing platform is user-friendly and easy to navigate. To give you an idea of how it works, I've set out the process for you below.
Here are the steps you need to take to contract SafetyWing Remote Health:
Register with SafetyWing on their official website
Select your Remote Health plan, Standard or Premium.
Fill in traveller details.
Enter your payment details, and that's it! You now have worldwide coverage.
When contracting your travel insurance, it's absolutely crucial that you read the terms and conditions of your policy carefully. If you have pre-existing medical conditions, remember to declare these in as much detail as possible when contracting.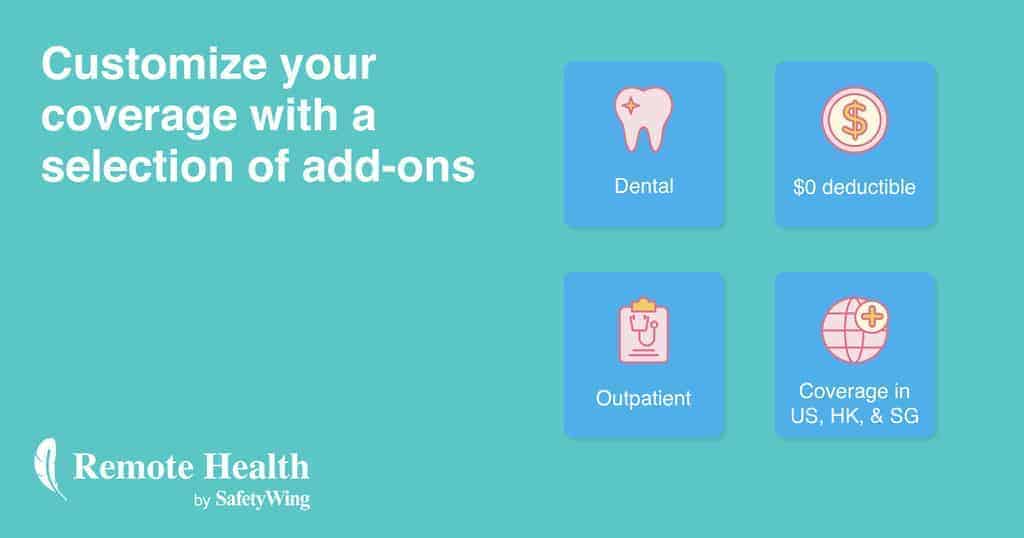 Is SafetyWing Remote Health worth it?
SafetyWing Remote Health is the first international health insurance service created by digital nomads, for digital nomads, offering insurance options for businesses and remote workers alike.
If you work remotely, Remote Health provides you with comprehensive assistance and cover for entire teams of teleworkers, wherever they may be. Another huge advantage of the developing remote work ecosystem!
After having tried several options, I can't think of any overseas health insurance that offers more for less, which is, at the end of the day, exactly what we want when looking for insurance. If you're ready to sign up for SafetyWing Remote Health, simply click here
If you're still unsure, I recommend you read our SafetyWing insurance review, to learn more about what real-life users have said about their policies.
I hope that this post has left you sufficiently informed to make a decision on travel insurance for your next trip. Safe travels! ✈️ 🌍