A quality hosting is capable of storing all the content of a web page. But not only its storage capacity should be important, but also the volume of data it can generate, especially if the site is going to have a lot of visitor traffic.
It is also important to make sure that the hosting has an SSL certificate and offers a high level of security. If to this we add that it has a high-capacity hardware and a good technical support, we would be talking about a quality hosting.
My opinion as a Kinsta user
As an active Kinsta user, my opinion of this host is one of maximum satisfaction. We have been using this service for more than 3 years and, during all this time, it has more than met all our expectations in terms of web hosting.
One of the most valued aspects of Kinsta is its excellent customer service and support.
In case of any incident, the response speed is maximum, always attending in less than 3 minutes and providing the highest security. They solve any problem quickly.
It is also worth mentioning its "staging" platform. An environment completely separate from your production site and with which you can test new versions of WordPress.
This staging environment allows us to significantly improve our development work. All this while enjoying maximum security, a unique loading speed and a WordPress optimization service of the most complete. It can be said, therefore, that Kinsta is worth it.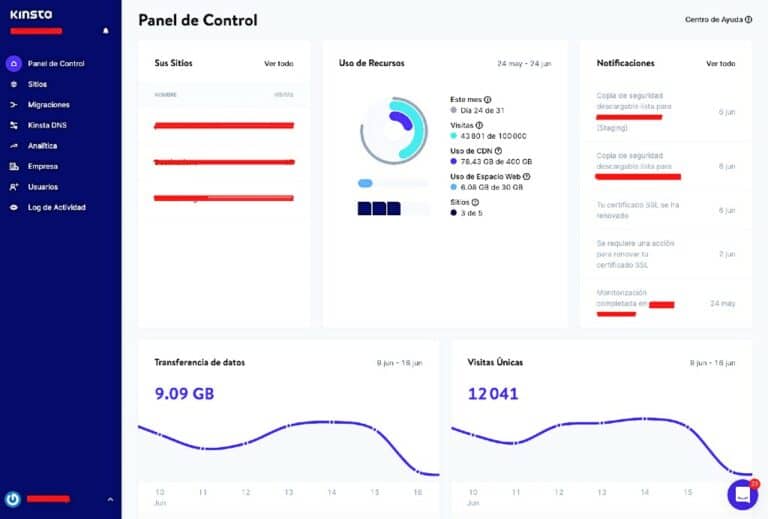 Is Kinsta fast? Pros and cons
Kinsta is one of the hosts that offers users a higher number of WordPress management tools. However, once we know how Kinsta works, it is necessary to study its pros and cons to see if it is really worth hiring.
It should be noted, by the way, that Kinsta is also one of the fastest growing WordPress hosting services in Europe and America. Its arrival was a revolution in WordPress hosting solutions.
Main advantages of Kinsta
Among the main advantages of Kinsta, it is worth mentioning:
It's extremely fast and excellent cloud infrastructure. All of its hosting services are backed by the premium Google Cloud network. In addition to this, they also offer exceptional customer service.
Kinsta's loading time is very fast. This gives your website a higher conversion, a higher average stay on page and a better developed SEO.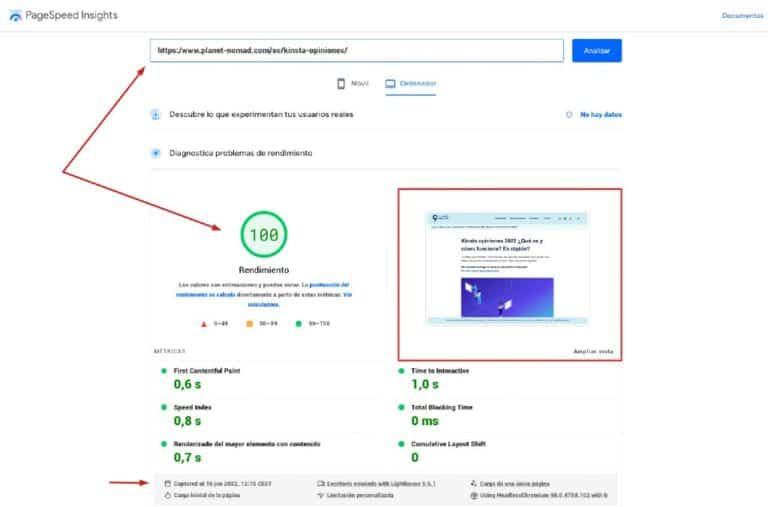 Kinsta uses Google's private fiber network so that its users can enjoy the highest levels of performance, speed, and security.
Finally, Kinsta recently completely revamped its image to make it more user-friendly.
Main disadvantages of Kinsta
The first aspect to keep in mind here is that the monthly cost of Kinsta services is high. Not in vain, this is a premium WordPress hosting service. Although, given the quality of its features, Kinsta is worth it.
On the other hand, Kinsta only has WordPress hosting, so it does not support email. This means that the web hosting provider does not offer email hosting to users. It has to be outsourced.
Finally, it should be noted that Kinsta is not recommended for users who have several WordPress sites with low traffic. We are talking in this case about beginners and bloggers with a reduced level of visits on their websites.
How much does Kinsta cost?
Kinsta has up to 10 plans with different prices and features. These prices may vary.
To see the most updated ones and their offers, I recommend you to visit directly the official Kinsta website: https://www.kinsta.com/prices
| | | | | |
| --- | --- | --- | --- | --- |
| STARTER | PRO | BUSINESS 1 | BUSINESS 2 | BUSINESS 3 |
| 35 $ | 70 $ | 115 $ | 225 $ | 340 $ |
| | | | | |
| --- | --- | --- | --- | --- |
| BUSINESS 4 | ENTERPRISE 1 | ENTERPRISE 2 | ENTERPRISE 3 | ENTERPRISE 4 |
| 450 $ | 675 $ | 1.000 $ | 1.350 $ | 1.650 $ |
Kinsta promo code
In September 2023, Kinsta offers 2 months of free premium hosting
First click here: Activate Promo Code
You will be redirected to the Kinsta website.
Click on your desired annual plan.
Fill in the form and click "Continue".
All Done! 2 months of free Kinsta hosting will be applied to your annual plan.
3 key reasons to choose Kinsta
As a summary of everything said so far, I want to highlight 3 of the most important aspects why we believe you should choose Kinsta for your project.
The speed of management, ease of use, technical support and optimization with WordPress deserve our attention.
1. Faster loading times and faster control panel
The average of all speed tests done on Kinsta results in a one-second load time, much faster than the competition.
MyKinsta is the control panel of this host, designed specifically for WordPress. An easy-to-use panel at user level and that facilitates at all times the management of all your websites. You will have everything perfectly at hand.
2. It was built specifically for WordPress
On the other hand, Kinsta is the best solution for WordPress because it was precisely designed and built for it. With almost 10 years of experience, it adapts perfectly to your site and boosts and optimizes your SEO positioning much better.
Being a WordPress hosting, it goes without saying that all its control panel is designed so that users of this platform can use it easily from day one. You will not have to worry about anything once you have it installed.
3. They have 24/7 support
Kinsta's technical support is one of the most valued aspects. A support that works 7 days a week, 24 hours a day. You will be able to connect with an engineer of this platform in real time at any time.
You will also enjoy free updates and a help center with all kinds of guides and tips to get the most out of Kinsta. The team of professionals of this hosting is specialized in solving all kinds of problems.
Kinsta user reviews
The rest of the Kinsta reviews that exist on the net highlight, in summary, that it is the best option in terms of WordPress hosting today. The aspects that most attract the attention of users are:
Speed.
Technical support.
Safety.
Despite its price, you're going to get what you pay for. Furthermore, unlike other hosts, customers report that there is a huge difference between Kinsta's managed hosting services and other shared hosting options.
In turn, all Kinsta plans come with automatic server scaling and web checks every 2 minutes. Therefore, even the cheapest plan from this host provides quality services that others do not.
So, you'll enjoy daily backups by default, or you can make your own. Even users who have a lot of traffic on their websites claim that Kinsta keeps the site always stable thanks to its auto-scalable CPU and RAM.
So, is Kinsta worth it?
Considering all these Kinsta reviews, it is clear that Kinsta is very worthwhile. But why is that?
Today, it is perhaps the best option for hosting WordPress projects. Its team is specialized in this platform, so you will feel much safer.
Kinsta is more than recommended for those whose project generates enough income to enjoy the most advanced hosting technology.
The quality-price ratio in each of its services is more than guaranteed.
So don't go by its price and study all the features and how Kinsta works to know everything it can offer you.
At the enterprise level, if you have your website managed by WordPress, you're not going to find a platform with the speed, security, and support of Kinsta.
What is Kinsta?
Founded in 2013, Kinsta is a hosting provider based on the Google Cloud platform and offering good overall performance, maximum ease of use, excellent speed and very high web security ratings.
Kinsta offers a cloud-based host that provides various WordPress plans, managed and optimized to the highest level.
All this with an ease of use that is ideal for any user.
By using Kinsta, your website will be optimized for WordPress sites. A provider that also offers exceptional customer service and support, always providing maximum security and with a very high response speed: every time I talked to them, I didn't have to wait more than 3 minutes to be attended.
How does Kinsta work?
Kinsta is based on the Google Cloud platform. Therefore, all its sites are hosted on Google's structure, with all the advantages that this entails in terms of security, performance, navigation, and accessibility for the website.
The hosting offered by Kinsta is managed by WordPress, which means that the company itself is responsible for its installation and server configuration. The customer, therefore, does not have to worry about anything in this regard.
According to user reviews on TrustPilot, Kinsta is known for its speed. You will be able to grow your business without worrying too much about administering and managing the site. The best way to enjoy an optimized WordPress environment.
Kinsta has its control panel: MyKinsta. It is very intuitive and really straightforward to use. I use it practically every day. You can add a new page to the plan in a few clicks, manage domains, restore backups, chat live with a technician, etc.
Kinsta vs. other hosts
Kinsta is currently the highest rated WordPress host on G2, the world's leading software review and comparison site.
Some opinions of Kinsta regarding its competitors can be summarized as follows:
| | | | | |
| --- | --- | --- | --- | --- |
| | | | | |
| | | | | |
| | | | | |
| | Powerful management, security monitoring and performance optimization. | Designed almost exclusively for more experienced developers and administrators | Not all of its plans include products at the highest level of quality. | Offers only 4 WordPress-specific plans designed for first-time website owners |
| | | You will have to collect, purchase and assemble the host tools yourself. | It has a limit of total visits and bandwidth in all its plans. | It offers no staging environment and only has a content delivery network in the most expensive plans. |
Frequently asked questions about Kinsta
How to migrate to Kinsta?
The migration to Kinsta is simple. On the platform itself you have available several ways to do it depending on your needs. In fact, Kinsta itself provides you with various tools for this: SFTP and MySQL, Duplicator, Migrate Guru, WordPress plugins, etc.
You just need to make sure you have the space available to carry out the migration process. However, Kinsta itself has a Migration team, so they can do the process for you and enjoy maximum security and comfort.
How to contact Kinsta support?
If you want to contact Kinsta support, just log in to your MyKinsta account and click on the chat icon in the bottom-right corner. Once the chat is open, a dedicated Kinsta engineer will be available to talk to you.
This specialized support is available 24 hours a day, 7 days a week. Whatever the time you have your issue, you can chat from MyKinsta with any expert of the platform. They will solve your problem in no time.
What CMS is Kinsta for?
As Kinsta is specifically designed for WordPress, this is the only CMS you can use here. But if you use this management platform, we are talking about the most optimized hosting and with more resources and tools for administration.
Keep in mind that Kinsta was created and designed with the sole purpose of covering all the shortcomings that until then had a CMS like WordPress. Here you will have everything you need for the control and total management of your site.