While a few years ago nobody would have imagined it, the digital nomad visa is now a reality! With the change in the way people work, many countries have taken the step to offer a type of visa that allows remote workers to move and settle in a country to telework.
Costa Rica has joined this trend and now welcomes remote workers with a digital nomad visa. A good way for this small Central American country to attract foreign talent and contribute to its economy!
First, a brief summary of the Costa Rica digital nomad visa:
The duration is 12 months, with the possibility of extension for a further 12 months.
Response provided within 15 days at the latest.
Possibility to apply online.
The visa is not limited by nationality or activity, provided that the activity consists of the provision of paid services using computer, analogue or telecommunication means to perform them.
How the digital nomad visa works in Costa Rica
The Costa Rica digital nomad visa is a residence permit that allows online workers and entrepreneurs to stay in a country for a longer period. However, it is important to know that it is not a residence visa.
The launch date of this visa has been approved for August 2021 and its goal is to attract these digital workers to the country.
Duration of the digital nomad visa
The duration of the visa is 12 months, with the possibility of an extension of another 12 months. Although there are several conditions for extending this period, as we will see later.
The visa process is fairly quick compared to other procedures. Once the application is submitted, the authorities have a maximum of 15 days to accept or reject it.
Applying for a digital nomad visa Costa Rica
To apply for a digital nomad visa for Costa Rica, you will have to follow a series of steps. But don't worry, the steps are simple:
Check that you are eligible to apply for a digital nomad visa (see below)
Complete the registration process on the platform by clicking here
Give your informed consent.
Submit the documentation by making an appointment on the official web portal of the Directorate General for Migration (DGME). You must check the Digital Nomadic Stay option.
If you intend to present the documents physically, go to the migration offices of La Uruca or to the regional offices that carry out this type of procedure.
Once all the documents have been submitted, wait for the written resolution of the application (the Aliens Department has 15 calendar days).
If there is a problem with the application, such as missing information, the visa processing office will issue a warning. In this case, the next step is to clarify or complete the application within 8 days of receiving the file. Please note! If you do not submit the missing documents within this period, the visa will be automatically refused.
Visa delivery time
The visa is issued within a maximum of 15 days (whether your application is approved or rejected).
However, this period will be extended until the missing requirements or corrections to the application are submitted.
Conditions to obtain a digital nomad visa Costa Rica
Generally, there are certain requirements for obtaining a digital nomad visa. Is this the case for Costa Rica?
Here are the details you need to know:
Is travel insurance compulsory in Costa Rica?
One of the basic requirements for obtaining a digital Costa Rica nomad visa is to have travel insurance while in Costa Rica.
Among the wide variety of international travel insurance available on the market, the best travel insurance option for Costa Rica.
Best travel insurance for Costa Rica
To benefit from a digital nomad visa in Costa Rica, you need to take out long stay insurance. Chapka's Cap Adventure travel insurance is the best option.
This insurance is ideal for trips of more than 3 months, and its guarantees make your stay in the country as stress-free as possible:
Unlimited medical and hospitalization expenses.
24-hour assistance and repatriation.
Medical teleconsultation.
Coverage of the COVID-19.
Legal advice abroad.
What activities are permitted and prohibited?
The digital nomad visa authorizes any activity consisting of providing paid services online or at a distance. This service may or may not be subcontracted, but must use computer, analogue, or telecommunication means to perform it.
Furthermore, it is essential not to work for Costa Rican clients or engage in any type of paid activity while in the country.
Which nationalities are allowed and which are not?
As far as nationalities are concerned, this type of visa only concerns natural or legal persons who receive remuneration from abroad. However, as I mentioned, there is a minimum income requirement.
If a worker is settling alone in Costa Rica, the minimum income should be USD 3,000. And, if you are applying for a visa for yourself and a partner or family, the income must be at least USD 4,000.
Advantages of the Costa Rica digital nomad visa
The main benefits of the Costa Rica digital nomad visa include
Possibility to open one or more bank accounts in the country.
To be able to drive any type of vehicle in Costa Rica with the original licence, foreign or not.
Import freely the equipment necessary for the exercise of the professional activity.
To be completely exempt from the country's taxes.
Disadvantages of the Costa Rica digital nomad visa
There are also a few points against this visa, as is the case with most visas. These are as follows:
A minimum income is required to obtain a visa. Specifically, if you are planning to travel to the country alone, the minimum income is USD 3,000 per month. And, if you are travelling with a family or partner, the minimum income is USD 4 000 per month.
If some required documents are not in French, they will have to be translated by a licensed Costa Rican notary or a licensed translator.
To extend the digital nomad visa for another year, you must stay in the country for at least 180 days.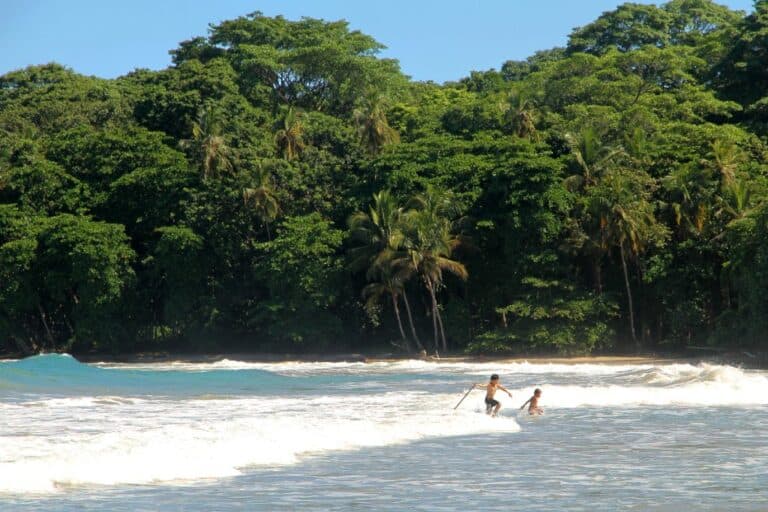 Keep up to date on future visas for digital nomads in 2023
Leave your email and receive the latest updates:
Countries offering a digital nomad visa
As you might guess, Costa Rica is not the only country to offer a digital nomad visa. In fact (and fortunately), more and more countries are offering digital nomad visas to support mobility and convenience for those working remotely:
| | | | | | |
| --- | --- | --- | --- | --- | --- |
| | | | | | |
| | | | | | |
| | | | | | |
| | | | | | |
| | | | | | |
| | | | | | |
| | | | | | |
| | | | | | |
| | | | | | |
| | | | | | |
| | | | | | |
| | | | | | |
| | | | | | |
| | | | | | |
| | | | | | |
| | | | | | |
| | | | | | |
| | | | | | |
| | | | | | |
| | | | | | |
| | | | | | |
| | | | | | |
| | | | | | |
| | | | | | |
| | | | | | |
| | | | | | |
| | | | | | |
| | | | | | |
| | | | | | |
| | | | | | |
| | | | | | |
| | | | | | |
| | | | | | |
| | | | | | |
| | | | | | |
| | | | | | |
| | | | | | |
| | | | | | |
| | | | | | |
| | | | | | |
| | | | | | |
| | | | | | |
| | | | | | |
| | | | | | |